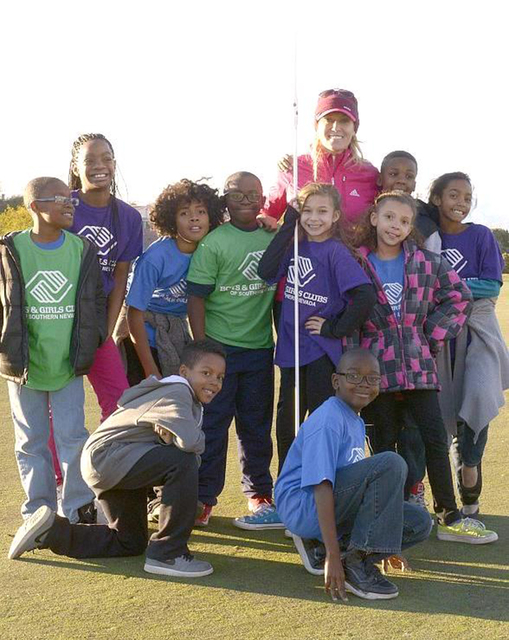 Southern Nevada Home Builders Association's HomeAid Southern Nevada chapter kicked off a renovation and expansion of the kitchen at U.S. Vets in downtown Las Vegas on Nov. 29.
The project, valued at more than $460,000, included the addition of 1,000 square feet to the current kitchen space, which received a walk-in refrigerator, a walk-in food storage area and a commercial oven and is now wheelchair accessible. The remodel and expansion will enable U.S. Vets to serve three daily meals — over 400 meals a day — to formerly homeless veterans now living in the adjoining residential facility. U.S. Vets has provided transitional and permanent housing, along with employment services, to veterans in Southern Nevada since 2001.
Natalie Gulbis Golf Classic benefits Boys &Girls Clubs of Southern Nevada
Professional golfer Natalie Gulbis hosted the seventh annual Natalie Gulbis Golf Classic on Nov. 21. The event, played at Rio Secco Golf Club, was a benefit for the Boys &Girls Clubs of Southern Nevada. In May 2013, the Boys &Girls Clubs recognized her generosity and named a club in her honor.
Money raised at this tournament will help maintain nationally accredited programs at her clubhouse as well as the 13 Boys &Girls Clubs through the valley. This year, PGA pro and UNLV alumnus Ryan Moore played with a lucky group of four, a golfing opportunity auctioned by the Boys &Girls Clubs. Moore is fresh off of clinching the PGA Ryder Cup for the USA against Team Europe.
Rotary Clubs bring clothes to
children in need
For the 21st year, local Rotary Clubs will give to children in need of clothing this holiday season. On Dec. 8, children identified by charitable organization were driven to J.C. Penney's stores at the Meadows Mall and Galleria at Sunset and to the Grand Canyon Shopping Center, where each child was paired with a volunteer to shop for shoes, socks, underwear, pants, shirts and a jacket.
The kids then visited UNLV, where they engaged in supervised sports activities with college athletes. Following the games, the children gathered for pizza and an inspirational talk in the Lied Auditorium. Each child also received a toy or gift before returning home.
Program Chairman Jim Hunt reports that in 2015, 320 children benefited from the program. In order to reach its goal, the Rotary Clubs need to collect more than $45,000. To make a donation of any size, call Hunt at 702-498-7787 or Tom Krob at 702-498-2259.
Helix vendors, suppliers and customers raise money for charities
Helix Electric's fall golf tournament at Badlands Golf Club raised $9,000. The Helix golf tournament is a semiannual event with all proceeds going to charities. Helix expresses thanks to BJ's for serving drinks, Paul from Bank of George for the Touch the Green game, Helix Charities for each manning a hole and Las Vegas Golf and Tennis as well as Badlands Golf Club for donating prizes. Helix family charities, A Home 4 Spot, Down Syndrome Organization of Southern Nevada and 22 Warriors Foundation all benefited with a contribution of $3,000 each.
Golden Entertainment taverns participate in holiday charity efforts
Golden Entertainment Inc. and the company's PT's Entertainment Group is supporting the KLUC-FM (98.5) Toy Drive. Guests are asked to drop off bikes and unwrapped toys at any PT's, Sean Patrick's, Sierra Gold or SG Bar location. Monetary donations are also accepted.
The collected toys and bikes will then be transported to the grounds of NV Energy's offices, where KLUC-FM personality Chet Buchanan is overseeing the 18th annual toy drive while perched atop a billboard for 12 days.
Crazy Pita Rotisserie &Grill partners with foundation for donations
Crazy Pita Rotisserie &Grill is partnering with Recycled Percussion Foundation to collect donations of new unwrapped toys for children. For more than three years, the foundation has been dedicated during every holiday season to helping many families and children in need. This year, their mission is to provide toys for 2,000 children who may otherwise have nothing this Christmas season. All toys and monetary donations collected will go directly to supporting Southern Nevada children supported by Recycled Percussion Foundation. Restaurant patrons and the general public are asked to donate new and unused toys for students in grades kindergarten through high school. Toys and monetary donations can be dropped off at any three of the Crazy Pita Rotisserie &Grill restaurant locations.
Broadway In the Hood helps others through the joy of live theater
For the last seven years, Broadway in the Hood has created a space for artists and audiences to lift up their voices and be heard — including those from underserved communities throughout Nevada. Having a full season of shows at the Smith Center has allowed the organization to bring its vision to a broader audience and inspire many lives, giving voices to those who may not otherwise have access to quality theater education and training. In celebration of Giving Tuesday on Nov. 29, the board matched the first $1,000 donated to its website, broadwayinthehood.org, dollar for dollar.