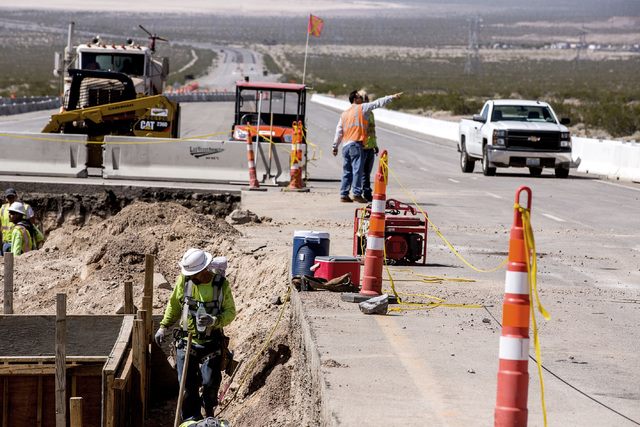 Change is coming to Boulder City. Since growing out of the desert as a company town for Hoover Dam workers beginning in 1931, the city has developed a rather distinct and separate culture that aligns with its physical proximity, nestled into the mountains retaining Lake Mead, only 26 miles and a world away from Las Vegas and its suburb cities to the north and east.
Boulder City's top employers are the federal, county and local governments. Private businesses in the city of 15,000 rely largely on visitors from Las Vegas and Henderson, tourism to Lake Mead and the Hoover Dam and travelers through the busy U.S. Highway 93 corridor connecting Las Vegas to Arizona.
The highway leads to the edge of the historic downtown core before splitting into Great Basin Way and veering north along Lake Mead.
Many businesses line this entry section of the highway — the business corridor — including Western and Native American craft stores, automotive and marine shops and fast-food chain restaurants, and many of them rely heavily on a customer base of interstate travelers. But Boulder City will soon be cut off from this stream of visitors and the revenue they bring.
Paving the way for change
Phase one of the Nevada Department of Transportation's Interstate 11 project — consisting of a 2½-mile, four-lane concrete freeway between Foothills Drive and Silverline Road — is on pace to be completed within a year.
It will cost an estimated $83 million — a combination of federal grants (83 percent of the total), state and Regional Transportation Commission funds. Phase two will complete the bypass around Boulder City, joining the U.S. 93 route just west of Hoover Dam with a 15-mile, four-lane asphalt interstate.
Moment of opportunity
The effect of the bypass on Boulder City business owners depends largely on the business in question. Operators inside the downtown core — including restaurants, pubs, inns, art galleries and antique stores — could be insulated from the loss of highway traffic as they tend to rely on a mix of local customers and people who are attracted to the area as a destination for shopping and entertainment.
This area may stand to benefit from reduced road congestion, according to Jill Lagan, president of the Boulder City Chamber of Commerce, which functions to assist the city's economic development efforts.
Heavy traffic "may detract from people wanting to come to Boulder City for the afternoon from Las Vegas and Henderson," she explained. "Since that has been such a strong target market for us, we have spent a lot of time trying to get that repeat customer, and we need to make sure it is easy for them to get here once we spend those dollars to get them interested in coming."
The city also hopes to take advantage of a new truss bridge to extend the existing railroad into downtown Henderson and possibly to Fiesta Henderson on Lake Mead Parkway.
"So when there are major events in Henderson, we can be a part of that and interconnect — it is really the bridging of two cities."
The city is vying for state funding to relocate the train depot — part of the Nevada State Railroad Museum — from its current location on Yucca Street south to the street's intersection with Nevada Highway.
"If we could relocate that depot, it would be a huge improvement, not only for the visitors' experience," Lagan said. "It would improve the aesthetics for that downtown corner and allow us to grow and great extended experience on the train."
'We are very concerned'
Businesses that rely on impulse stops by interstate travelers — principally located in the business corridor — may face existential challenges.
"It's not all rosy glasses. We are very concerned about businesses," Lagan said. Sectors that are most vulnerable include gas stations, fast-food restaurants and travel service centers.
She said the chamber is working with the city to create a beautification project, much like the aesthetic improvements made to the downtown core in 2010, in a bid to extend the city's 'destination tourism' borders.
"We have had that built-in traffic, but now we are going to have to work harder to make sure that traffic is interested in coming and really make Boulder City a destination," Lagan said. "We can't take anything for granted."
She stressed that, no matter the efforts of the city or chamber, it is imperative for business owners to become adaptive if they are to keep operating.
"Their strategy was to put out nice signage and they will come. Or maybe they didn't have to do as much advertising. Now they are going to have to change that strategy. We are trying to keep member businesses involved and engaged in some of the best up-and-coming ways to get their message out there."
'Exciting times'
Railroad Pass in Henderson sits at the edge of the Boulder City border. Owner Joe DeSimone factored the project into his group's decision to purchase the property from MGM in 2015.
"It is going to triple our transient business, which now makes up 25 percent of the total," he estimated. "I would say it will increase our gaming, hotel and restaurant activity by about 40-50 percent."
Railroad Pass plans to take full advantage of the construction by building a travel center to attract truck drivers and other motorists.
The 8,000-square-foot center will feature a Capriotti's sandwich shop, six to eight shower facilities, a quick-service restaurant and a Chevron gas station with eight diesel pumps for trucks and 20 gasoline pumps for cars and recreational vehicles.
DeSimone said construction on the facility will likely begin in April or May, when the access road is relinquished by NDOT.
"We should have a lot of grading done by then, and we will probably have 120 days of vertical construction on the travel center itself," he said. "So realistically, it will be the latter part of the year."
He said the property is well-positioned to serve as a hub for trucks traveling between Phoenix and destinations north and west of the city.
"Really, there isn't any competition until you get to Kingman," Arizona, he noted. "And along the way, whether you take (U.S.) 95 or Interstate 215, there are not any other truck stops until you get far north of Las Vegas. These are some exciting times for us."
He said the hotel-casino has experienced minimal negative impact from the construction to date. "We've had challenges as it relates to mobilization and how people get to the property through the construction, but we are confident the same experience people have now will be what they will have during construction.
"With all the increased parking and more convenient spacing around the casino, it is going to be a better experience for the people coming in from Boulder City and Henderson."
"It's going to be a bit of a shift, and we are all going to feel it," Lagan said. "You are going to see a new Boulder City in the next two to four years. In my opinion, everyone is going to have to act a little differently and be proactive in planning, so their reaction can be minimal and flexible to whatever the change requires."