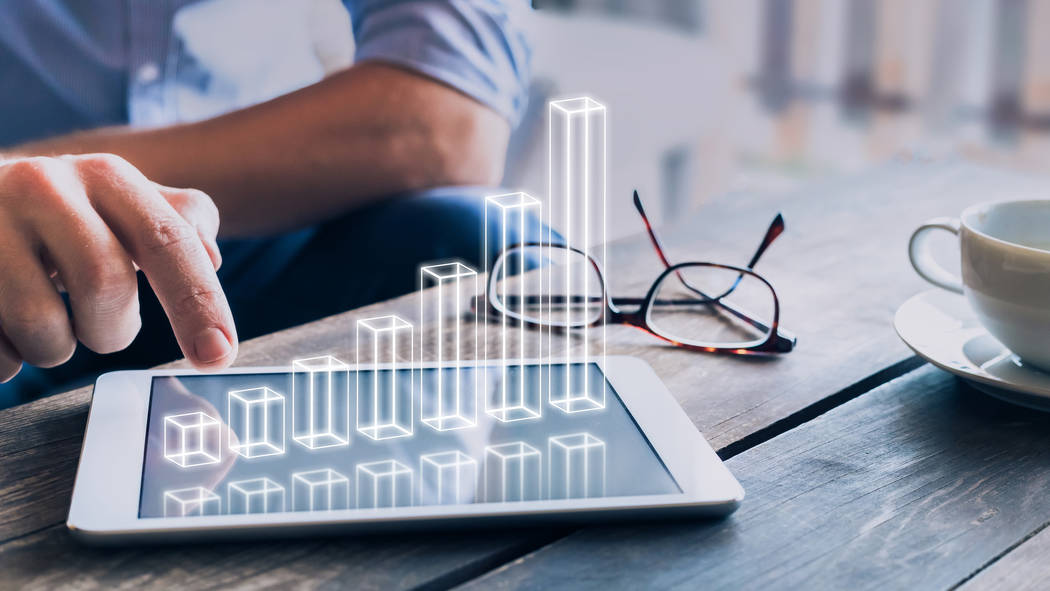 A California-based economist spoke glowingly about the Nevada and U.S. economy and prospects for its continued growth over the next couple of years.
Chris Thornberg, principal at Beacon Economics and director of the UC Riverside Center for Economic Forecasting, said he expects the U.S. economy to grow at just under 3 percent in 2018, up from 2.3 in 2017 and 1.5 in 2016. He spoke during a City National Bank economic forum on April 26 at the JW Marriot.
That growth bodes well for the Las Vegas economy that relies heavily on discretionary consumer spending. The International Monetary Fund projects the global economy will expand by 3.9 percent in 2018, further aiding the growth in the American and Nevada economy. The dollar has weakened, which makes the U.S. an attractive tourism destination.
Thornberg said the economy is finally picking up steam after a slowdown in late 2015 and 2016 because of a global commodity bust led by a drop in oil prices. GDP picked up in 2017 driven by growth in business spending and oil prices have recovered, he said.
With all of the headlines about President Donald Trump and the political scene in Washington, D.C., Thornberg said there hasn't been a lot of time for media attention on how the economy continues to improve, wages are rising and jobs are growing.
Thornberg called 2017 a good year and one of the better years since the Great Recession ended afterthe slowdown in late 2015 and 2016.
"In 2018 we have all the momentum of 2017 and we got a little fiscal stimulus of (the tax cuts enacted in December) and spending increases announced," Thornberg said.
Thornberg said it could be debated whether the stimulus was needed to boost the economy, but thethird longest expansion in U.S. history will continue, and it shows no signs of slowing.
"Every single expansion is permanent and lives forever until it is cruelly murdered by a negative shock to the system," Thornberg said.
Paul Single, managing director for City National's wealth management arm, said the economy has improved with consumer sentiment increasing because home prices have rebounded, investment portfolios have risen and jobs have increased.
"All of these things drive sentiment, and when sentiment moves up, spending has to move up with it," Single said. "We think this expansion will continue at pretty much the pace we have been seeing for some time."
Predicting a recession isn't counting months or years but finding imbalances whether it's with consumers, housing, finance or the global economy, Thornberg said.
"We have not seen any of that so we will continue the expansion for the next couple of years," Thornberg said.
There are some imbalances to worry about and keep an eye on their impact in the future but nothing that would trigger any recession now, Thornberg said.
For one, there's a shortage of labor. The federal budget deficit is increasing, the trade deficit is widening and savings rates are declining, Thornberg said.
"All of these things are starting to pop up, and we have to pay attention, too," Thornberg said.
There are other challenges that impact the economy over the long term and are issues for government to address such as health care inflation, under investment in infrastructure, rising income inequality and entitlement reform.
That doesn't help deal with problems the nation faces in its long-term economic health, Thornberg said.
"All of them incredibly important, but we're not talking about them at all, and it's being ignored because we are so driven by crises that don't exist,"
Thornberg said: "We as a nation need to start refocusing on them and get out of this ridiculous partisanship, and talk about real issues."
Thornberg said there are concerns about consumer spending rising faster than the economic growth and the decline in the savings rates. Americans are "getting ahead of themselves in spending too much money," he said. The last time the savings rates were this low was 2006 before the recession, but Thornberg said they're not carrying the same bad debt with mortgages and credit cards like they did back then.
"That's something we have to watch because when consumers get way ahead of themselves, they have to pull back rapidly, and that is the kind of shock that will create an economic downturn," Thornberg said. "We're not there yet." The housing market continues to recover with prices and inventory hasn't grown at a rate that's created any problems with a bubble, Thornberg said. What drives a bubble is overbuilding and over borrowing, and that's not happening at this time because riskier borrowers were cut off of credit, he said.
As for the job market and labor growth, Thornberg said there has never been this percentage of job openings as there has been in the last six months. That has caused wages to increase, which is good for workers and people to re-enter the workforce, he said.
The lack of workers to fill jobs because of baby boomer retirements has contributed to the economy not growing as fast as it otherwise could, Thornberg said.
"The slowdown in labor force growth contributes to two thirds of the overall slowdown in economic growth," Thornberg said.
The way to address that, according to a report from the Congressional Budget office is to increase the Social Security retirement age by two years and enact immigration reform to allow in more workers from abroad, Thornberg said.
"We want the economy to grow faster but we slow down the pace of people moving here, which is going to hurt growth," Thornberg said. "If you don't want more immigrants here, that's fine, but at least acknowledge the consequences of that."
Thornberg credited Nevada for leading the nation in growth of its economy and that it's not all from tourism. There's job growth in professional positions, transportation and logistics, health care, information and management, he said.
"You are moving to a more mature economy that is in many way less volatile in the short term and more stable in the long term," Thornberg said. "Pay attention to gaming revenue, but also pay attention to the office vacancy rate, which is drifting down because of the labor market."
The growth in the labor force at twice the national average is prompting people to resume moving to Nevada from across the country, Thornberg said.
While some states, like Arizona, are getting an influx of retirees, Nevada is getting a balance of age groups moving to the state, he said.
That population growth means there will be a need for more homes and apartments to fill that and construction has picked up because of that, he said.