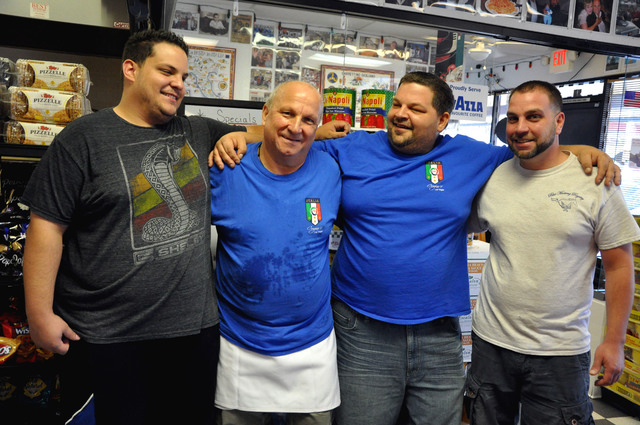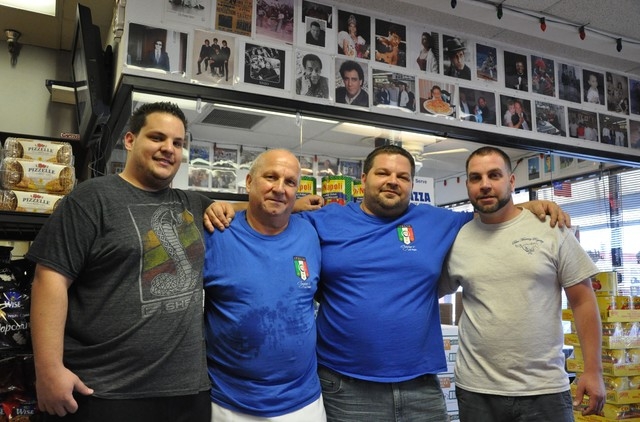 Father's Day is a time for reflection, appreciation and quality time with fathers, uncles and male role models. But for Las Vegans who work in a business with their father, every day is Father's Day.
"I grew up in the family business, so as early as I could remember I was with my father, uncles and grandfather," said Troy Parker, who worked with his father, Larry as a contractor growing up in Las Vegas.
Now they work together at their business, Native Wine Rocks, a custom design wine rack service.
"It has always been an evolving and changing relationship through the years but we have always been able to collaborate and enjoy the experience of working with each other," Parker said. "If the father-son relationship is not solid at home, it will not work in business."
As the father in another father-son business, Freddie Pica of Cugino's Italian Deli &Pizza Restaurant also appreciates interacting daily with his three sons. The feeling at the Maryland Parkway eatery is similar to the family restaurant environment they were raised in for 12 years on Staten Island, N.Y. They have had their Las Vegas restaurant for a decade, serving families, UNLV students and staff, tourists and Strip workers.
"It is fun for me because I have been working with my wife since the age of 16 and we have been able to raise the boys together in the restaurants and it makes me proud to see them all grown up working with us," Pica says. "It is amazing how fast time flies. I remember when they used to take naps after school in the restaurant."
No matter the industry or the proximity — Troy Parker, for example, now spends most of his time in the Pacific Northwest while dad Larry still lives in Las Vegas — the father-son business model can be rewarding. However, there are best practices for people considering going into business with a parent or child.
"You have to be prepared for a lot of work and dedication, along with continuing to better the business," says Donnie Pico, one of Freddie's three sons. "We get more organized every year as we expand and we believe, because we are a family business, it is easier to work with each other. We promote a true family atmosphere and our customers love us for it."
Cugino's harks back to its proprietors' roots, prominently displaying memorabilia from New York City entertainment and athletics. A wide variety of pastas, sauces, deli meats, cheeses, Jamaican beef patties and gelato adds to the feels of an authentic New York City.
The food and mementos give the Pica family the feeling of their East Coast home 2,500 miles away.
"We all get along and our customers can see that," Freddie Pica says. "If one of the sons is off or sick, another one can jump right in and we continue to work as a family and as a team."
Larry Parker says the working relationship with his son crosses over to two industries. After a successful decade in the construction industry working at major Strip hotels, the father-son duo launched Native Wine Rock in 2011. Native Wine Rocks was inspired by rocks found in the Pacific Northwest and Southwest.
The customized wine racks use natural stone ranging from basalt, mica, onyx, sandstone, limestone, serpentine, volcanic ash and metamorphic rocks. The Parkers collaborate to maintain the natural aspect of each hand-made wine rack.
"As a parent, the working relationship hasn't changed much over the years. I taught him everything that I knew and he ran with it," Larry Parker says. "We don't have arguments. He has his own way of doing things so when we have disagreements, it is still all about respect. Troy is really good at what he does, and I would not have been able to accomplish what I have without him."
Like Larry Parker, Freddie Pica is grateful for his sons, who have developed into responsible men and talented business collaborators.
"It is hard to find good workers, whether you are related to them or not," Freddie Pica says. "I have been fortunate to have my sons. I would not have been able to accomplish any of this without them."
Freddie Pica says bringing his family to Las Vegas has strengthened the family bond and yielded business success. Along with his three sons, wife and brothers that work with him, he has developed a long line of extended family in the desert, his customers.
"Being in Las Vegas has helped us as a family and a business because we have accomplished something in 10 years in Las Vegas that we weren't able to do in 30 years in New York City," Freddie Pica says. "We really enjoy what we do, and I always look forward to coming into work and seeing my sons."