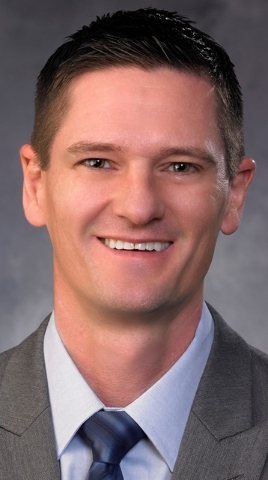 Drive any direction on Sahara Avenue between Interstate 15 and Valley View Boulevard and you'll find banks and credit unions doing business side by side among casinos, chain retailers, small businesses and check cashing businesses.
Credit unions and banks both provide financial services to consumers and businesses. But banks pay taxes, while credit unions tax-exempt, a distinction that still angers some banking executives and their lobbying group.
After a quiet period, the American Bankers Association is raising the issue again, this time in a column in the Capitol Hill newspaper Roll Call. Association CEO Frank Keating called on credit unions to follow the National Football League's lead and give up their tax-exempt status.
"I have no problem with the many credit unions that hew to their original mission, honor their common bond and serve people of modest means with unique financial needs," Keating wrote. "But like the NFL, the big credit unions that continue to abuse their tax privileges should voluntarily agree to pay."
If they don't, Keating urged Congress to insist that credit unions pay taxes. He argued that the biggest banklike credit unions are failing to serve people of modest means, noting that nearly half of credit union members are upper-income.
He said the tax exemption allows multibillion-dollar credit union to avoid paying any federal taxes.
"This tax break for a trillion-dollar industry cost taxpayers $20 billion over 10 years," Keating wrote.
Keating's op-ed brought an immediate response from an executive with the Nevada Credit Union League. Rick Stanton, the league's vice president of media relations and data analysis for the Nevada Credit Union League, said using the NFL decision as an emotional plug to argue why credit unions should be federally taxed is an interesting way to present one side of the facts.
"There's an obvious difference that sets apart credit unions from the NFL," Stanton said in an email.
Stanton argued that a credit union's size is irrelevant. He said no matter how small or large, credit unions have "remained exempt from federal income taxes because of their track record of reinvesting back in the people who own them."
This isn't the first time this debate has taken place. The credit union industry's not-for-profit model was granted by the U.S. Congress in 1937 and reaffirmed in 1951 and 1998.
In Nevada, 18 credit unions save consumers some $22.2 million annually through better interest and lower fees, Nevada Credit Union League statistics show.
Broken down, those savings were $128 annually per-credit union member household, and $68 annually per credit union member.
SNL ranks banks by ATM income
A first-quarter study examining banks' reliance on ATM fees included several large national banks with a local presence, but Nevada State Bank was the only one based here.
Nevada State, owned by Salt Lake City-based Zions Bancorp, booked $500,000 in ATM fees in the first quarter, according to the study by Charlottesville, Va.-based SNL Financial. That was enough for Nevada State Bank to rank 15th among the Top 25 banks nationally ranked by total ATM fee income earned as a percent of quarterly operating revenue.
Nevada State Bank's total ATM fee revenue was 1.42 percent of total operating revenue in the first quarter. The Las Vegas-based bank, which doesn't issue its own quarterly earnings reports, has 50 branches statewide and $4 billion in assets.
Just tallying ATM fees alone, Wells Fargo topped the list with $90 million; Bank of America was second with $87 million. Both figures shouldn't surprise consumers or bankers given they are two of the country's largest banks.
Other banks in the top 25 with local presence included: U.S. Bank, fifth with $14.3 million in fees, Citibank, seventh with $10 million fees, and Bank of the West, 21st with $460,000 in ATM fees.
ATM fees are a new line item that banks are now required to report in quarterly reports sent to federal regulators. Those reports are public records.
The new rules also require banks to report overdraft fees and periodic maintenance charges, the report said.
Clark County Credit Union names new CEO
It's been several months since longtime credit union executive Wayne Tew announced he was retiring as president and chief executive of Clark County Credit Union. The search for his replacement recently ended with the credit union naming a loan officer as its next CEO.
Chief Commercial Officer Matt Kershaw will take over as president and CEO of Clark County Credit Union in late August. Kershaw, 41, joined the Las Vegas-based credit union in 2005, overseeing efforts to develop new commercial lending initiatives.
First Foundation buys Pacific Rim Bank
First Foundation Inc. has completed its acquisition of Honolulu-based Pacific Rim Bank in a deal valued at $12.3 billion.
Pacific Rim Bank will assume the name of First Foundation Bank, which is a First Foundation subsidiary.
First Foundation has more than 240 employees in offices in Las Vegas, San Diego, Los Angeles, Palm Desert, Calif., Pasadena, Calif., and Newport Beach, Calif. The company provides investment management, wealth planning, consulting, trust and banking services primarily to high net-worth individuals and businesses.
The Irvine, Calif.-based financial services company reported first-quarter net income of $2.6 million, or 32 cents per share, compared with $1.5 million, or 18 cents per share, a year earlier.
First Foundation opened its Las Vegas office in August 2013.