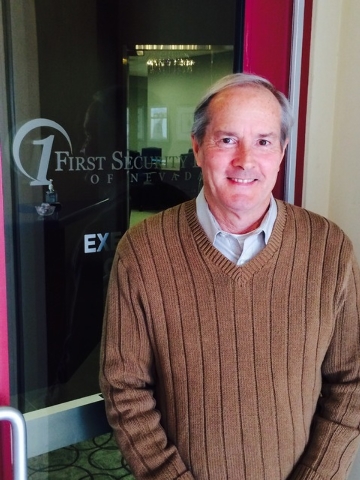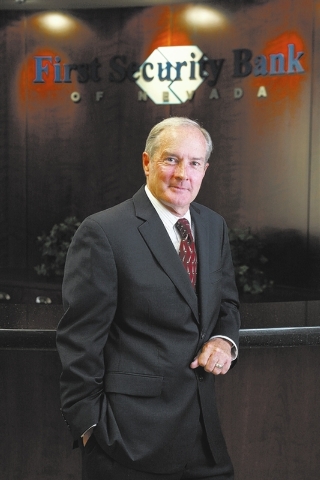 First Security Bank of Nevada CEO and President John Sullivan has left the community lender, an annual earnings statement shows. The locally owned bank, with one branch, gave no reason for Sullivan's departure on Feb. 27.
According to Marijuana Business Daily, Sullivan stepped down to be president and CEO at Integrated Compliance Solutions. The Las Vegas-based company is in the early stages of introducing a program called Seed to Bank that will ultimately serve marijuana companies in every state with legal marijuana markets.
First Security declined to comment on Sullivan's departure.
Sullivan was hired in May 2007. It took a while, but Sullivan's bank was recapitalized in August 2011 when Las Vegas lawyer Jason Awad led a group that invested $14 million.
First Security was founded in 2007 and, like most Southern Nevada small-business banks, focused on real estate lending. By early 2011, First Security faced possible seizure by the Federal Deposit Insurance Corp. with more than $15 million in delinquent loans.
As CEO, Sullivan guided the bank out from under a FDIC consent order and helped it become the first Nevada bank to open accounts for marijuana businesses licensed by the state.
Meanwhile, First Security posted record net income of $2.8 million in 2014, an 86.7 percent increase from the $1.5 million. The bank posted earnings of $420,000 in 2012.
Total assets were $177 million, up $50.8 million from 2013, while capital was $29.7 million and gross loans totaled $107.7 million, up from $11.2 million at the end of 2013.
As of Dec. 31, First Security's allowance for credit losses was 1.1 percent of total loans, a figure Awad said highlight the bank's continued focus on asset quality. Deposits totaled $146.9 million, compared with $96.6 million in 2013.
"First Security Bank had another strong year with significant increases in earnings, loans and deposits," Awad said. "We have grown without sacrificing asset quality as we continue to have no past-due loans."
Awad, chairman of the board, has already assumed the CEO job, while Nancy DeCou, First Security's chief credit officer, has been named president.
Credit unions charge less than banks
Credit union or bank? That's a question more consumers are asking themselves as they look to save money on service fees. According to a Bankrate.com report, 72 percent of America's largest credit unions still offer stand-alone free checking accounts.
The report found an additional 26 percent of credit unions offer checking accounts that become free if certain requirements are met. Meanwhile, 62 percent of the credit union accounts surveyed do not have a minimum opening deposit requirement and no account requires more than $100.
Meanwhile, the average overdraft fee at credit unions is $26.78, compared with $32.74 at banks. Among credit unions that do charge monthly fees, $2 and $3 are tied for the most common fee, which is about half of the average banks.
Bankrate Chief Financial Analyst Greg McBride said that when they're evaluating options, consumers should include credit unions in their search.
"They have competitive offerings and many participate in large ATM networks that extend the credit union's reach," McBride said.
Among the credit unions included in the report, three do business in Southern Nevada.
Mountain America Federal Credit Union, with branches in Las Vegas and Mesquite, has a monthly $2 service fee, which is waived with e-statements, and an insufficient funds fees of $25. Navy Federal Credit Union, with branches in North Las Vegas and Henderson, has no monthly fee, but charges a $29 insufficient funds fee.
America First Federal Credit Union, which operates in Mesquite, Las Vegas, and Henderson, also doesn't charge a monthly fee and has an insufficient funds fee of $25.
One Nevada Credit Union and Clark County Credit Union were not on Bankrate's list.
McBride said although the number of credit unions offering free checking accounts has declined from 78 percent to 72 percent over the past five years, the decline is much more dramatic when it comes to banks. Five years ago, 65 percent of banks offered stand-alone free checking accounts, now that number is just 38 percent, Bankrate.com reports.
Mandarin Oriental data breach
The corporate breaches keep coming.
Data breaches have affected major retailers including Home Depot, Target and Neiman Marcus. The fallout has hit local banks and credit unions, which have spent thousands of dollars to protect their consumers and reissue credit and debit cards.
The latest target is the Mandarin Oriental, which operates a hotel on the Strip. The company confirmed a credit card breach was carried out with malware at point-of-sale systems at a number of its hotels.
"The group has identified and removed malware and is coordinating with credit card agencies, law enforcement authorities and forensic specialists to ensure that all necessary steps are taken to fully protect guests and our systems across our portfolio," the company said in a statement.
Brian Krebs, a cybersecurity blogger, reported that banking industry sources "say the breach almost certainly impacted most if not all Mandarin hotels in the United States, including Las Vegas." Krebs also said the compromise likely dates back to just before Christmas.