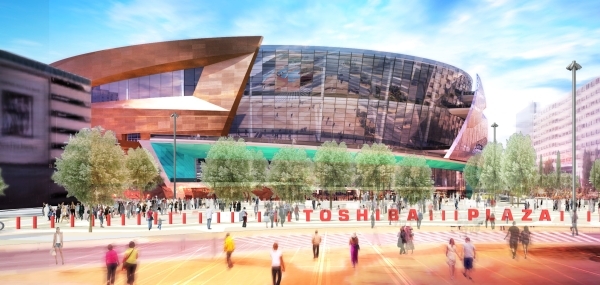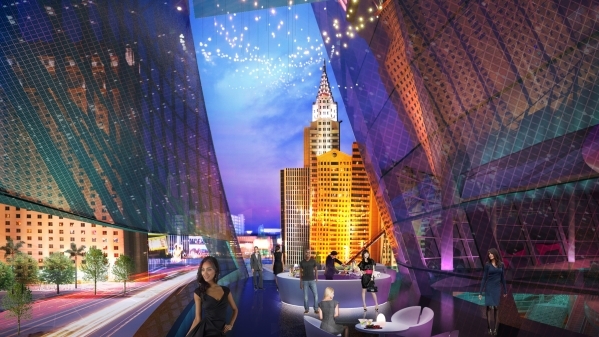 It is the most highly-anticipated non-casino project in the history of the Las Vegas Strip and the long transition from idle chatter about a world-class arena to architect renderings to a grand opening is just about over.
The new golden-color of the arena's exterior has been developed and has risen like a beacon of light through the south part of the Strip. Now, with construction scheduled to be complete in late first quarter 2016, the arena project is about to enter a phase that is best handled in Las Vegas — a grand opening celebration with equal parts fanfare and pomp and circumstance.
"The grand opening is scheduled for the first week in April, and you can expect both a glamorous ribbon-cutting ceremony and an entertainment-driven event," says Mark Prows, senior vice president of arenas for MGM Resorts International.
Most venues have a grand opening or an opening night. Some have an opening week. Few have an opening month.
But in Las Vegas, you have an opening 'season'.
"We plan on hosting an opening week, but we will have a series of events and a larger season that will be promoted and marketed as such," says Prows. "As a leader in the entertainment industry, this will allow us to engage both our local community and worldwide guests."
The venue is marketed as an international destination not just because it is in Las Vegas, but also because the sporting events and concert headliners will definitely stretch across U.S. borders to satisfy an international clientele that becomes more valuable with each passing day. The favorable exchange rates, soccer-friendly sportsbooks and an increasing number of direct flights to Las Vegas form the foundation of this latest tourist trend.
"For the three months — from April to June — we will be focusing on hosting a number of stellar world-class events," says Prows. "Some have been announced but there are many more to come. We will also be marketing an opening season that will run through the end of 2016. This is what we likely will call 'a season of firsts' which will obviously be not only many firsts for the new Las Vegas arena, but also firsts for the city."
Prows is also quick to point out that while the management company for the new arena is MGM Resorts International, the company is focused on the strategy of delivering the venue to the Las Vegas market as a 'neutral' site.
"Resorts can pay-to-play in an equal playing field as they support the wide variety of programming," he says. "This opportunity means buying facility premium products all the way to sponsoring individual events which we are striving to bring to the market. All will play an equal role in participating in the grand opening since the venue is not attached to one resort, but is well-positioned in the center of the strip."
Of course content and brand approvals will be needed to participate in advertising, sponsorships and promotions, but the arena is welcoming all interested parties with open arms. For the arena's closest stakeholders, the locals, MGM Resorts is planning to host a number of special events which will allow them to understand and exercise the staffing, traffic and parking plans.
"We want the locals to understand that the Las Vegas arena is a new and compelling place to enjoy entertainment," says Prows. "We sincerely hope we are awarded a National Hockey League (NHL) team, which we know, from our season ticket drive, is going to activate and touch locals in a new and exciting way."
The Las Vegas arena boasts a spacious and high-tech exterior presence with performance stages, a high-definition media mesh video wall, and outdoor patios on each level. The interior of the arena has both event level suites and lounges, as well as unique tower clubs and lounges for VIP attendees. Sloping event terraces add to the flexibility of the venue.
"Tourists and locals alike will have an unforgettable experience when they arrive at the venue," says Prows. "They will know this venue from the very first glimpse on television."
The construction process of the new arena has been a very public experience. Fans can sign up on the Periscope live video program and application to watch monthly broadcasts where MGM Resorts International has teamed up with the potential hockey team's marketing group to show the arena's progress on a regular basis.
"We feature many of the facility's special elements while sharing some of the new plans and designs," says Prows.
The big question with the arena is identifying which company will have the naming rights, an announcement that could happen before the end of 2015. MGM Resorts International has already announced the first three founding partners — Schneider Electric, Toshiba and Coca-Cola — and should announce more partners before the end of the year.
"The partners are not only instrumental in finding the long-term financing of the venue but also key activation partners for future events while enhancing the guests' event experience," says Prows. "Our goal here is to maximize the value for the founding partners as they are integrated into all of our marketing and various programs."
On the communications forefront, one of the final strategies yet to be determined is identifying if a public relations or marketing firm will assist with the grand opening efforts, or if it will be solely done by MGM Resorts International, or a combination of both.
"It will likely be both but we continue to work through these details," says Prows. "We will also leverage our event producers and their marketing assets to promote the well-established artists as well as the new, up-and-coming acts."