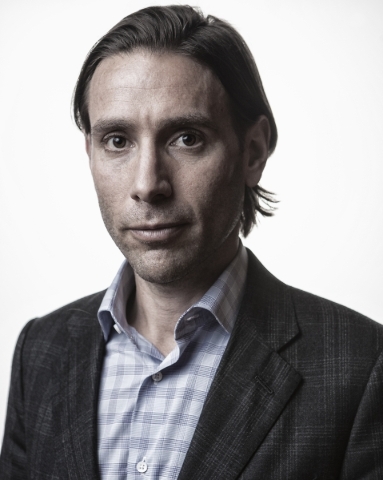 International travelers have a huge impact on Las Vegas' economy.
Nearly 8 million international travelers passed through Las Vegas last year, according to the Las Vegas Convention and Visitors Authority, and nearly 200,000 of them were from China.
Brian Buchwald, CEO of consumer intelligence company Bomoda, helps Western brands understand and cater to customers from new markets. He said the ease of visa restrictions in 2012 made the U.S. a top travel destination for Chinese tourists.
Q.: Why is Las Vegas a popular travel destination for Chinese tourists?
A.: Las Vegas, as one of the most famous cities in the U.S. and an internationally known vacation, nightlife, entertainment, gambling and shopping destination, is benefiting from this trend.
In a few short years, Chinese outbound tourists have skyrocketed to become one of the fastest-growing and the single largest-spending consumers globally. This rapid growth trajectory will continue. By 2019, about 180 million Chinese — and $275 billion in travel spend — are expected to flow outside of China.
Q.: Where do the top Las Vegas hotels rank amongst Chinese tourists?
A.: Utilizing our data analytics and intelligence capabilities, we've parsed tens of thousands of consumer ratings and reviews. For instance, we assessed a number of different platforms for travel information that are highly influential to decision-making by Chinese tourists. Hotels, shows, restaurants, and shopping are the four must-hit topics when travelers discuss Las Vegas.
Of 12 significant Las Vegas peers, The Venetian is best in class for having both a large number of reviews and highly positive reviews. The hotel has almost three times more reviews than average. Its consumer rating is higher than the already high average that rates at 8.8 out of 10.
Bellagio, Aria, Encore and Wynn have strongly favorable ratings but fewer reviews. Paris Las Vegas Hotel and Monte Carlo rank relatively low for both review and ratings in the peer set, but they still make an appearance and are mentioned on these travel websites.
The average positive ratings for Las Vegas hotels are very high across the board relative to other locations, signaling general consumer satisfaction with the hotel experience. Consumers have specific positive attributes for each hotel, but some general themes involving unique hotel-based attractions, "all-in-one" amenities, and "good value" were noted most prominently.
For many first-time Chinese visitors, they expect Las Vegas to be a thrilling and unique experience. They are generally pleased with the reasonably priced accommodations. Shopping and fine dining are also top of the list.
Q.: How much are Chinese tourists spending while in Las Vegas and what are they purchasing?
A.: Sightseeing and shopping are two major attractions for Chinese tourists, though there is growing demand among affluent travelers for novel experiences. Typically about 60 percent of the budget is devoted to shopping. The majority of Chinese tourists love Vegas, because of its outlets and shopping malls, for both price and product variety reasons. The Las Vegas Premium Outlets, for example, is the highest reviewed and recommended shopping destination across the major travel websites that we track.
Among all global travelers, Chinese are now the world's top spenders. Their spending is expected to increase to almost $275 billion by 2019.
Q.: Has Las Vegas made any strides in catering to the Chinese tourist?
A.: We've seen large hotel groups launching programs tailored to the preferences and cultural needs of Chinese travelers. Examples of services include Chinese-speaking staff in hotels, slippers, electronic kettles and Chinese tea, Chinese-style breakfast, accepting UnionPay and Chinese welcome handbooks.
Q.: In what areas can Las Vegas improve in catering to the Chinese tourist?
A.: Chinese tourists prefer localized services that acclimate to the habits and cultural preferences of their background. They expect to be actively courted through multiple channels. The capacity to make them feel at home through amenities and services that are customary in Chinese hotels is very important to Western hoteliers.
To better cater to the Chinese tourists, large hotel groups need to think about communication and payment methods. Adding a Mandarin feature, such as hiring Mandarin-speaking staff and providing a welcome brochure in Mandarin, will make the communication easier and more effective. Integrating to UnionPay, the leading payment network in China, will help ensure an easy and seamless payment experience for the Chinese guests.
The biggest areas for improvement lie in Mandarin-speaking staff and acceptance of UnionPay.
Q.: How do you anticipate the future for the Chinese tourism market in Las Vegas?
A.: Chinese outbound travel has grown 15 percent compound annual growth rate from 2010-14, and it is projected to grow to 174 million travelers by 2019. The revised visa restrictions are expected to have a profound impact on Chinese travel to the U.S. By 2019, an estimated 5 million Chinese will visit the U.S. versus 2.2 million in 2014.
Las Vegas is definitely a top-of-mind travel destination with huge opportunity.