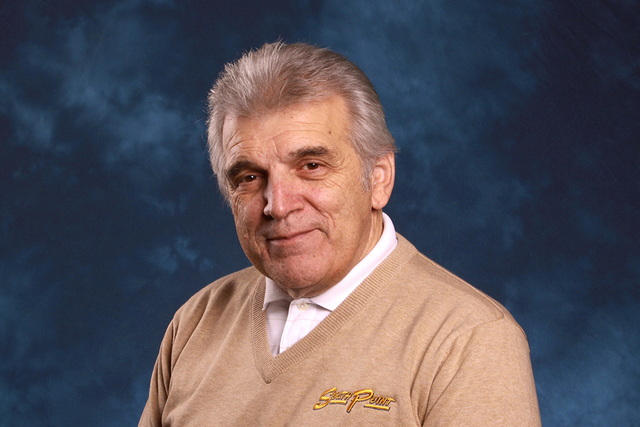 As non­gaming revenue continues to dominate the casino industry, more attention will continue to be given to nightclubs, restaurants and retail outlets on the Strip, downtown and in casinos that draw Las Vegas locals.
However, the most popular gaming trend in recent years surfaces every August, just in time to fill the slow sportsbooks with optimistic bettors taking part in America's favorite sport, ­­football.
Future bets, predicting if a team will win its division, conference or even the Super Bowl have been combined with proposition or 'prop' bets, predicting if a team will win a certain amount of games or a player will surpass a specific performance level to generate substantial new economic activity across the state of Nevada in the past decade.
"Prop bets all started as a joke in the late 1980s between me and some of our regular clients from Texas," said legendary bookmaker Jimmy Vaccaro, who now operates the sportsbook at South Point.
"Jerry Jones had just bought the Dallas Cowboys, fired legendary coach Tom Landry and was bringing in Jimmy Johnson as a new coach. The clients came in and asked me how many games I thought the Cowboys would win, and by the next day, we had set the 'line' at 5.5 wins, so they could bet on their season­long performance."
The story of Vaccaro's impromptu betting line on the Dallas Cowboys spread through Texas and Nevada casinos and caught the attention of the Associated Press, which ran the story about the new type of betting in more than a dozen newspapers around the country. The rest, as Vaccaro said, "is history."
"In the 1970s and early 1980s, you would not even consider putting up a bet that had the winner of a division, conference or even Super Bowl before the season," Vaccaro said. "Now we put up odds for next year's play-offs during the current season; it is a big change that brings in a lot of revenue."
Future and prop bets accomplish one task that has been impossible during the history of Las Vegas tourism — ­­isolating large volumes of Midwestern tourists from Chicago, Cleveland, Detroit, Milwaukee and Minneapolis who place bets on their local National Football League and college football teams.
"The Midwesterners come in heavy for future betting," said Nick Bogdanovich, director of trading for William Hill, one of the most popular sportsbooks in Las Vegas. "It gives them a rooting point for the entire season — no matter how their team performs. The NFL is king, and August is the month for anticipation and optimism."
Anticipation and optimism is what fill sportsbooks across the state, as the popular betting trends have added revenue to the department during one of their slowest months: August. For two decades, the three­-month gap between the end of the National Basketball Association finals and the start of college football season was notorious for empty sportsbooks and were only populated by those interested in baseball.
The ability for new sports betting revenue to be captured in August has coincided with more televised football during the fall, whether it be locals watching in Las Vegas or Midwesterners watching in Chicago, Cleveland, Columbus or Cincinnati. Five to 10 nationally televised college football games were the norm 20 years ago, but now every Saturday is filled with over 30 nationally televised games; and more product equals more revenue, whether the bets are placed in August or November.
"Sports betting is at an all­-time high because so many more sports are on television, many with international appeal like soccer, tennis and golf," Bogdanovich said. "It is bringing in a younger crowd, which is good for the future of casinos, and the ability to participate on mobile phones is another large advantage we have for increasing revenue."
Sports gaming revenue has increased steadily in the past decade, even remaining steady during the Great Recession that hit in 2008. According to Vaccaro, statewide the sports-betting handle increased $300 million in the past year and will surpass $5 billion in 2016.
"The sportsbooks got into the 21st century, and we are now more popular than ever," he said "Now locals and tourists have something they can use on (their) mobile phone, and we provide tourists with something they can bring back home and watch for months. Over 40 percent of our handle is coming from play from mobile phones, and that number is only going to increase over time."
To capitalize on this popularity, Vaccaro is introducing a new 17-­team parlay bet this fall. With this bet, the participant correctly has to bet 17 teams to win by a certain amount of points.
Always a leader in the industry, Vaccaro is now tending to the newest trend of sports bettors, betting a little to win a lot.
"Everybody wants a chance to win a lumber mill with a toothpick," Vaccaro said. "Instead of just winning $250,000, we will roll over half of the amount bet every week if there is no winner. It all started with prop bets, and it has gone from there; the demand from the public is still hungry, so we will keep feeding the demand."