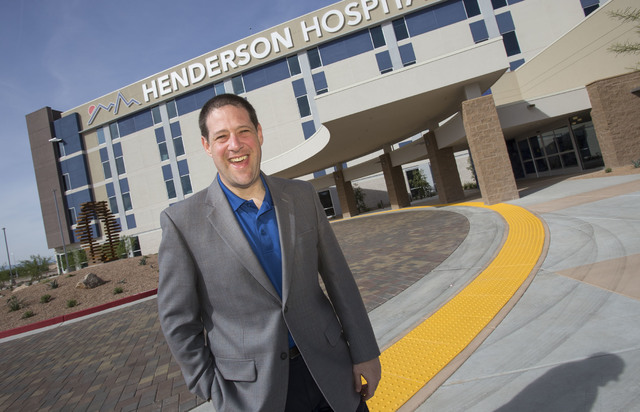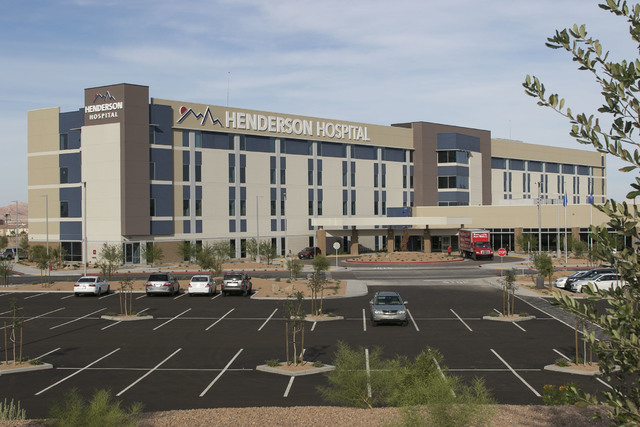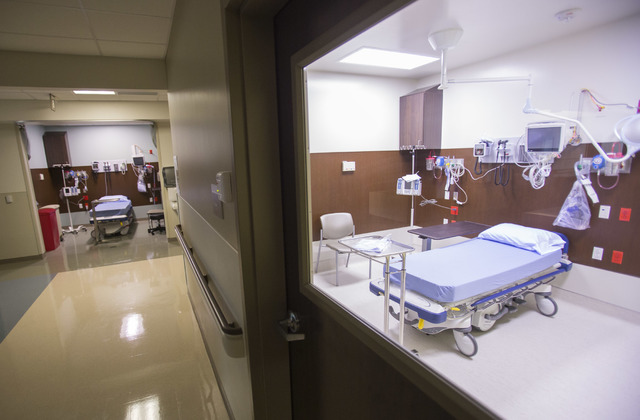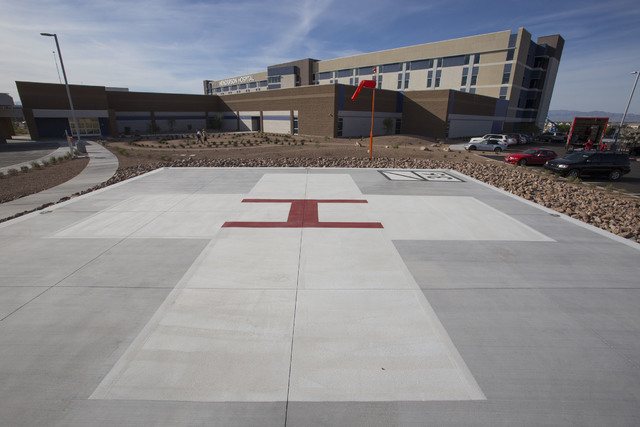 Southern Nevada will open its first new hospital in eight years when Henderson Hospital starts seeing its first patients the morning of Oct. 31.
The 130-bed facility on Galleria Drive adjacent to U.S. Highway 95 will be the sixth in the Valley Health System and first in the region since the company opened Centennial Hills Hospital in 2008.
All that remains is the final licensure by the state that's expected to be completed the week of Oct. 17. The hospital will then open at 8 a.m. on Nevada Day.
With this opening, Valley Health System has most of the Las Vegas Valley covered. Its nearest hospital is Desert Springs Hospital, about 8 miles away.
"We like this location because it's in Henderson, and we feel this community needs additional access to health care," said Henderson Hospital CEO Sam Kaufman. "If you pinpointed a map, you could see what we were missing — the southeast corridor, that's a very large market. We love the location by the freeway and love the anticipated growth with (master plan housing developments) Cadence, Lake Las Vegas and Tuscany. That's along with being the anchor client of Union Village that will continue to grow over the next three, to five, to eight years."
Henderson Hospital is the centerpiece of Union Village, a $1.2 billion 170-acre planned community that not only covers health care, but housing, retail and entertainment.
Kaufman said a lot of Valley Health System's managed care clients live in Henderson, and many don't like to leave the Green Valley and Henderson area for their care.
"We have contracts with every single managed care organization in the community, and people live in … Green Valley and Henderson, and they don't like to travel outside of Green Valley and Henderson," Kaufman said. "Having a hospital in Spring Valley doesn't help you in Green Valley, and having a hospital in Desert Springs in the center of town doesn't help you. This gives us an opportunity to be one-stop shopping for everybody."
Kaufman said Valley Health System is the only health care system that is considered by all payers, even though it doesn't have an exclusive arrangement. HCA and Dignity Health, meanwhile, are not on all-payer contracts, he said.
Valley is part of Universal Health Services of Delaware, and planning for the hospital started in 2012, Kaufman said. There's nothing specific on the timing, except the company prefers to open hospitals in the fall before the busier winter months.
"When we started building this hospital, we were pulling out of the recession, and our company knew there would be additional access issues and that this hospital would have a very good chance of being successful." Kaufman said. "I wish we would have done it years ago, but there's really nothing specific on the timing. I guess we kind of got involved in this project once the Union Village concept was developed, and we partnered with Union Village to take this 30-plus-acre area to develop the anchor facility."
Southern Nevada needs additional hospitals because access has been a problem, Kaufman said. People are waiting too long in emergency rooms, and he said there are horror stories of people not finding a bed or having trouble getting their surgeries scheduled.
The implementation of the Affordable Care Act has given more access to more people through Medicaid expansion and private insurance, and that means more people going to hospitals, Kaufman said.
"I think the timing is really good, and the residents of not only Henderson, but outlying areas like Boulder City and Arizona and California communities will benefit from the construction of this hospital," Kaufman said.
Opening up a hospital has plenty of challenges from the construction, to the licensure, to the staffing of physicians and nurses, Kaufman said. The next phase is business development and operations, he said.
Henderson Hospital is opening with 130 beds in private rooms. It will open a 12-bed neonatal intensive care unit within the next year, Kaufman said. The infrastructure is in place for 30 shelved beds that will only need building out and the addition of equipment, he said.
"We could open these in six to eight months of putting in that business plan, and then that would put us at 172," Kaufman said. 'We have the ability to build additional towers with little to no disruption to the ongoing operations of the hospital."
Kaufman said the hospital doesn't have an immediate identity, but eventually it will specialize in women's services. There will be a lot of specialties with surgical services that will grow over time. Henderson Hospital will add a da Vinci robot in the first or second quarter of 2017 for surgeries. It will open with four surgical bays in the hospital, and plans for two more in 2017 in an outpatient surgical center under construction.
"In the beginning we don't have neurosurgery and open heart, and we will do everything else but those," Kaufman said. "I don't think we will ever migrate to heart because Desert Springs is only 8 miles away, and they have a huge cardiac program. I think one day we will migrate to neurosurgery. That's a likely candidate for us considering that Desert Springs doesn't have neurosurgery."
Henderson Hospital is building a medical office building adjacent to it that will have 83,000 square feet with the second through fourth floors serving as doctors' offices. The first floor will be an outpatient surgery center and outpatient wound center with hyperbaric oxygen treatment, Kaufman said. The shell will be completed by the end of the year, and tenant improvements should start in January, he said.
Henderson Hospital will bring in between 500 and 700 employees, depending on the volume, Kaufman said. Like at other hospitals, there are difficult positions to fill, especially in nursing. There are some vacancies in labor and delivery and a few in the emergency room and ICU, Kaufman said.
"To move a doctor or to move a nurse, people aren't going to move if they're happy where they are, "Kaufman said. "You need to give them a differentiating reason. It's a bright, new, shiny penny. What's going to separate this hospital from every other hospital is the type of care that people receive and the manner in which they receive it. We have some interesting technology in our hospital that differentiates us from other hospitals."
For quality and patient safety, there are antimicrobial coatings on door -knobs, silver iodine-infused countertops, and a special lighting system in the operating room and C-section suites that kill bacteria, Kaufman said.
High-quality and safe patient care, however, isn't enough, he added. That used to be what hospitals needed at one time, but now patients and their families want more.
"It's not OK to have great nurses that are only clinically astute," Kaufman said. "These nurses need to be compassionate, and really want to work and take care of patients."
People will notice those differences and more when they come to the hospital, Kaufman said.
There's an acoustic system that minimizes sound inside the hospital, the roof reduces noises and nursing hubs on floors are enclosed in glass to keep sounds inside when people are talking, he said.
Henderson Hospital purchased a communications system so the nurses can speak directly with doctors rather than go through an operator. It's an attempt to minimize an overhead paging system, which patients don't like, he said.
Henderson Hospital has a video wall that — with the patients' permission — will show video of newborn babies and other footage on a 10-foot screen.
The hospital has artwork, including sculptures and photography depicting Henderson and the Southern Nevada desert and other landscape scenes.
"We have things no other hospital has," Kaufman said. "You don't see sculptures in any other hospitals. The artwork is beautiful and gives people a different perspective. It's soothing for people."
Kaufman has worked for Valley Health Systems for 25 years and has worked his way up the ladder. He served as director of departments at Desert Springs and Valley hospitals. He worked as an assistant administrator for five years at Valley Hospital, then chief operating officer at Desert Springs for another five years. He served as CEO of Desert Springs for 11 years, and CEO of Desert Springs and Valley hospitals combined for about two years.
"I have lived in the Henderson community for 25 years, and it has always been a goal and dream of mine to be the CEO of a Henderson UHS-owned hospital," Kaufman said. "Not because it's close, but it's where I live and have a lot of pride living in this community."