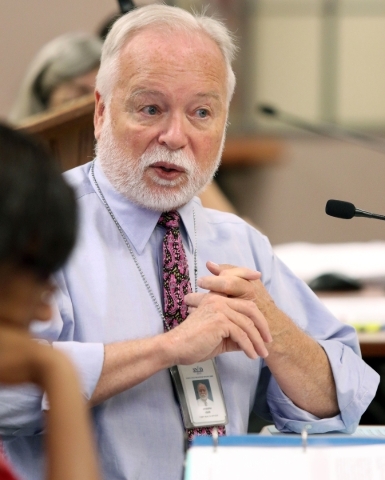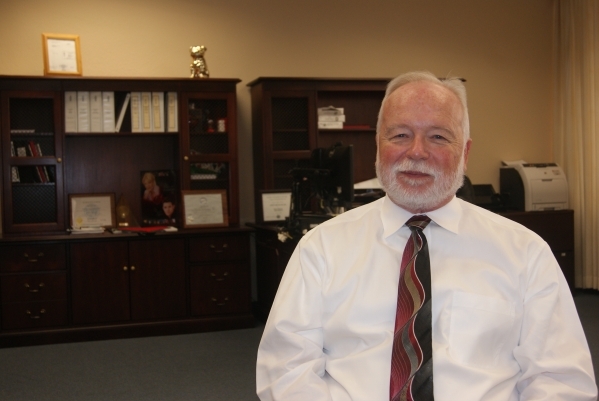 The rising tide of sexually transmitted infections in Clark County may lead the county's top public health official to approach the state legislature in 2017 about the possibility of legalizing prostitution.
It's not something Dr. Joe Iser, chief health officer for the Southern Nevada Health District, is particularly keen on doing, considering the controversy it's likely to spark. But he sees the issue from a public health perspective.
"Our job is to protect the public and we need to look at a variety of ways to do that," Iser said. "I would prefer to have vaccines developed for STDs, chlamydia, gonorrhea and syphilis."
Except for Hepatitis B and HPV, there are none – at least now – and other ideas to collar the growing problem of STDs in Clark County need to be considered, he said. Education, for instance, is another way to help control STDs.
But the status quo isn't working, not for locals or for visitors who are going home with STDs that likely aren't being counted as Clark County cases.
The Atlanta-based Centers for Disease Control said that in 2013, the latest data available, the total number of chlamydia, syphilis and gonorrhea cases reported in Clark County was 11,706.
"The fact is that in surrounding counties that have legalized prostitution, the transmission of STDs is diminished because workers are being monitored," Iser said. "They are tested every week. I think that legalizing sex work in Clark County would help to bring our rates of chlamydia, gonorrhea, syphilis and other sexual diseases under control."
One factor that could be pushing up the numbers in the county is The Strip and its draw from all over the world. In 2014, the area drew 41.1 million visitors, according to Las Vegas Convention and Visitors Authority.
"It is a big issue for us," Iser said. "It's a big issue for most major cities, but because we're a tourist mecca, I think we're impacted more than most areas."
And it's a problem that is increasing.
According to the health district, double-digit jumps from 2013 to 2014 were recorded for all STDs in Clark County. In 2014, there were more than 10,000 cases of chlamydia — the number-one reported STD in the county. The second highest reported STD was gonorrhea with more than 2,700 cases.
The problem in the Las Vegas Valley, said a spokesperson for the CDC, is just a piece of a much larger national problem that is seeking a solution.
There are an estimated 20 million new cases of STDs a year in the U.S., the spokesperson said.
According to the CDC, there were 1.4 million cases of chlamydia in 2013, the latest data available. That was a 1.5 percent drop from 2012 – the first time since national reporting began that there has been a decrease. It is too early to tell if this is a trend, the CDC said.
There were 333,004 cases of gonorrhea, which stayed level between 2012 and 2013 and primary and secondary cases of syphilis climbed 10 percent, mostly among gay and bisexual men
It's not just the numbers. Chlamydia and gonorrhea occur among the young – those between the ages of 15 to 24 – more than any other age group.
Nationwide, the CDC puts the cost of STDs at about $16 billion in direct medical costs.
At the health level, Iser is right on, says Dennis Hof, who owns seven brothels in Nevada.
"Brothels don't have those problems," he said. "There is pre-screening of sex workers, weekly testing and mandatory barrier protection. It works. He's right."
Hof is the high-profile, outspoken owner of Moonlite Bunny Ranch and star of the popular HBO series "Cathouse," a reality show based on the ranch in Lyon County. He has also written a book on the industry and is considering a run for the U.S. Senate.
He's in the right place. Nevada is the only state where prostitution is legal, but prostitutes can only work in brothels. Eight counties – including Nye where nearby Pahrump has two brothels – have bordellos that are licensed and strictly monitored by the state. Neither Clark nor Washoe, the two centers of the state's tourism business, is among them.
It's an industry in decline, however. Today, Nevada has 19 brothels, a significant dip from the heyday of the 1980s when there were around 34. Hof pins at least some of the blame of the sliding industry on illegal prostitution on The Strip, where he says it's a billion dollar a year business.
Hof openly admits he would benefit from the legalization of prostitution in Clark County, noting that he would be among the first to open a brothel – more than likely in or near The Strip.
"Legalizing the business," Hof said, "will absolutely work. You either have to enforce the laws that you have, or you legalize the business."
This isn't the first time Iser has considered taking his case to the state legislature.
He said he considered presenting it this year, but dropped it because there were other, less controversial issues to work on.
The odds of getting prostitution legalized in Clark County, Hof said, are pretty low.
"I applaud him for trying, but politicians don't want to deal with it," he said. "But it's got to change. The disease rates are outrageous. It's the right thing to do."
It's not just politicians who don't want to deal with the issue.
Those who either declined to comment or did not respond to telephone calls and emails included the Las Vegas Metro Chamber of Commerce, MGM Resorts, Nevada Gaming Control Board, several legislators and the Nevada Department of Health and Human Services.
If legalization is sought, it won't be easy, said David Schwartz, director of the Center for Gaming Research at the University of Nevada, Las Vegas.
"It's not something at the top of people's minds right now and historically it has not been well received," Schwartz said. "But that could change in the future."