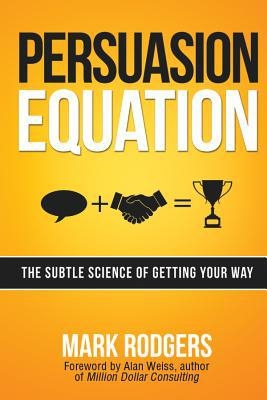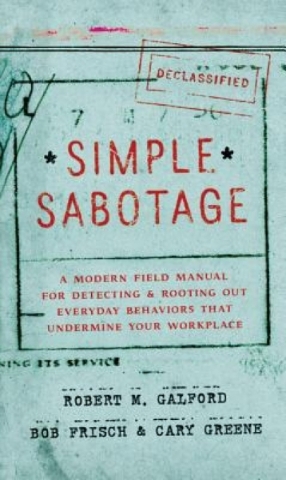 "Simple Sabotage – A Modern Field Manual for Detecting and Rooting Out Everyday Behaviors That Undermine Your Workplace" by Robert M. Galford, Bob Frisch & Cary Greene (HarperOne, $23.99).
The Office of Strategic Services (OSS) was a United States WWII intelligence agency, and a predecessor of the CIA. It was formed to coordinate espionage activities behind enemy lines. While many of its activities were aimed at slowing down the enemy's troops, its field manual also provided tactics on how to slow down the flow of information within organizations. The manual's advice reveals that many accepted business practices can sabotage operations by wasting time and money:
"Sabotage by Obedience" involves doing everything through the "proper" channels. Communication across cross-functional lines diminishes because the information nexus resides at the top. As a result, problem-solving, decision-making, plan-tweaking and execution become drawn-out processes. By wasting time, the company also wastes opportunity.
By "following orders," creativity and innovation stall, too — as do continuous improvement and talent development. The "by the book Bob" drones are content; the really talented people recognize the lack of personal challenge and growth and move on.
"Sabotage by Committee" affects planning, consensus building and accountability. Committees, teams and work groups form with specific mandates and often stay so focused on them that they may ignore issues that conflict with the mandate. Those issues may have an impact on the outcomes of others.
In large committees, a person's job often hides a committee's job, which sometimes means it's no one's job. Even when there's a committee head to assign responsibility, it's difficult to reach a consensus because all input isn't created equal (i.e., "Too many cooks spoil the broth.").
"Sabotage by Reopening Decisions" refers to constantly questioning the advisability of a decision. Once reopened, all prior work comes to a standstill; timing of the next steps are affected, too.
Also, when reopening decisions become habitual, people will be hesitant about making a firm decision. Second-guessing decisions will become more important than making them.
The bottom line: Businesses must constantly evaluate policies and procedures to ensure that the ways of the past don't sabotage the path to the future.
"Persuasion Equation – The Subtle Science of Getting Your Way" by Mark Rodgers (AMACOM, $17.95).
To understand the art of persuasion, you need to think about why people say yes or no. At first blush, you might think rational thinking (i.e., evaluating a compelling business case) drives yes. But consider that humans don't practice deep thinking, which leads to rational decisions. We may say that "we've done our homework," but the way we do our homework shapes the decision.
When confronted with complexity, we employ mental shortcuts in the form of methodologies and biases. Our approach to a problem may appear sound, but it also includes our biases.
With this in mind, the homework you do to persuade someone must include things that appeal to their perspective. Much of the homework is done on the fly because you have to get to know your target before presenting your case. Differences in personalities, generational outlook, gender, ethnicity, technology usage, etc., affect their decisions. Engaging them in conversation by asking questions probes for their methodologies, biases and personal agendas. Once identified, tailor your case so it appeals to both their logic and emotion.
Next, focus on your credibility. While expertise establishes it, relating to the target on her/his terms increases it, which helps you get to yes. Showing respect enhances it, too. Easy ways to show respect: 1. Don't interrupt, 2. Use "yes and …" not yes but …" when responding.
Key takeaway: The process of persuasion is dynamic and fluid. "Never allow yourself to have one option for your persuasion project."
Jim Pawlak is a nationally syndicated reviewer of business books.