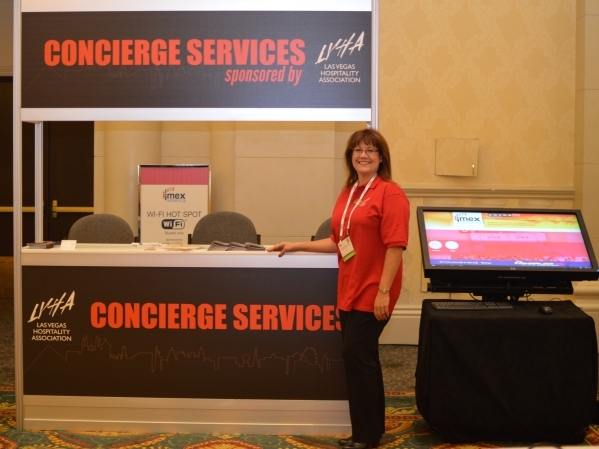 Cyndi Martin wears two hats — president of the Las Vegas Hospitality Association and business development manager at Freeman.
She's a Las Vegas native who has built a career in management despite having only one year of schooling at the College of Southern Nevada.
Martin got her first job with Greyhound Exposition in 1984 and spent 23 years there working and learning. She then moved to Freeman as business development manager, selling and producing trade shows.
Freeman is a long-time supporter of the Las Vegas Hospitality Association and has supported and encouraged Martin's participation in the LVHA events and her role on the organization's board. Martin was installed as president of the Las Vegas Hospitality Association in January and is serving a one-year term. It's a three-year committment; last year she was president-elect and next year she'll be the chairwoman.
Q. During your year as president, what are your plans and goals?
A. Basically my major plan, focus, was education which we are doing by providing continuing education for those who are interested in getting their convention services managers associate degree or anything that's continuing education for any of their degrees that they need in the hospitality industry. We do that on a monthly basis for our members only; and then we also have a boot camp which prepares people for their CMP program, and that's a full-day session right before they're going to take their test. That is also for members only; so, basically we're giving our members benefits that they can always get without traveling outside of Vegas.
Q. How does the Las Vegas Hospitality Association affect small businesses?
A. Well, basically, the Las Vegas Hospitality Association is a company organization. So you cannot be a member without your company participating; at least 90 percent of their business has to be in the hospitality industry. And they have to have an office in Las Vegas. So no matter what the size of your company, when we do our mixers or events, we encourage the company to support other companies and give them work or work within that organization. There were some small print companies we work with or larger companies. We network by sharing resources that way.
Q. What is the role of the Las Vegas Hospitality Association on big properties?
A. Basically, for us, it's to help them; to provide the education that they need for their members. We're very fortunate that the large hotels and the Las Vegas Convention Authority promote and sponsor LVHA. So without their support and help we would not be able to get the speakers that we have for our panel discussion or some key benefits.
Q. How does your role as business development manager at Freeman relate to the LVHA?
A. It's allowed me to have a better opportunity to get to meet more of the hotel, hospitality industry people. Being with Freeman, some of the resources I use would not necessarily be allowed to members, especially for the destinations management company. It's nice to know they're out there so my clients reach out to me, saying, 'Cyndi do you know of a company that can do this for us?' And, I'm connecting with those people. So, that's been valuable to me and my client.
Q. Which is your full-time or primary role, president of the LVHA or business development manager at Freeman?
A. Business development manager is going to always be my primary focus. But being president of the LVHA is also a full-time job. Trying to juggle both can be entertaining for me and my family. So, I am wearing two hats. I am accessible during the day for my clients with Freeman and also for the members of LVHA. So it's definitely a rewarding full-time job.
Q. How do you manage both roles successfully and what are some of the challenges?
A. I do have a strong network of support from Freeman and also the board of directors that are involved with the operation LVHA. They also co-chair events or manage events every month. We do have one event a month and sometimes we have two events a month. Each director owns one of those, and basically without them owning their event, their project, then I would not be able to be successful delivering on the quality of products and meetings for our members. LVHA's primary goal is to provide scholarships in our community.
Q. What is your biggest fundraiser of the year?
A. The biggest one is every other year; that would be our golf tournament which does raise quite a bit of money toward scholarships. The following year, our biggest fundraiser is our Distinction Awards. That's when we receive nominations for Industry Leader of the Year.
Q. How is LVHA an organization that gives back to the community?
A. LVHA is a fully volunteer organization. Basically, its officers, directors, members and volunteers donate their time to assist LVHA's charitable and educational mission. As of last year, we've given over $1 million in scholarships. Last year, we have 21 scholarships, and as far as endowments, UNLV received $50,000, CSN $100,000 and we've given over $200,000 in scholarship dollars to CSN.