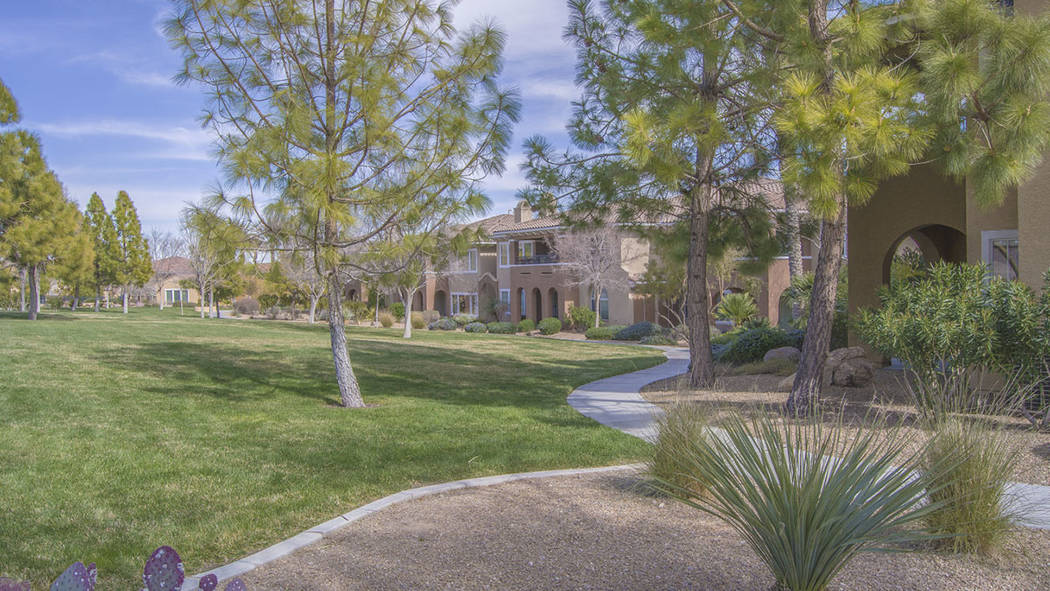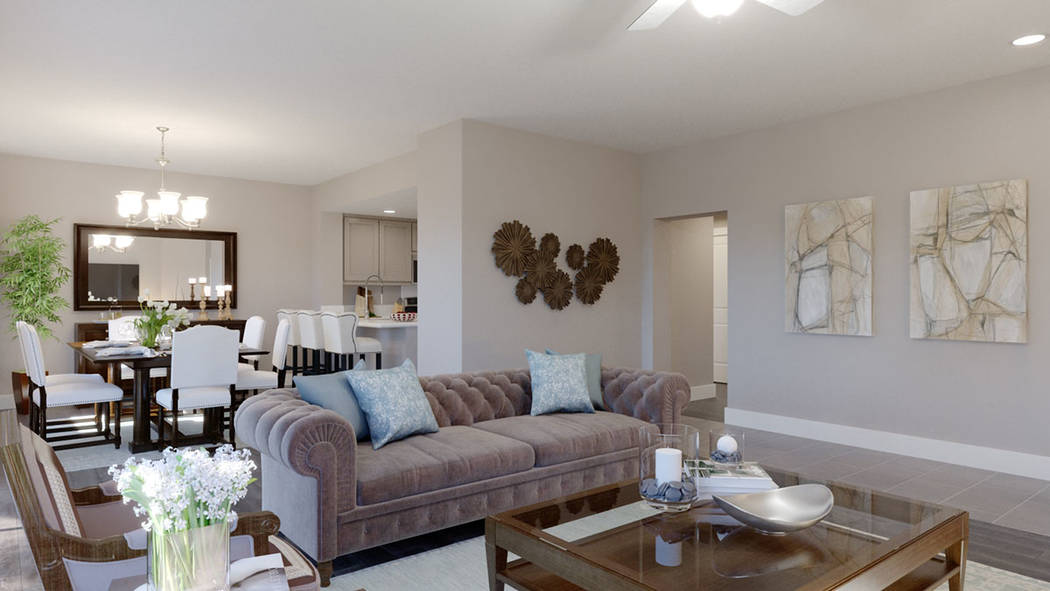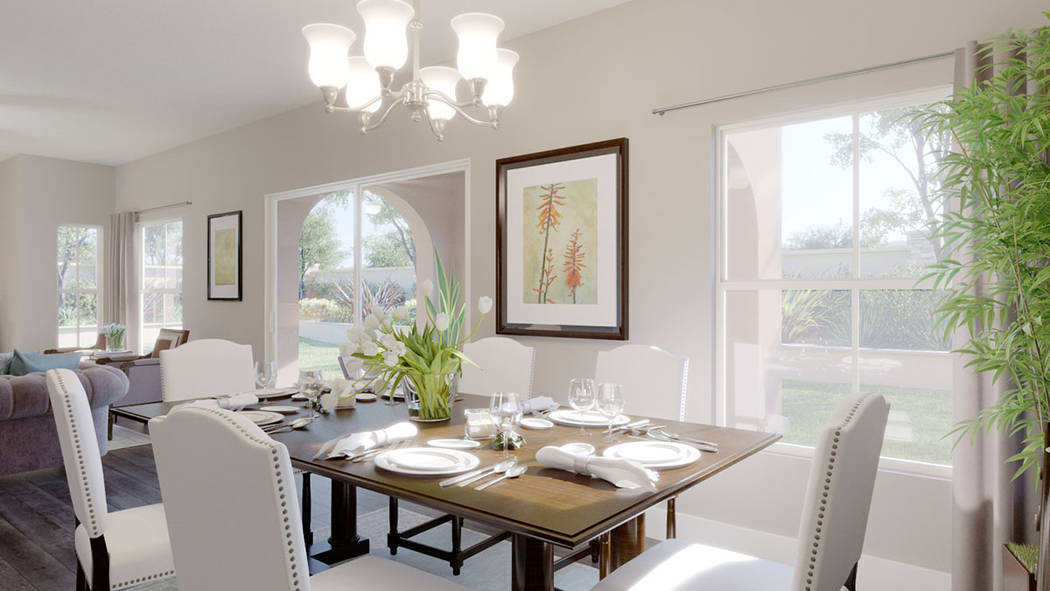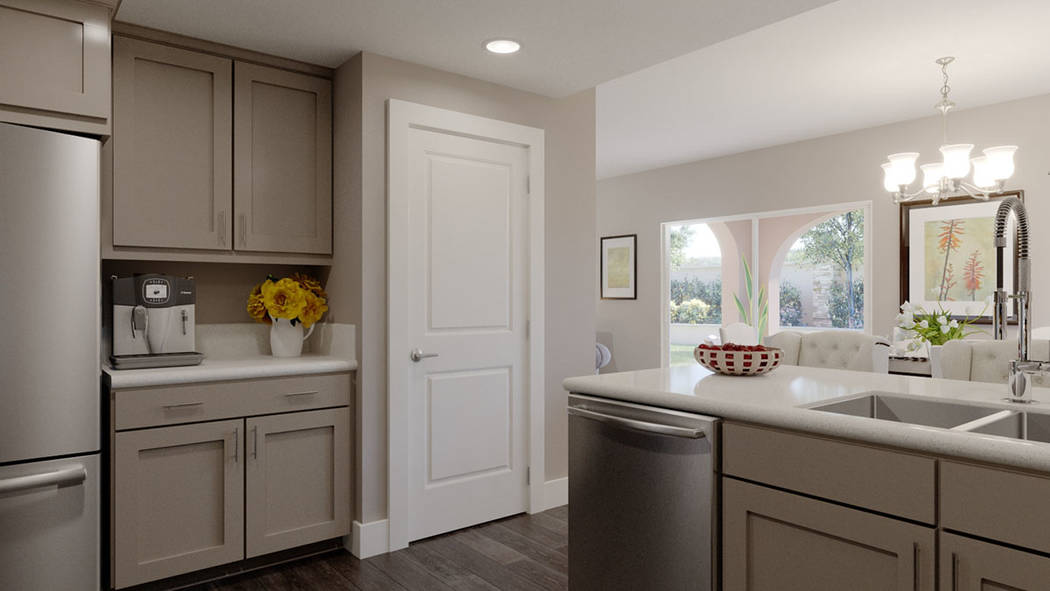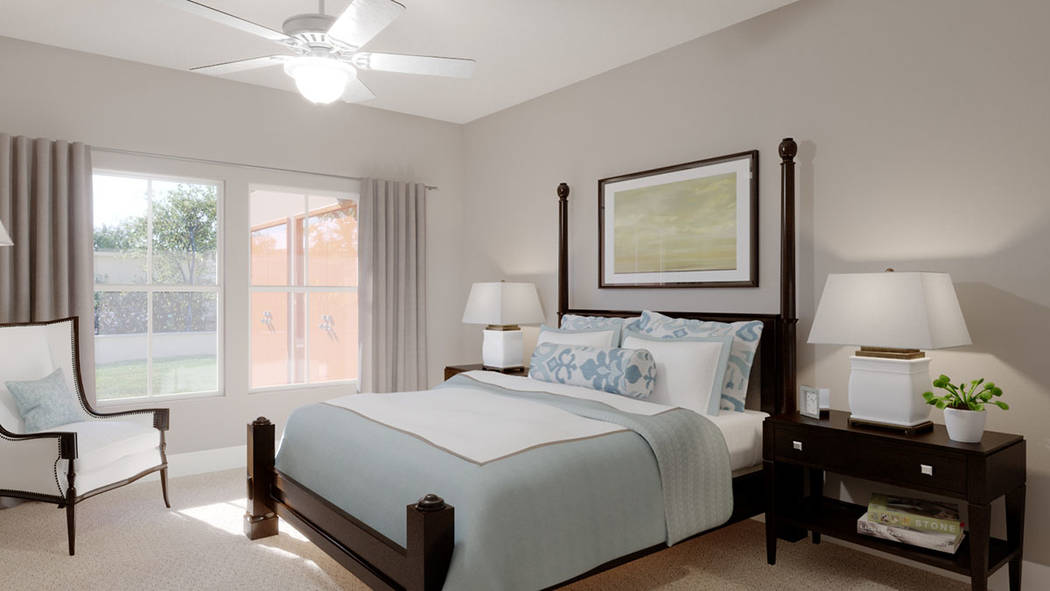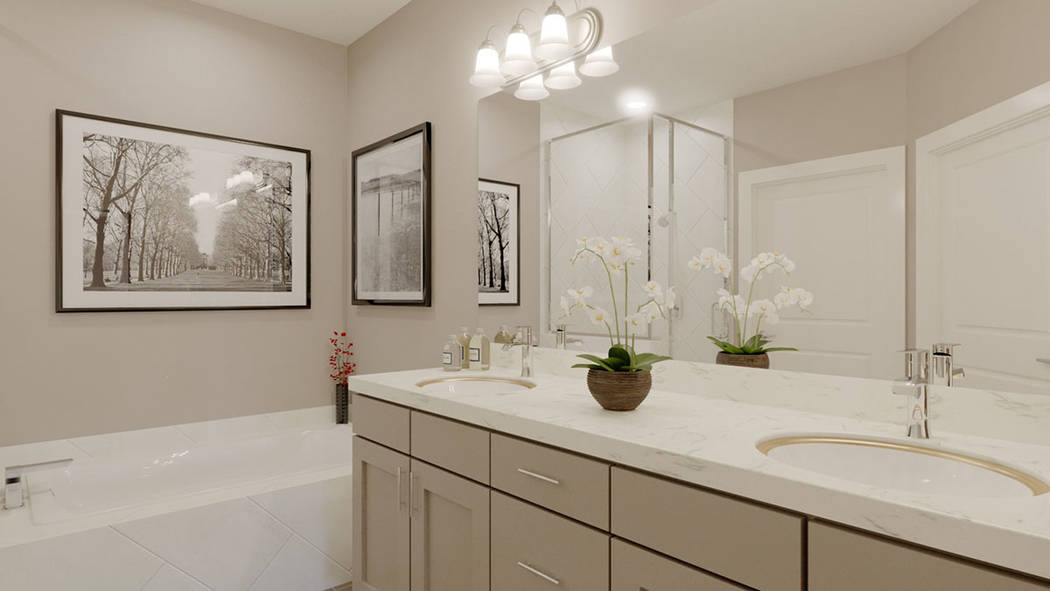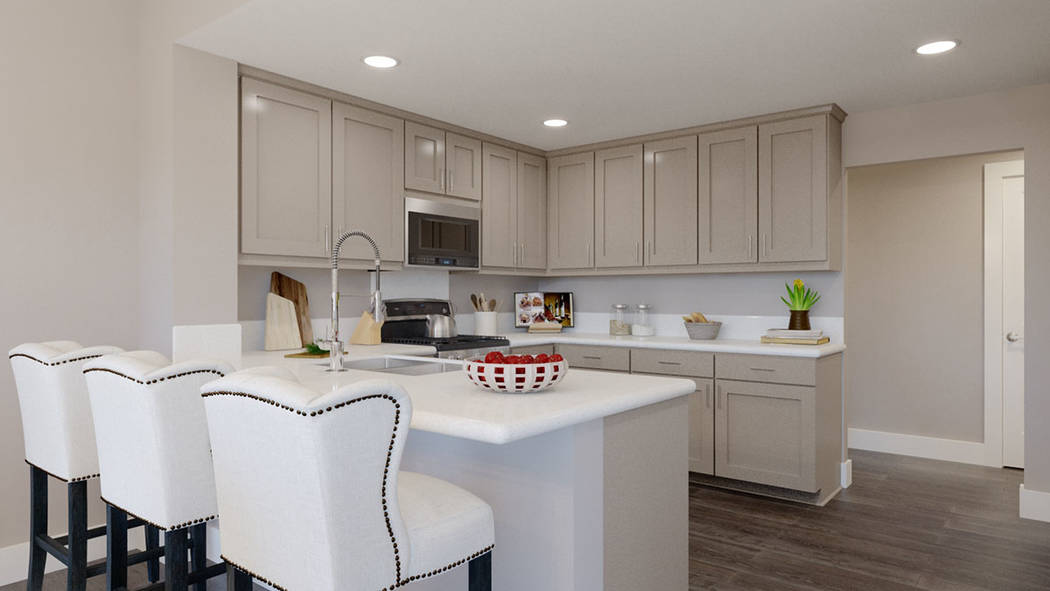 Town home and off-Strip condo construction has picked up in the Las Vegas Valley, and nothing epitomizes that more than what's happening with Edward Homes.
The small private builder just wrapped up a town home project in Inspirada in Henderson. It has a town home project underway in Lake Las Vegas, a condo project underway in Summerlin; and it plans to start construction on a town home project in the west valley later this fall. And, it's eyeing future opportunities in that segment.
Large production builders have already been moving in that direction over the last couple of years, buoyed by a change in state law in 2015 over construction defects.
The latest report from Las Vegas-based Home Builders Research shows for-sale town home and condo closings are more than double in the first six months of 2018 compared to the same period in 2017. Home Builders President Andrew Smith said homebuilders have been reintroducing attached products throughout the valley, and the percentages show it.
In June, attached product accounted for 11 percent of home closings versus 3 percent in June 2017, Smith said.
That share is expected to rise in the second half of 2018 with town homes and condos in builders' production pipelines for Cadence and Tuscany in east Henderson and Valley Vista in North Las Vegas, Smith said.
Earlier this year, Nat Hodgson, CEO of the Southern Nevada Homebuilders Association, foreshadowed the trend when he hosted a panel discussion on town homes and attached product. Homebuilder executives with Richmond American Homes, Shea Homes, Toll Brothers, William Lyon Homes outlined their plans.
"If you would have told me we would have a panel of builders talking about multifamily projects five years ago, I would have laughed," Hodgson said. "It's exciting to see that most of all of my builders have a project underway or on the books that they are going to do."
It's driven by affordability for some. For others, it's lifestyle change whether its millennials, Generation X, or baby boomers, who don't want to have to deal with property maintenance and would rather lock-and-go, he said.
"Some builders are higher-end; some are (in the) middle; and they're trying to find a price point — and for some it's affordability," Hodgson said. "They all have a different spin of what they're doing and some, like Shea Homes, (are) active-adult. They all have the same topic but a different demographic. Each generation is looking at these with different needs."
Hodgson said it's exciting because builders need to increase their portfolio and be diverse in their offerings to be successful in the marketplace.
There was a time when for-sale, multifamily made up 15 percent of the volume — and during the downtown, and with construction defect litigation it went below 1 percent, Hodgson said.
In 1994 and 1995, the mix was 26 percent. It was 15 percent in 2006 and 12 percent in 2007 and dropped to 8 percent in 2010. It hit 1 percent in 2012 before going back up to 3 percent in 2013 and 4 percent in 2014.
"To see it come back, I think we will see 15 to 20 percent in the future," Hodgson said.
What happened?
The Nevada Legislature passed a law in 2015 dealing with construction defect legislation that made it easier to build the product and not worry about getting sued, Hodgson said.
"It wasn't going up until we passed the law in 2015 and then you put it on the books and the first projects you started seeing was last year," Hodgson said.
Edward Homes, which has been building in homes in Southern Nevada for more than 15 years, has been part of that newfound trend of town homes and condominiums.
Brian Krueger is the senior vice president of Strategic Services with Coldwell Banker Premier Realty, the broker on for Edward Homes, which is owned by Brock Metcka. It also does commercial and apartment development, skilled-nursing homes and is doing a luxury home in MacDonald Highlands.
Krueger, who previously worked in Seattle, said what's happening in Las Vegas is similar to the trend in the Pacific Northwest city. Affordability and the need for density helps drive condo and town home projects, he said. It also works from a lifestyle perspective for young professionals to empty nesters, who want to downsize from homes and not worry about maintenance, he said. It's also trend happening nationally.
"It's about live, work and play," Krueger said. "We're really pushing the residential division from the attached prospective as we saw this happen in Seattle in the 1990s because when land prices go to where they are, you are going to have to start building attached housing to make it affordable."
Earlier this year, Edward closed on a 12-unit town home project in Inspirada in Henderson called City Lofts. It had acquired land once owned by Meritage Homes, and built three-story town homes. They sold for $370,000 to $440,000.
In December, Edward Homes paid $840,000 for about 1 acre in finished lots in Lake Las Vegas for the Vita Bella town home project of Toll Brothers, which Krueger said was halted after the Great Recession. Some 55 of the 79 town homes planned have been built previously, and Edward will build the remaining 24. Construction started in February and the first units should be done by the end of September, he said.
"Toll put it on hold when the market crashed, and to restart the whole marketing engine for only 24 homes didn't make sense (for Toll Brothers) so they decided to sell it," Krueger said.
Five of the 24 units have been pre-sold. Edward will have three plans that range from 1,700 square feet to 2,100 square feet and are priced between $365,000 to $500,000. The units are three stories, side-by-side.
"Activity will pick up once we're finished," Krueger said. "It's a great location between the Westin and Reflection Bay Golf Club. We had to maintain the plan that was approved from the exterior to the floor plans, but we modernized the interior of the home."
In The Paseos neighborhood of Summerlin, Edward Homes is building the Coronado condominiums, a project of 37 condos, of which 16 have already been reserved. The first buildings will be completed by October or November.
The units range in price from 1,300 square feet to 1,800 square feet with prices of $300,000 to $400,000.
Much like Vita Bella, this was a project of Westmark Homes that went unfinished for 12 years after it was halted by the recession, Krueger said. The project called for 174 homes and 37 remain to be completed.
Construction started in February and the first move-ins should be by early October. It will feature three buildings with 10 units each and one building with seven. It has two floors.
Attached product has been a growing feature in Summerlin.
CalAtlantic Homes began selling its Santa Rosa town homes in The Paseos last summer. It has two-story and three-story designs. Prices range from more than $300,000 to less than $400,000. Also, in Summerlin, Affinity by William Lyon Homes in Summerlin Centre, located west of the 215 Beltway on West Charleston Boulevard, has sold more than 100 of its nearly 500 units since it opened in 2017.
It has one-story flats, town home-style condos, second-floor flats, and single-family cluster duplexes. Prices range from the $200,000s to $400,000s.
Also in the west valley, Edward Homes is expected to start an interest list in August for a project of 31 town homes near the Providence master plan in which construction is set to start in November. The units will be 1,350 square feet to 1,550 square feet and cost between $260,000 and more than $300,000.
The 2½-acre project, 10544 W. Centennial Parkway, is part of a partnership and doesn't have a name yet, Krueger said. It is expected to have its first building completed by next summer. It will be two stories and side-by-side.
This won't be the last town home project for Edward Homes and for other builders.
This fall, Richmond American Homes plans to introduce town homes priced in the mid-$200,000s in Cadence in Henderson. Edwards is eyeing more building in Lake Las Vegas.
"We're continuing to look for opportunities," Krueger said. "The guys at Lake Las Vegas like what we're doing, and we're in discussions about a few different things. Nothing is finalized, but we're working to tie up a 9-acre parcel. Lake Las Vegas is ideal for second homebuyers from California because of the lake and the resort feel where you have the water sports, village and now, a grocery store. We feel good about what's happening in Lake Las Vegas."
Krueger said they purposely looked for opportunities that are close to, or in master-planned communities so residents are close to such amenities as shopping, retail and restaurants. That works out in Summerlin as well, he said.
"If you are in a master plan or close, you're going to drive a higher-price point," Krueger said. "There's not much to buy in Summerlin for $300,000 to $400,000, so that's a nice price point to be in there, and the initial interest has been extremely good."
The projects aren't cheap to build because the price per square foot is more than single-family, but builders make it up with density, Hodgson said. Builders can get 12 to 16 town homes per acre and 20 to 24 condominium units, according to Krueger, who said he doesn't expect the high-rise craze that hit Las Vegas last decade to return anytime soon.
The cost of land and construction are such that there isn't enough margin for high-rise projects at this time, Krueger said. Condos of four stories are less can be built with a wood frame as opposed to concrete and steel needed for larger projects, he said.
"We have some clients with some land holdings downtown, and it's not quite time to do 10, 12 or 14 stories," Krueger said. "It doesn't pencil out."
It makes sense, however, for town homes and other attached products to be the preference right now, Krueger said. Las Vegas has always been a bedroom community dominated by single-family homes, and that's an easier transition because it "feels like a single-family home, with no one above you, and you don't have the density of a condo project."