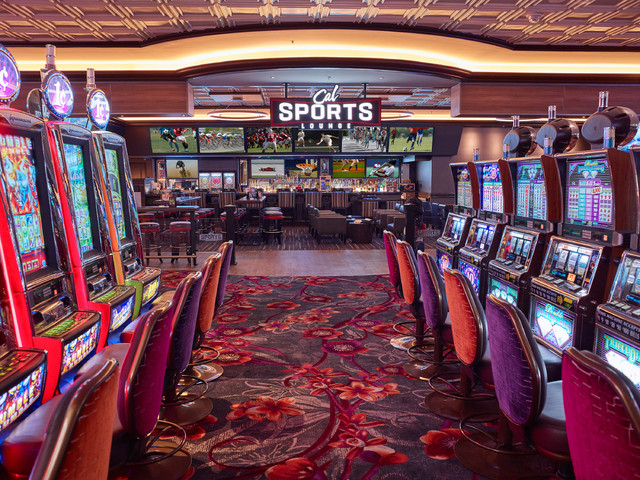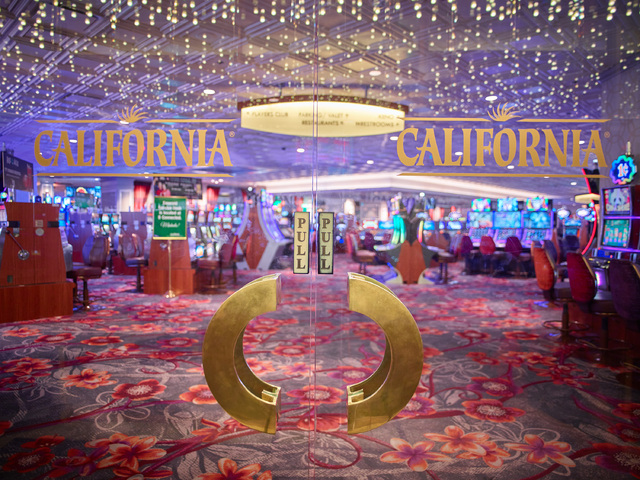 Boyd Gaming Corp. announced the completion of its renovation work on the California, also known as the Ninth Island for its Hawaiian decor, in downtown Las Vegas in December.
"The extensive redesign has given the Ninth Island a modern and appealing new appearance while still maintaining what our guests have loved about The Cal for more than 40 years: a commitment to excellent customer service," said Steve Thompson, executive vice president, operations of Boyd Gaming.
The property's renovation included modernization of the casino floor. The casino was given a modern island vibe with new carpet, molding and chandeliers. The valet area also was updated.
Three new restaurants were introduced to the property this year: a luau-inspired bar, Holo Holo — The Happy Bar; the Cal Sports Lounge, a race and sports book and sports bar; and Redwood Steakhouse.
In early 2017, Boyd expects the task of updating 435 guest rooms and 56 suites to be completed in the hotel's west tower. The project is underway, and the property will soon see new furniture, carpet and fixtures. The signature island influence is expected to be a part of the room renovations.
Colliers International Las Vegas one of nine independently owned locations to merge with corporate office
Colliers International Group Inc., a global real estate company with a footprint in 66 countries, and Colliers Parrish International Inc., the largest independently owned affiliate firm of Colliers in the U.S., announced a merger agreement to bring Colliers Parrish under the corporate umbrella.
"By integrating our operations in Northern California and Nevada and leveraging the size, capital and established infrastructure of the Colliers global platform, we will accelerate the success of our clients and create more opportunities for our people," said Colliers Parrish CEO Andre Walewski.
The Colliers Parrish holdings include brokerages in Northern California and Nevada: San Jose, Oakland, Stockton, Pleasanton and Redwood City in California; Fairfield and Walnut Creek, California; and Las Vegas and Reno.
Colliers Parrish's locations offer services in investment sales and leasing as well as capital markets. The company also offers services in valuation and advisory and property management.
Details of the merger deal were not given.
The purchase by Colliers corporate is one of many the entity made in 2016.
"This acquisition is consistent with our strategy to acquire market leaders throughout the U.S. and follows five other acquisitions completed over the past year," said Dylan Taylor, president and COO of Colliers International.
Richmond American Homes of Nevada wins award for best design
M.D.C. Holdings Inc. announced in December that its subsidiary, Richmond American Homes of Nevada Inc., received the Silver Award for best design center from the National Association of Home Builders.
According to a press release from M.D.C., "Richmond American's Nevada Home Gallery has interactive vignettes and state-of-the-art technology that offer homebuyers the opportunity to bring personal visions to life."
The design studio offers potential homebuyers a chance to choose from several finishes. In the studio, 55-inch flat-screen monitors allow design specialists to display options not exhibited, product videos and professional photography of model homes.
The Silver Award winners, which include Richmond American, are in the running for the Gold Award for best design center, which are presented in January 2017.
Industrial project planned in North Las Vegas for smaller users
Phoenix-based ViaWest Group, a commercial real estate acquisition, development, property management, investment and advisory firm, announced plans for an industrial project in North Las Vegas for the smaller user.
According to a release, ViaWest is planning a 121,890-square-foot industrial building for the "mid-bay" user, or tenant looking for smaller space, in North Las Vegas. Via West closed on a 7.29-acre parcel in December on Lamb Boulevard, just south of E. Craig Road in North Las Vegas for the structure, the company reported.
Tenants looking to move in will find spaces divisible down to 10,000 square feet up to 30,000 square feet.
The property, with a planned completion date of early 2018, will contain nine suites (or bays) and have a 28-foot clear height.
Developments in the Las Vegas market mostly catered to large, e-commerce companies over the past several years. Gary Linhart, founding partner at ViaWest Group, said he is looking to fill this gap.
"We have been looking to either buy or develop mid-bay buildings, but with 5% vacancy and very little competitive product on the horizon, we think it is time to build," he added.
City National Bank signs lease extension
City National Bank, a private business bank, announced the signing of a 10-year lease extension on its Las Vegas regional center in Summerlin at 10801 W. Charleston Blvd. in December.
City National holds 4,400 square feet on the ground floor and an additional 11,952 square feet on the second floor of the 10801 W. Charleston building. The new lease terms begin in October 2017 and end in March 2028.
"We are very excited to have City National commit to remaining in our building as their regional center and main headquarters for Nevada," said Jason Awad, managing member of Charleston Pavilion, LLC. "City National has strong brand awareness and an excellent reputation in our community, as well as in the banking industry. We look forward to having City National as our anchor tenant for another ten years and well into the future as our city continues to grow and expand."
As part of the lease agreement, City National will also receive additional rooftop signage on the south-facing side of the building.
Siegel Group Nevada expands its brand in Southern Nevada
The Siegel Group Nevada announced the acquisition of an extended-stay building in Las Vegas — adding to its more than 20 apartment communities around the valley.
The 126-unit property, previously operated under the Crossland Economy Studios brand, was purchased by Siegel for $4.55 million at the end of December.
The two-building, three-story complex was built in 1992 and sits on 2.3 acres at 4240 Boulder Highway, just south of E. Desert Inn Road. The move also expands Siegel's presence on Boulder Highway.
"It's hard to believe that it has been 11 years since we opened Siegel Suites Boulder which was our first location along Boulder Highway," said Stephen Siegel, president of The Siegel Group. "I'm excited to have expanded our presence along Boulder Highway where we now have three locations and look forward to continuing the explosive growth of our various brands as we identify and expand throughout new markets."
The property will be renamed Siegel Suite Boulder III. And Siegel Group plans to install high-speed Wi-Fi throughout the property. The company also plans to add flat-screen televisions and make minor cosmetic upgrades to the interior of the rooms. Additionally, Siegel is planning several improvements for the façade and signage on the building.
According to a release from Siegel, this is the fourth acquisition for 2016 and the 37th location for the brand's Siegel Suites and Siegel Suites Select labels.
Siegel owns several properties throughout Nevada, Arizona and New Mexico. The company is planning additional openings in 2017 across various locations including Los Angeles.