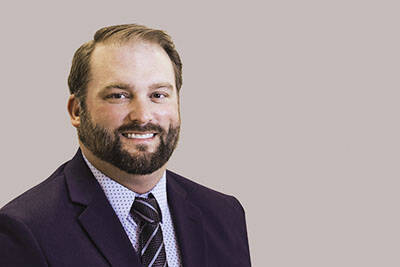 Justin McCrory had a career where his job was to make UNLV football coaches happy. Today, it's the same concept but for new homeowners.
That's his role as an area customer care manager with Tri Pointe Homes. For his efforts with the homebuilder, he's received a Silver Nugget for Young Leader of the Year.
The 35-year-old McCrory, a Southern California native who relocated to Las Vegas when he was 8, graduated from Las Vegas High School, where he played football as a center and nose guard. McCrory attended UNLV, where he also played football, but after breaking his neck and recovering, he worked for the football program as the video coordinator for 10 seasons.
McCrory said he was looking for a job that didn't involve 17-hour days and six months straight without any days off because he wanted to start a family.
His wife's brother-in-law worked for the then-Pardee Homes as director of land development and let McCrory know they were looking for customer service representatives. He submitted his resume and was hired in February 2016.
"I started as a customer service representative with a couple of communities I would perform warranty work in," McCrory said. "If there was anything wrong with the home warranty-wise, the homeowner would reach out to me, and I would evaluate it. If I couldn't take care of it myself, then I would reach out to the trade partner and have them come and make the repairs."
In less than a year, McCrory was promoted to area customer care manager covering Henderson and the southern end of the valley.
"We have customer-care reps who are in the community, and I'm the go-to for those reps to reach out to and support and meet with upset homeowners when I need to jump in and take care of that," McCrory said. "At the end of the day, we want people to be happy and have a good experience."
In the football world, McCrory said his job was to keep the coaches happy by making sure the computers were working and the network was working and by creating highlight videos even when they didn't have good seasons.
"The end result is the same where I need to keep people happy," McCrory said. "Transitioning to this is obviously completely different as far as now being hands-on in the construction world, but the end result needs to be the same. I need to keep the homeowners happy because it's Tri Pointe Homes' name on the line. When they look at me, they see Tri Pointe Homes, and that keeps the referrals going."
McCrory said that while addressing people's problems and making them happy is the favorite part of his job, the most difficult part is trying to make people happy who are not going to be that way, McCrory said.
"You come in and the person is upset about something out of your control and you do everything you can to make them happy and fix the problem, but most of the time there's not a problem. It's a problem in their eyes. The hardest part is letting someone down but keeping that positive mentality."
Trying to navigate through the COVID-19 pandemic was difficult during the first couple of months in 2020, McCrory said. Tri Pointe was semi-digital, but there was still the need for paperwork and interactions with customers, he said.
In Tri Pointe's nomination of McCrory, James Rampa, director of customer service said his technology background and leadership skills resulted in innovations that improve efficiencies, save money and make homebuyers happy.
Rampa credited McCrory for transitioning his department to paperless with all homeownership documents loaded onto the system so representatives could access on provided iPads and homebuyers could sign digitally. He allocated staff training hours to learn Hyphen Solutions software for greater operational control, better communication and increased productivity, Rampa said.
"We didn't have to go into the house to look at things anymore to keep the peace of mind for the homeowner and peace of mind for my reps in the area because of COVID," McCrory said. "It was to get a picture of it and then send people out if it needs to be repaired."
Rampa said McCrory devised and secured approval for a business plan to bring Tri Pointe's HomeSmart program in-house after Amazon discontinued it. He identified another vendor, hired Amazon's No. 1 tech for a new position, ordered HomeSmart devices — Wi-Fi-enabled equipment in homes — in cost-saving bulk and created tracking systems, reducing labor costs by 50 percent per home.
The program is so successful that TPH is starting to roll it out nationally, Rampa said.
"We would have either taken it to an outside network and paid triple the amount or keep it in-house and hire someone," McCrory said.
McCrory also saved Tri Pointe $300,000 by proposing and then bringing model home maintenance under his department and reassigning an employee to oversee it in Southern Nevada, Rampa said.
McCrory and his wife, Patricia, have a daughter, Mercy, and son, Luca.
The other finalists for Young Leader of the Year were Ryan Rivera with Richmond American Homes and Andrea Miller with Harmony Homes.