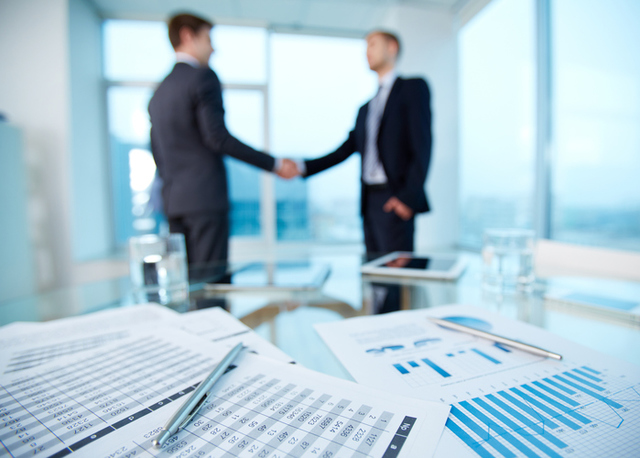 The recession may be long passed in Las Vegas, but don't tell that to some commercial property owners, especially in the office market.
Reports show overall, the office market is steadily recovering; however, some 10-year loans made before the Great Recession are coming due this year and in 2017. That is putting some pressure on property owners who may not be able to refinance because values have not recovered enough.
Trepp, the New York-based data and analytics firm, reported that a loan behind the office complex, The Park at Spanish Ridge has been sent to special serving due to an imminent maturity default.
The $24.4 million note, which represents 3.41 percent of the remaining collateral behind the office park in the southwest valley, is slated to mature in November, said Sean Barrie, a research analyst at Tripp.
The collateral is comprised of two neighboring office buildings that total 114,169 square feet. The first property, 8912 Spanish Ridge Ave., is 68.9 percent occupied by Schadler Kramer Group.
The second property is 100 percent occupied by Pinnacle Entertainment, Barrie said. The Pinnacle lease is slated to end in January, which could be the cause of the loan's inability to be refinanced, Barrie said.
"The loan behind the Park at Spanish Ridge has not been refinanced, and the balloon payment was due on Nov. 1," Barrie said. "The lease renewal being up in the air seems to be causing some difficulty in terms of refinancing."
That's one of many examples in the Southern Nevada office market. Las Vegas has 27.7 percent of its Commercial Mortgage Back Securities (CMBS) loans behind Las Vegas office buildings that are delinquent, Barrie said.
"This appears to be another brick in the wall," Barrie said.
Earlier this year, Trepp listed 35 Southern Nevada properties with loans originated between 2005 and 2007 that are either delinquent or in special servicing. Most are office buildings, but there are some shopping centers, apartment complexes, industrial centers and one hotel.
Despite being the hard-hit sector during the recession, the office market continues to make gradual improvements.
The third quarter report released by research firm Applied Analysis shows this is the 10th consecutive quarter that the office market has had positive absorption in the quarter. The vacancy rate stood at 20.5 percent, down from 21 percent in the second quarter. It was 22.4 percent in the third quarter of 2015 and 23 percent in the third quarter of 2014. Applied Analysis reported.
High-end Class A space had a vacancy rate of 16.4 percent. The lowest grade Class C space had a 24.7 percent vacancy rate. The vacancy rate was 22.5 percent for office space built on speculation versus 8.6 percent for space that was not, Applied Analysis reported.
Principal Brian Gordon said more than 1 million square feet of space has been absorbed through the third quarter, nearly twice the space during 12 months of 2015.
Job growth has made the difference with the unemployment rate falling nearly a percentage point in a year, Applied Analysis reported. There were more than 26,000 employees added, including nearly 8,000 in office-using positions, 7,000 in construction and 4,700 in leisure and hospitality.
"While the office sector has lagged in terms of its recovery and timing, it appears to be gaining some momentum in 2016," Gordon said. "Notable vacancy rate declines and meaningful demand appear to be emerging. We're encouraged by recent trends and look forward to continued gains heading into 2017."
In the third quarter, the office market reported 257,600 square feet of positive net absorption and the southwest valley absorbed 111,000 square feet, according to Applied Analysis. The south and central east portions of the valley had 77,800 and 71,200 square feet of absorption, respectively, the firm reported.
The private K-12 school David O. McKay Academy Inc. leased 31,200 square feet in Green Valley Civic Center at 2625 N. Green Valley Parkway. The dental practice Absolute Dental Management leased 19,000 square feet in Sahara Rancho Corporate Center at 2250 S. Rancho Drive.
While there are a number of projects actively under construction, there were no office market completions in Las Vegas Valley during the third quarter of 2016, Gordon said.
The office market has increased by about 171,000 square feet so far this year, Gordon said. Those projects include the Federal Justice Tower totaling 129,000 square feet at 501 S. Las Vegas Blvd. in downtown; Sun West Two15 at Centra Point, totaling 17,000 square feet at 6675 S. Cimarron Road in the southwest; and One Nevada Credit Union totaling 9,600 square feet at 5525 S. Durango Drive in the southwest, he said.
As for existing construction, Gordon said there's eight projects totaling 427,900 square feet. There's the 180,000-square-foot UFC headquarter; an 80,300-square-foot medical office building at MountainView Hospital; 68,000 square feet at Tivoli Village at Queensridge second phase; nearly 37,000 square feet at The Square office condominiums; the 26,100-square-foot Supreme and Appellate Courts of Nevada; 16,500 square feet at Jones Beltway Business Park, and 14,700 square feet at Sahara Rancho Office Center, he said.
Applied Analysis reported development projects are located in the southwest (238,900 square feet), northwest (148,300 square feet), downtown (26,100 square feet), and west (14,700 square feet).
Applied Analysis Research analyst Patrick Chapman said they're seeing an increase in construction for small, build-to-suit office properties, especially in the southwest valley.
"Although it is promising to see new construction in Southern Nevada's commercial office market, developers are shying away from the construction of large, speculative, multitenant office projects in favor of smaller projects with less development risk," Chapman said.
The average asking lease rates dipped to 1.88 per square feet in the third quarter, but that's up 1 percent from a year ago, Applied Analysis reported.
The rates break down to $2.49 per square feet for Class A, down 1 cent from a year ago. It was $1.86 for Class B, up 3 cents from a year ago. It was $1.46 for Class C, up from $1.45 a year ago.