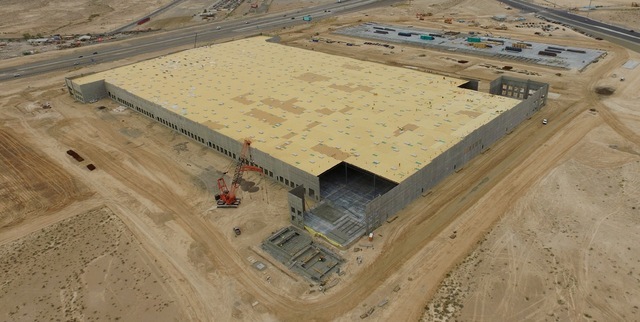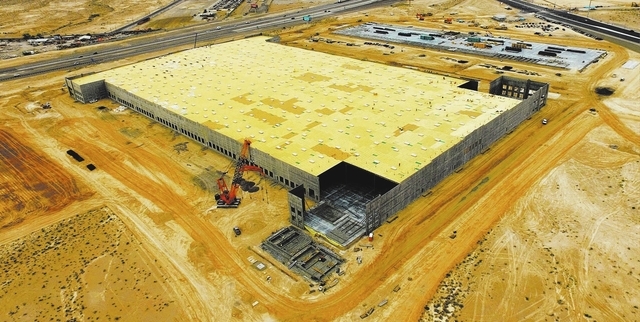 Florida sports merchandise company leases industrial space
Jacksonville, Florida-based Fanatics, a sports merchandise and internet retail company, signed a lease for 400,000-square-foot facility in Northgate Distribution Center in North Las Vegas. It is estimated the company will generate 200 jobs.
"Fanatics is excited to open our latest state-of-the-art fulfillment center in North Las Vegas and fully integrate ourselves in the community, while also creating an abundance of job opportunities for many years to come," said Lonnie Phillips, senior vice president of operations for Fanatics. "As Fanatics continues to grow, our strategic distribution system also needs to evolve so we conducted a very comprehensive search for the ideal location and we believe North Las Vegas is exactly the area we need to be in to better serve our customers with faster delivery to the West Coast and Northwest."
VanTrust Real Estate LLC is developing the 108-acre industrial center. Kevin Higgins, executive vice president of CBRE represented VanTrust in the transaction and Dan Doherty, executive vice president of Colliers International represented the tenant.
Martin Harris Contracting is the general contractor for the first phase of the project. HPA Architecture of Irvine, California, designed the 36-foot clear height, concrete tilt building that will function as a high-cube distribution center with four levels of walkable racks.
The building product is highly convertible, and the property features high parking ratios and a semi-trailer storage area. Construction on the first phase of the project will be complete in October. Phase two will begin in August and will add an additional 600,000 square feet to the project.
Nevada Real Estate Division hires new administrator
Department of Business and Industry Director Bruce Breslow announced several new leadership appointments for the Divisions of Industrial Relations, Real Estate and Manufactured Housing.
Sharath Chandra has been appointed the new administrator of the Nevada Real Estate Division. Chandra previously served as the deputy administrator of the Nevada Housing Division where he was responsible for oversight of the daily operations of the agency's Las Vegas office, including administration of all federal and state housing programs. Prior to joining the State of Nevada, he worked at the Clark County Community Resources Management Division where he administered federal and state affordable housing grants.
Chandra has more than 16 years of managerial and leadership experience in both public and private sectors. Sharath is the vice president and Treasurer of Home Means Nevada, a nonprofit organization created to assist individuals and families at risk of losing their homes.
Investment company spends $15.7M for Airport Center
BKM Capital Partners, an institutional fund manager, has acquired Spencer Airport Center, a seven-building, 177,597-square-foot multi-tenant industrial park for $15.7 million.
This is the BKM's fourth acquisition in the Las Vegas market, bringing the firm's local assets under management to 710,538 square feet.
"The Las Vegas airport submarket in which Spencer Airport Center is located, has demonstrated tremendously high occupancy and consistent demand that is significantly outpacing supply," said Brian Malliet, CEO and co-founder of BKM Capital Partners. "Quality market fundamentals and ongoing growth in the region make our below-replacement-cost and significantly below peak pricing, acquisition of this asset particularly noteworthy."
BKM purchased Spencer Airport Center at more than 40 percent below replacement costs, according to Malliet.
"The property's low occupancy coupled with strong demand throughout the region will provide immediate stabilized cash flow and the opportunity to increase NOI as we begin to lease vacant space," says Malliet. "In addition, in-place rents are currently 10-18 percent below market value, delivering a deeper opportunity for increased revenue as leases begin to roll."
Planned improvements for the 2000 center include parking lot and exterior building upgrades, new landscaping to increase street-front presence and interior improvements in vacant units.
Spencer Airport Center is near the McCarran International Airport. It is bordered by Spencer Street, Helm Avenue, Pama Lane and Surrey Street. The seller, Guardian Financial, was represented by CB Richard Ellis.