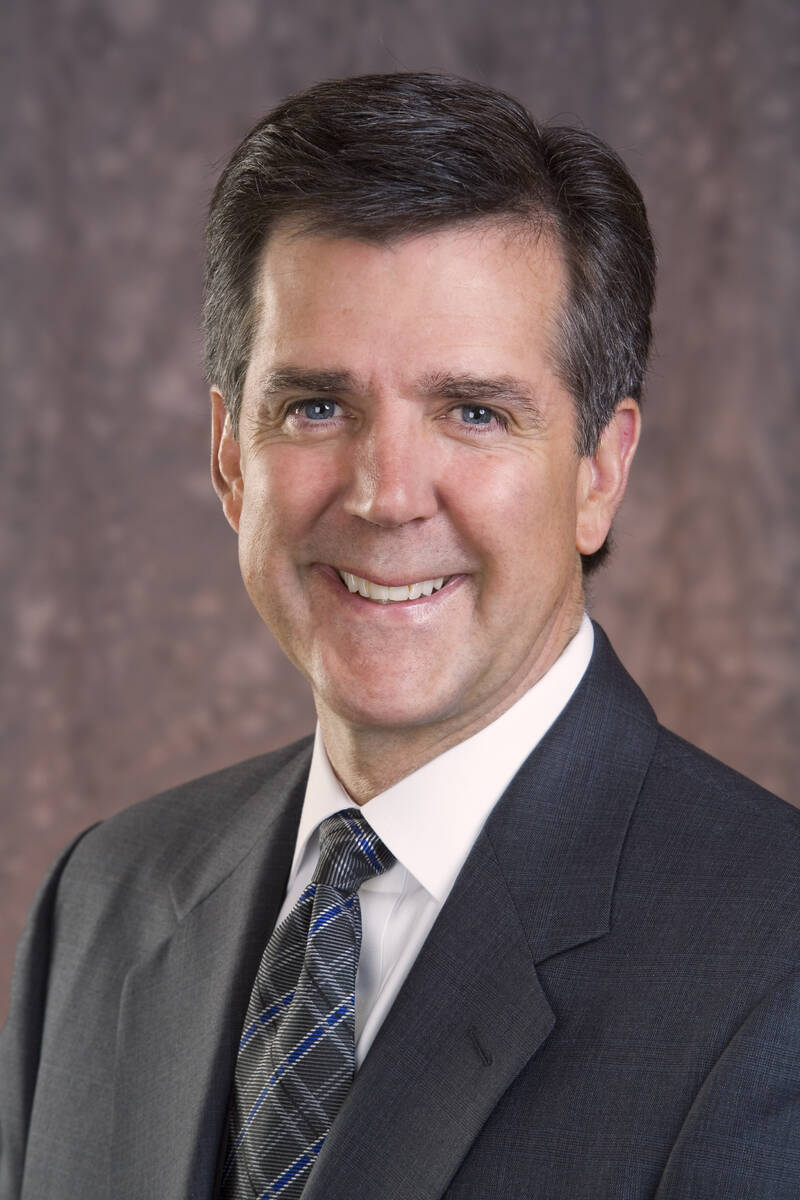 Summerlin still has an exciting future ahead of it, and Tom Warden wants to be a big part of that.
Warden joined The Howard Hughes Corp. as vice president of community and government relations for the developer Summerlin in 1999. In his role, today, he manages media relations, as well as government affairs at the local, state and federal levels. That work has earned him a Silver Nugget and the 2021 Lifetime Achievement Award.
Warden took that job after serving three years as the director of public communications for Clark County starting in 1996. Prior to that, the Detroit native worked as an investigative reporter and news anchor for KLAS, TV-8 where he started in 1989 after relocating from Boston.
"I've been fortunate and lucky to have a foothold in such different areas of employment (from) media, government and development," Warden said. "I think it has helped to provide a broader perspective on government and community issues. I'm thrilled to be part of the development community and to be recognized for that is beyond my wildest expectations. I'm honored and humbled by it."
Warden, 71, was elected to the board of directors for the Southern Nevada Home Builders Association for the first time in 2006. He has served on the legislative committee, the executive board and has held the positions of treasurer, secretary and is currently a senior board director.
Through Warden's "active engagement at all levels of the association and his invaluable political insight, homebuilders have successfully navigated new legislatures and policy discussions that has made the Southern Nevada Home Builders Association one of the most respected and of high integrity," said SNHB CEO Nat Hodgson.
Warden said if someone told him 25 years ago when he was a reporter that he'd be working for a large community development company, he would have been skeptical and surprised.
"I didn't have that on my resume and looking back now I had a lot to learn when I got hired on, but it's been a wonderful ride," Warden said. "I couldn't be prouder to work for an organization like The Howard Hughes Corp. As a development company, it's amazing. It has a stewardship of the environment. It cares about the community, and we have a lot of projects that are outreach projects that speak to the soul of this company."
As head of government affairs, Warden handled the company's relationship with the state of Nevada, U.S. governmental agencies and politicians and Las Vegas and Clark County governments in which Summerlin has its boundaries.
"In that capacity, you have to have or develop relationships with the elected officials as well as senior staff levels," Warden said. "Since I worked at the county and had been a senior executive there, I already had quite a few relationships, and that helped a lot."
Warden said he's most proud of having a hand in the stewardship of the environment. They've worked hard with water conservation measures, including desert landscaping implemented and newer measures, such as harvesting plants before grading an area and using those native plants in landscaping schemes.
"As a community, it's critically important that we conserve our water resources," Warden said. "It's the most precious resource we had, and I think we're doing a really good job of that."
Summerlin has about 5,000 acres yet to develop in Summerlin West, a development in the city of Las Vegas. The economy rises and falls but Summerlin has weathered the storms, even during the Great Recession, Warden said.
"I'm proud that during a time when the pandemic ravaged the workforce of our hospitality industries, the development community was an economic lifeline providing thousands of jobs," Warden said. "That's yet another example of how the builder community contributes to our community."
During Warden's tenure with Howard Hughes, Summerlin has consistently ranked not only as Nevada's best-selling master-planned community, but as one of the country's most successful communities. Summerlin has landed at the No. 1 spot on the best-selling list more than 10 times and has consistently ranked among the nation's top 10 for nearly three decades.
Summerlin is far better than they could have imagined 20 years ago, Warden said. He said they knew the land between Charleston Boulevard and Sahara Avenue and between the Las Vegas 215 Beltway and Town Center Drive would be the commercial core of Summerlin. What they didn't know was that it would have two entertainment mainstays — the Las Vegas Ballpark and City National Arena, the practice home of the Vegas Golden Knights.
"To know how it has evolved to a new urbanist center and pedestrian friendly and bicycle friendly and walkable community has turned out far better than any of us could have imagined," Warden said. "It's not even close to being done yet. The design and reinvisioned plans for the rest of Downtown Summerlin are amazing and people are going to find it more engaging and even more (of) a place to be — not just to shop or dine but to live and work."
Warden said the future of Summerlin West is exciting as well with the front door being Summerlin Parkway and the Las Vegas Beltway. That new urban core is west of that interchange and will feature mixed use and urban residential, dining, entertainment and office complexes.
"It will be another step up in the evolution of Summerlin as a master-planned community," said Warden as he also talked about more affordable housing components for the master plan going forward. "It broadens the appeal of Summerlin to a wider group of residents. It runs the gamut to urban residential attached products to the top custom homes in The Summit Club. It covers a lot of ground."
Warden said he will be thinking about retiring down the line but is not there yet. He said he wants to work hard so when he hands off his projects, they're still going to be completed. Among them, Summerlin has committed to preserving 120 acres of cultural sites of the Las Vegas Paiute Tribe, he said.
"Beyond that we asked the tribe what they want us to do just beyond preserving," Warden said. "They said they want us to tell their story so we're planning a beautiful interpretative trail system up there that will tell the story of the Las Vegas Paiutes and how they lived in the driest desert in North America and what they believed and how they moved about during the different seasons. it will be a beautiful trail with fantastic views, and it will also be an educational experience to tell the story of the Paiutes."
Warden's community service currently includes his role as president of the Southern Nevada Public Television board of directors, founding member and trustee of Get Outdoors Nevada, board trustee for the Nevada Chapter of The Nature Conservancy, member of the Clark County School District Partnership Advisory Council, vice chair of the Southern Nevada Water Authority's Water Conservation Coalition Executive Committee, and he is a member of the RTC's Transportation Resource Advisory Committee.
"Tom's community service reads like the who's who of Las Vegas-based nonprofits, particularly those with a focus on education and the environment," Hodgson said. "In fact, at one time, I am pretty sure Tom held the record for most nonprofit board member positions — 20 at one count — a record that has yet to be eclipsed by anyone else I know."
Warden is married to Las Vegas native Susan Petersen.