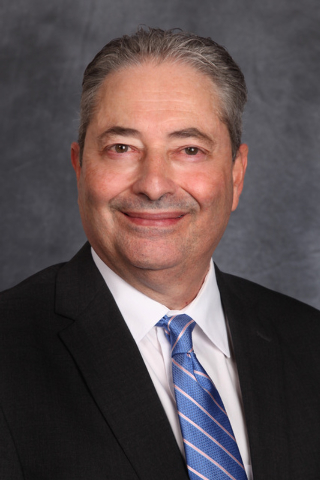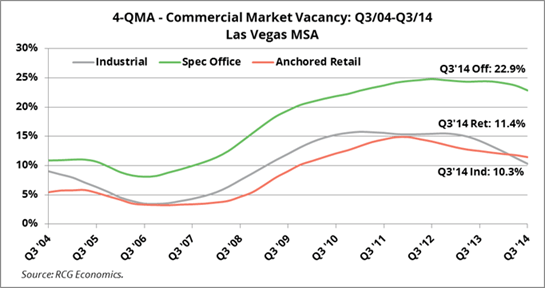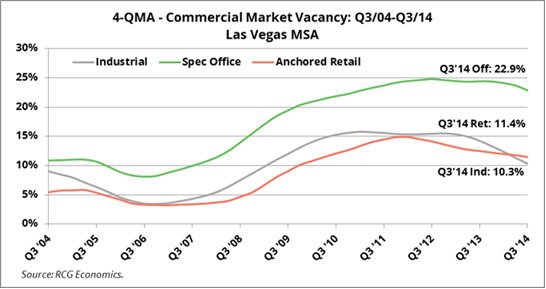 In commercial real estate, as in life, one important indicator of future events is past performance. In that vein, three things from 2014 stand out:
▶ First, office-using jobs, industrial-related jobs, and retail-sector jobs were up over the prior year. In particular, Southern Nevada's industrial jobs market grew significantly. This was in part because of increased e-commerce, which in turn drove demand for large-scale distribution centers.
▶ Second, while still higher than desirable, vacancy rates were down. In fact, in 2014 Southern Nevada saw the lowest office vacancy rates since 2009, and industrial vacancies dropped lower than their peak in 2010.
▶ Third, average rents were up slightly. When taken together, 2014's metrics showed a trend toward increased demand and reduced supply.
As operating fundamentals continue to improve — and after years of concerted efforts to reduce square footage per worker — tenants in the office sector are becoming less miserly in their demand for space. Rapid expansion in the U.S. technology sector is also driving demand for more modern and newly renovated office space. Although not yet viewed as a true tech hub, the Southern Nevada market is seeing positive movement in tech-friendly space. The demand for office space has advanced to the extent that new construction is feasible in 2015, especially in the Northwest and Henderson. Additionally, a relatively strong 2014 has increased confidence such that the market is poised to receive new speculative inventory.
Possible headwinds in the office market include a trend toward open offices and shared workspaces, which decreases the amount of space needed per worker. Also, a number of new projects are being completed in response to demand for well-located, well-designed office buildings. Both may cause a lag in demand.
Although e-commerce — and the corresponding addition of numerous large-scale distribution centers — has helped Southern Nevada's industrial market's recovery, it has been a less than positive factor for discount retailers serving middle and lower-income households suffering from stagnant wages. A number of national discounters with valley locations are seeking to shut down underperforming locations or shrink square footages.
That said, positive local retail trends include the development of upscale retail centers such as Downtown Summerlin and the expansion of Tivoli Village. These projects are signs that a crucial segment of the Las Vegas' retail market is healthy and growing because of growing incomes of upper-middle and upper income households. Additionally, many anchored centers are doing well and are likely to do better in 2015 because of a relatively healthy housing market.
The recovery of Southern Nevada's commercial real estate markets has been long and painful, but 2015 is shaping up to be the beginning of the Great Recovery after the devastation of the Great Recession. Rents and occupancy prices are stable or rising, generating higher investment yields and construction. Over time, yields will again swing the other way and construction will wane as they always do in real estate. But for the next two to four years, expect the local economy to continue to strengthen, leading to generally healthy commercial market conditions.
John Restrepo is a member of the executive committee of NAIOP Southern Nevada, a chapter of NAIOP, the Commercial Real Estate Development Association. He also is the principal of RCG Economics, a Las Vegas-based economic and real estate market consulting firm.