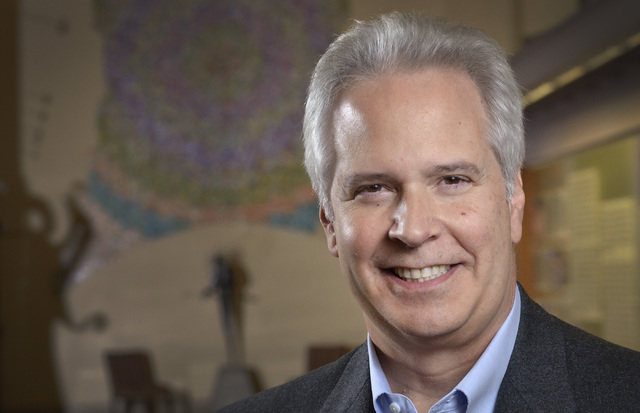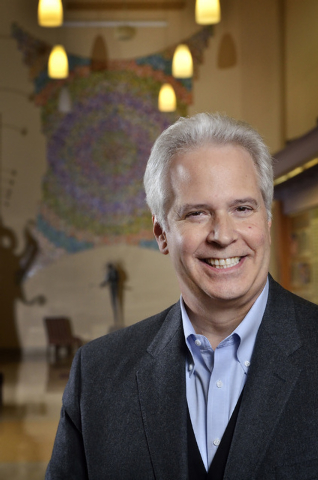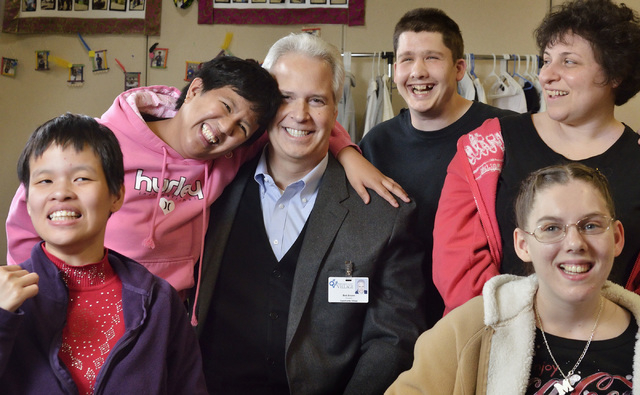 As Bob Brown walked in the door to begin his second professional career, the sign above could not have been more appropriate:
Opportunity Village.
After decades in the newspaper industry, Brown has pivoted to become president of Opportunity Village Foundation, among the area's largest nonprofit. He was also recently installed as chairman of the Metro Chamber of Commerce, making him the face of the Las Vegas business community.
It was the relationships he made throughout the years that helped him make the leap from publisher of Nevada's largest newspaper to major nonprofit executive, he said.
The Las Vegas community supported him in the style of the classic movie "It's a Wonderful Life," he said recently. When he left the Las Vegas Review-Journal, his phone rang nonstop with people offering encouragement and support.
"What it really brought out was just how fortunate I am to have the friends that I have, the relationships that I have, the sincerity and the networking," Brown said as he explained the movie analogy. He wrote down the name of every single person who called him. "I was just so grateful."
Brown, 55, was born in Castro Valley, Calif. and never planned on a career in the newspaper business. He graduated from University of California, Berkeley, in 1984 with a bachelor's degree in rhetoric with plans to continue his education and become an attorney. A job selling ads for the Hayward Daily Review changed his life trajectory.
In a Perry White to Jimmie Olson, "Superman" movie moment, "My supervisor said 'Kid, you got a lot of talent and you could do great in this business – you could be a publisher some day,'" he remembered.
Brown was given a big promotion and stuck with the newspaper business. His jobs included advertising director and manager at the Oakland Tribune, Sacramento Bee and finally in December, 2001, the Las Vegas Review Journal.
In November, 2010, he landed his dream job of publisher of the R-J and in January, 2014, he lost it.
Like many executives faced with an unexpected career change, he had to decide what to do next. Was he going to look for another publishing position which would require a move from Las Vegas or was he going to make a pivot in his career, a directional change?
Melinda, Brown's wife of 27 years, helped him sort through the many job opportunities the phone calls produced. The parents of four children had faced life altering issues before — from the birth of their daughter, who was born with a severe intellectual disability, to the adoption of four more children after the unexpected deaths of Melinda's sister and brother-in-law.
"So when people say what's the deal with the gray hair – I tell them I've earned every one of them," he joked.
Melinda asked the tough questions as only a spouse can. That helped guide him through his 'what do you want to do next' thought process, he acknowledged. "Certainly, I depend on my wife because she's just a great partner in life," he said.
When faced with an unplanned career change, Brown offers this advice: Really listen to yourself, reach out to friends and family. What is a good fit for you?
"There's a great value in talking to other people about what it is that you think you should do," said Brown. "At a certain age, you really have an understanding of who you are and what your capabilities are or at least you should."
Dominic Marrocco, UNLV's entrepreneur in residence, said Brown is a natural born sales person with a good heart. "The realities are those two qualities often don't go hand in hand," said Marrocco. "I think Bob is the model for how you can achieve both."Willingness to learn and to be flexible is key to a career pivot.
"You have to continue to learn things. People who think 'I don't have to learn anymore' – well that's ridiculous," he said. "Learning things is really good for your brain and what's good for your brain is good for your well-being."Walk the walk — that's part of credibility and trust.
"Having a title can open a door for you but it doesn't create a relationship. You can only be who you are-you can't make people trust you. They trust you over time, over encounters, over conversations and over a series of actions."
"We take ourselves way too seriously. You get a big title like publisher and people start to take you seriously and then suddenly you start to take yourself seriously — maybe I am a big deal. You know what? Not true," Brown said. If you are worried, take action. Meet people, volunteer, serve on a board, help others.
"Get in there and start digging in. Your abilities will carry the day."
"I walked into the same type of business for 35 years and now I'm walking into a totally different environment. That's a scary thing for people."
"If I'm stressed out about something, I help someone else and it makes me feel better. It's two-fold like the old adage about cutting wood – you get warm twice."
Brown took his own advice and listened to his inner self. In February, 2014, he became president of Opportunity Village Foundation, the well-known Las Vegas nonprofit which serves people with intellectual disabilities. Opportunity Village runs Nevada's largest nonprofit community rehabilitation program, serving more than 3,000 people annually through vocational training, community job placement, art and life skill enrichment, advocacy, and social recreation programs, according to its website.
Bruce Spotleson, former general manager, publisher and editor of the Greenspun Media Group, made a similar career pivot. After more than 25 years in the newspaper business, he is now the director of corporate partnerships at Vegas PBS which, according to its mission statement, uses television and other technologies to educate and empower individuals and to strengthen the communications and institutional capacity of community partners sharing similar objectives.
"It helps to find something that you can relate to and be passionate about," said Spotleson. "I think for Bob, OV (Opportunity Village) is just the best example of something he'd be passionate about. It was similar for me coming to Vegas PBS. You get so excited when you go to an organization where the values are so clear. It's so easy to see the benefits of your work," he said.
Brown was recently appointed to the National Council on Disability by Sen. Harry Reid.
"How do we make life better for people with intellectual disabilities? There is just so much to know," Brown said. "I could spend the rest of my career doing that – that's good work – that's valuable work."
A deeply religious person, Brown says "I walk in faith. I always believe that tomorrow is going to be a better day and I have to tell you – it is."
Pardon one final movie reference, "I'll have what (s)he's having."