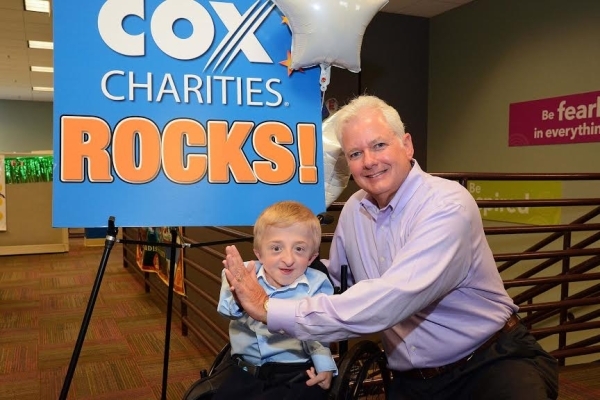 PT's Entertainment Group has started collecting new children's toys and bikes in a drive that runs through Dec. 6, in addition to accepting monetary donations and gift cards. All 46 Nevada locations of PT's, Sean Patrick's and Sierra Gold will be accepting donations. Contributions benefit HELP of Southern Nevada, which in turn distributes toys to more than 50 local youth organizations. Another sponsor of the drive, Nevada State Bank, will be collecting toys from Nov. 23 through Dec. 4. Both are in support of KLUC's Chet Buchanan & the Morning Zoo
Aid for AIDS of Nevada's annual holiday toy drive, collecting toys for local children affected by HIV/AIDS, runs through Dec. 11. New, unwrapped toys are being accepted at the AFAN office, 1120 Almond Tree Lane, or at Maximum Comics locations at Tropicana Beltway Center, 5130 S. Fort Apache Road, #285; Centennial Centre, 7950 W. Tropical Parkway, #120; or Eastgate, 520 Marks St.
For the third year, Remedy's, Elixir and Distill are calling upon locals to give the gift of smiles and cheer this holiday season by donating toys at any of their five locations. New, unwrapped toys will benefit the kids sponsored by the Casa Foundation, whose mission is to help youngsters who have been abused and are in the foster care system. Toys donated will be given away at the organization's Angel Tree Winter Celebration on Dec. 12. Donations may be made at Distill Summerlin, 10820 W. Charleston Blvd.; Distill Southern Highlands, 4830 W. Pyle Ave.; Elixir, 2920 N. Green Valley Parkway; Remedy's St. Rose, 3265 St. Rose Parkway; Remedy's, 530 Conestoga Way.
Harvest for Hope gala raises nearly $300,000
Communities in Schools of Nevada's fifth annual Harvest for Hope Monster Bash raised nearly $300,000 on Oct. 30 at the Sport Center of Las Vegas. More than 540 people joined in for an evening of fall festivities and a culinary spread from The Cosmopolitan's restaurant and bar collection to raise funds for the local affiliate of the nation's leading dropout prevention program. Diane Fearon, chief executive officer of CIS of Nevada, presented COX Cable with the Big Crow award to recognize its support of the CIS of Nevada mission.
Philharmonic Guild event to benefit music programs
The Las Vegas Philharmonic Guild will host a special fundraising event with the Liberace Foundation for the Performing and Creative Arts 5-8 p.m. Dec. 13 at the Thriller Villa. The event will feature a mix of entertainment, food and beverage, silent auction, holiday boutique and a tour of the Liberace Museum collection on display. Guests will enjoy a lineup featuring pianists Wes Winters and Jerome Clay, seasonal performances by Young Artists of Opera Las Vegas accompanied by Jim Sohre, and the winners of the Cox Communications Young Artists' Concerto Competition. Tickets are $85 by reservation. To buy tickets, contact Myra Gouger, 702-858-9311 or email guildtreasurer@lvphil.com. Proceeds to benefit the Youth Concerts and Music Education programs of the Las Vegas Philharmonic.
Businesses to match Three Square donations
Now through the end of the year, donations made to Three Square Food Bank will be matched, dollar-for-dollar, by seven corporations and businesses as part of the sixth annual $250,000 Holiday Match Challenge. Backing the challenge are Barrick Gold, Boyd Gaming, Crovetti Orthopaedics & Sports Medicine, IGT, L.L. Bradford, CPA's, Towbin Automotive Group and UnitedHealthcare. The challenge is designed to maximize giving, effectively doubling monetary donations made to Three Square. A half-million dollars or more can be raised through this challenge, dollars that will be put directly into Three Square programs that provide aid to more than 137,000 food-insecure individuals. Since its inception, the Holiday Match Campaign has raised nearly $2 million, or approximately 6 million meals provided by Three Square to its service network of 1,300 community partners. Of the individuals assisted by Three Square, more than 54,000 are children, and more than 19,000 are seniors. For further information and to donate, visit threesquare.org.
Three to receive Changing Lives Scholarship
Matt Smith Physical Therapy and the Latin Chamber of Commerce have selected three students to receive the 2015 Changing Lives Scholarship, which provides money for college and mentoring from health care professionals. The recipients also are enrolled in a cohort program, enabling the students to achieve success by pairing them with executives from companies and educational institutions. Thirteen students in the valley have received the scholarships. Each of the annual recipients receives $1,500 from Matt Smith Physical Therapy and a $1,000 match from the Latin Chamber of Commerce. The 2015 Changing Lives Scholarship recipients are Ana Barragan, Angely Regalado and Susan Quesada.
Chefs for Kids receives $4,054 donation
After its 5 percent shopping day, Whole Foods Market Town Square donated $4,054 to Chefs for Kids, which supports nutrition education in the Clark County School District through the University of Nevada Cooperative Extension. The group works with grade school students in under-served areas, teaching children to make healthier lifestyle food choices. Donations support educational training, breakfasts and Thanksgiving meals for approximately 150 families each year. The organization served nearly 9,000 breakfasts at 13 schools in 2015.
Pirates Poker Run supports Army veteran
After a successful summer taking two disabled veterans scuba diving, GR8 DIVN joined forces with Concerned Veterans for America-Nevada Chapter and Red Rock Harley-Davidson to raise funds to support its third recipient to do the same. GR8 DIVN, a chapter of the Dive Pirates Foundation, donates its time to train a recipient, working with the foundation to support the recipient with scuba equipment and a trip to join others with disabilities around the nation. GR8 DIVN's current recipient, Ben Keechler, is a retired Army helicopter mechanic who served in Korea and later fell ill with a spinal disease, transverse mylelitis. GR8 DIVN asks the community to continue its generosity towards Keechler and his dive team as a way of saying thank you for his service in the military and to celebrate his ability to enjoy an active life.
Thanksgiving pies donated by Smith's to charities
Smith's grocery stores donated 3,200 pies to Southern Nevada charitable organizations Nov. 17 at the Smith's store at 3602 E. Bonanza Road. Organizations picking up cases of pumpkin pies included Three Square Food Bank, HELP of Southern Nevada, WestCare Foundation, The Shade Tree, Catholic Charities of Southern Nevada, U.S. Vets, Helping Hands of Vegas Valley, Las Vegas Rescue Mission, North Las Vegas VA Medical Center and Salvation Army.