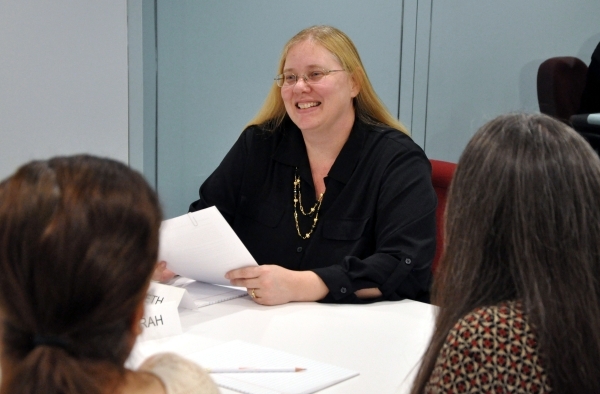 Las Vegas thrives as a welcoming destination for both domestic and international tourists who collectively present a unique sampling of tastes.
That'€™s an audience with an appeal that goes well beyond hotels and casinos.
Over the past two decades, Las Vegas has become the country'€™s preferred market for focus-group testing. The testing can range from pizza to TV to iced tea, as businesses small and large want to know what Las Vegas residents and tourists think about their product, idea or TV program.
"€œLas Vegas is a unique market for a lot of reasons,"says Elizabeth Couturier, vice president of client relations and moderator for Las Vegas Field and Focus, a focus-group industry leader. "€œWith our residents, we closely mirror our overall national demographics just as much as any big city. We are a great cross-section of who is represented in the United States."€
But it is not just Las Vegas residents who make ideal participants for focus groups. It is the thousands of international tourists who arrive daily. Las Vegas Field and Focus completes more than 1,500 surveys a month, in large part by interviewing international visitors at airports and hotels.
Some focus-group participants are paid; many interview subjects are not.
Businesses prefer testing in Las Vegas over Southern California and Los Angeles in particular, because those markets are thought to be overresearched.
"There are people there who make a livelihood out of getting paid to participate in focus and research groups,"€ Couturier says. "€œLas Vegas offers our clients a fresh population with a fresh perspective that they have not heard from before."€
One major local user of research data is the Las Vegas Convention and Visitors Authority'€™s annual report. Las Vegas Field and Focus research team collects statistical data from its interviews. GLS Research, a market research firm, then crunches the data and does the market analysis and reporting. GLS Research, which has worked with authority since 1990, also develops the visitor profile documents for Laughlin and Mesquite.
"€œWe have developed great relationships over the years in Southern Nevada because the entire process is based on trust, and all parties have proved themselves many times over,"€ says Gary Stieger, founder and president of GLS Research. "Casinos have changed dramatically, from not knowing anything about their own customer base to wanting to know when and why their customers are leaving to go to other properties."€
What businesses also like about the Las Vegas market is its 24/7 work culture. This means that 8 a.m. is just as good a time as 8 p.m. to host a focus group. This flexibility equals cost savings for the hosting company, as it can complete anywhere from three to five more groups a day than in major metropolitan areas with a traditional daytime workforce.
Travel, labor and even food and beverage costs are lower in the Las Vegas market.
Another reason the city is a preferred demographic destination is because participants show up. Las Vegas Field and Focus reports 95 to 100 percent show rates from participants in their studies.
"€œTime is valuable, and I think we understand that better in Las Vegas that just about anywhere else in the world,"€ says Eric Souza, owner and president of Las Vegas Field and Focus. "€œOur clients spend millions of dollars in advertisements, and it is our responsibility to give them the tools necessary to make that decision, and that starts with our participants showing up. It is a very rewarding process to be able to help a product or business perform better."€
In the land of television, performance means only one thing — Nielsen ratings, which drive TV advertising prices. That industry also loves the Las Vegas demographic and uses both the residential and tourists participation.
"Our clients love coming to Las Vegas because we can find everyone. It is truly a snapshot picture of America,"€ says Adrianna Lopez, field director for Screenengine ASI, a firm that specializes in TV programming. "€œWe just finished our pilot testing for the fall television season and coming to Las Vegas, it is easy to access the coveted 18- to 54-year-old demographic. We also believe that the respondent rate is higher for our types of study, more than a product or a concept, because people like to feel a part of the entertainment industry."
A large part of Lopez's job is making sure that prospective participants understand the difference between market research studies and telemarketing.
"€œOnce people know we are delivering their opinion directly to television studio producers and directors, they usually want to participate,"€ Lopez says. "€œTheir opinions really count so we want them to be as honest as possible. We need the truth to do our job for our clients."
A large part of the focus-group outreach has been transformed by technology over the past decade. The introduction of hotel checkout via television a decade ago was an extreme change for fieldworkers, who used hotel checkout lines to identify participants. However, the introduction of more retail and recreational attractions on the Strip has given fieldworkers more places to recruit focus-group participants.
"No matter the technology, we maintain a strong database so we always have a strong show rate from our participants,"€ Couturier says. "€œOur goal is to always make sure we have the best information from the best respondents, and that is what Las Vegas provides."
By providing the right kind of information from the right people, Las Vegas Field and Focus has used the city's demographics to be recognized as a top focus group for nine years in a row by industry peers and leadership.
Although the methods of gathering information have changed from pen and paper to tablets and mobile phones, the information collected from the unique Las Vegas demographic is still coveted by virtually all industries and sectors.
"Our research is not limited to only Fortune 500 clients,"€ Souza says. "We work with small businesses and many different levels of budgets. Sometimes below average products and ideas get honest feedback, so not everything is positive. This gives our clients an opportunity to regroup and rethink how they will move forward, which is our job because their time and money is valuable."€