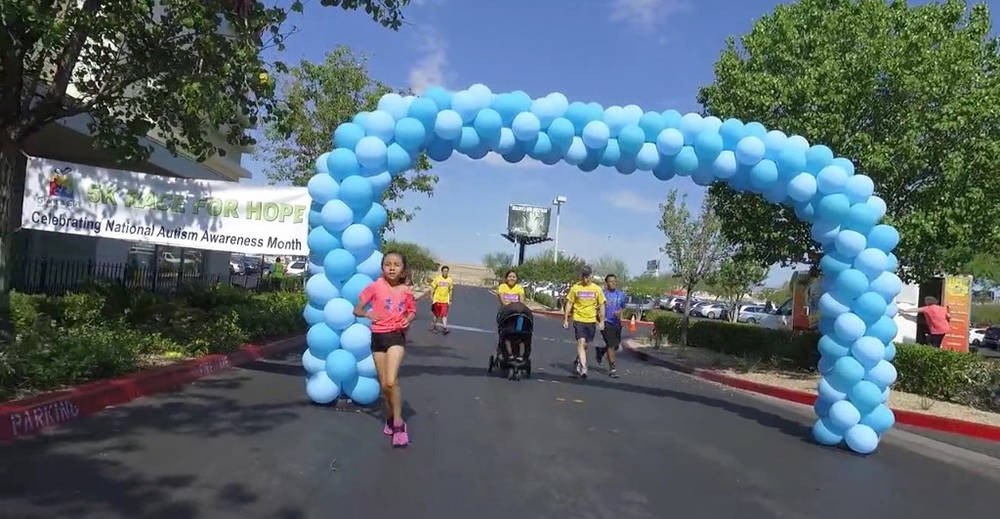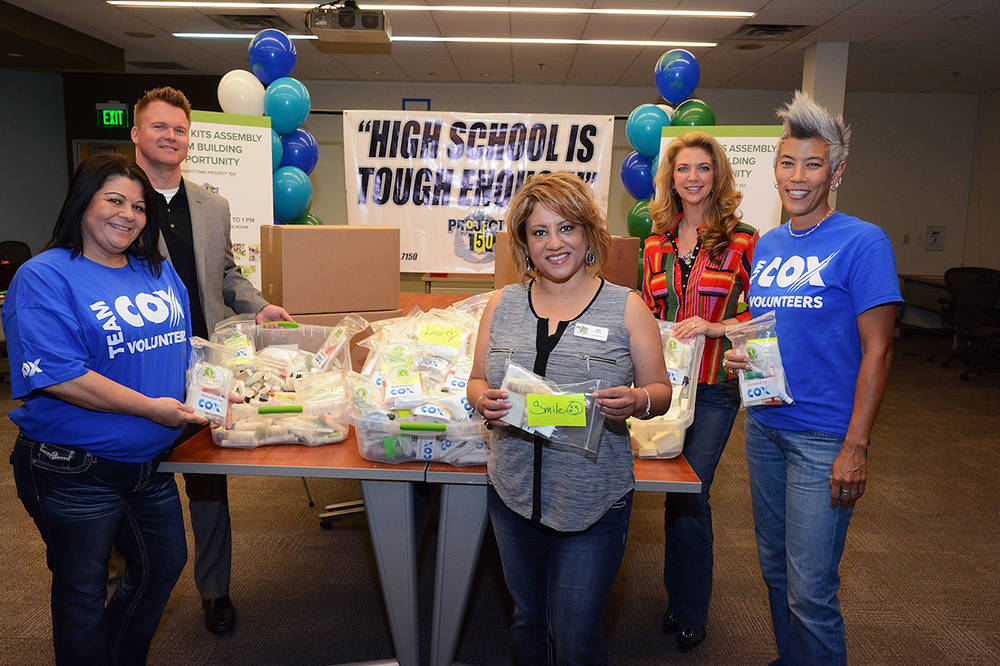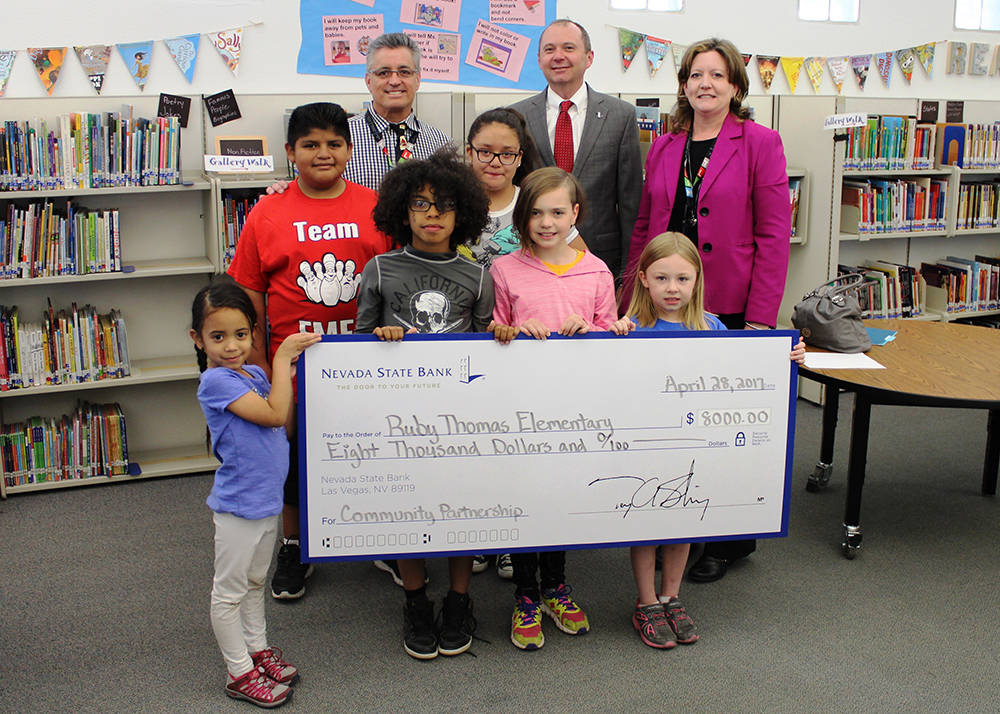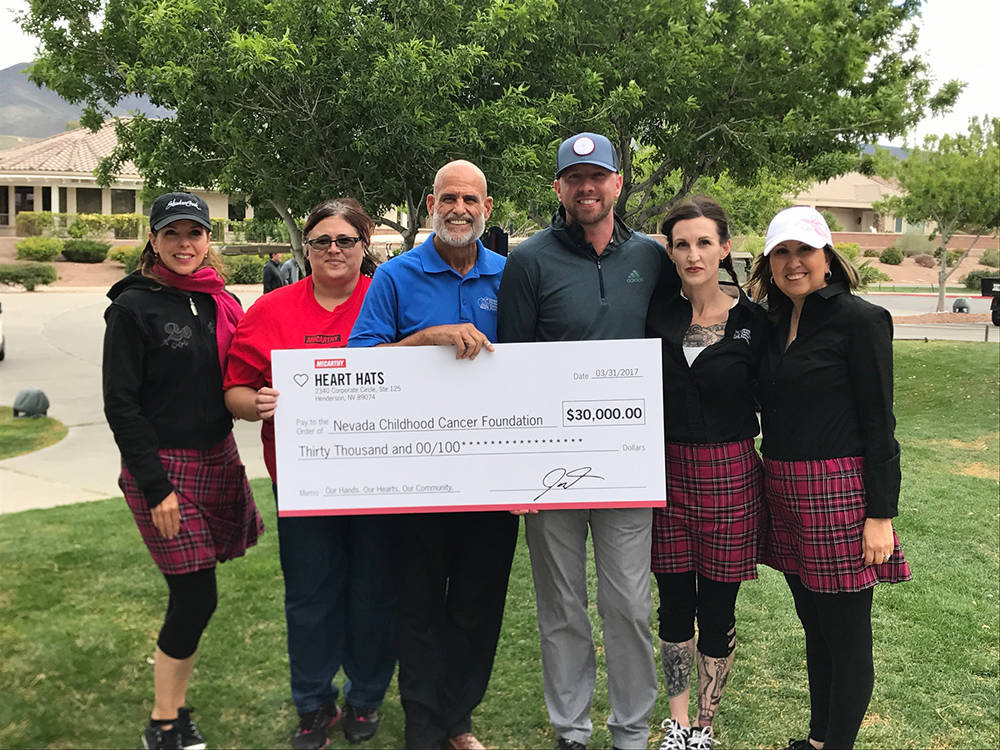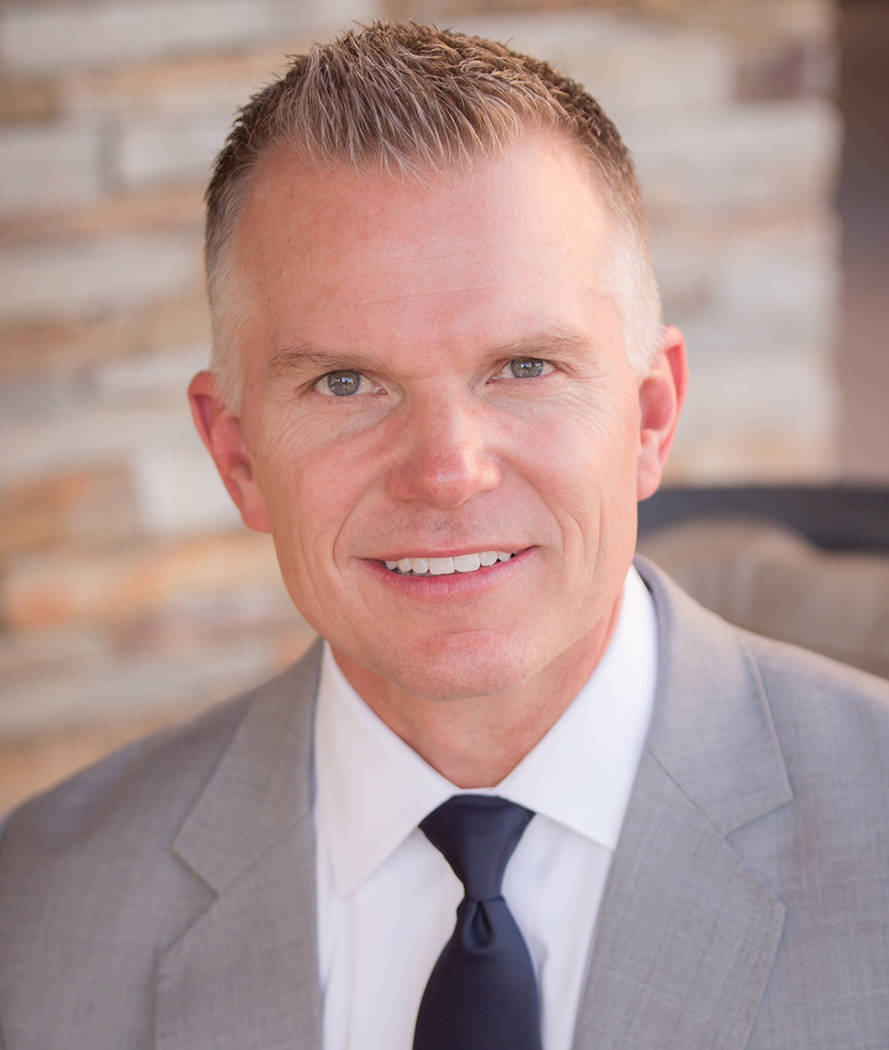 Blue Man Group kicked off the Grant a Gift Autism Foundation's eighth annual Race for Hope and Fun Walk April 29 with a special performance at The Green in Town Square Las Vegas.
The annual day of fun, fitness and fundraising ended National Autism Awareness Month, supporting children, youth and families affected by autism living in Southern Nevada.
Blue Man Group ambassadors and Discovery Children's Museum offered an interactive preview of an exhibit opening May 27 — Zoom into Nano, where families can learn about nanotechnology and atoms, the fundamental building blocks of matter.
Cox employees prepare hygiene kits for homeless students
During National Volunteer Month in April, 60 employees at Cox Communications volunteered to support Project 150 by assembling hygiene kits to benefit homeless, displaced and disadvantaged high school students in Southern Nevada.
Cox volunteers assembled 500 kits at the company's Southern Nevada headquarters this week and transported them to Project 150 for immediate distribution.
In 2016, employees at Cox Las Vegas logged 22,000 hours by volunteering to support a nonprofit agency such as Project 150, youth sports leagues, schools, community cleanup or dozens of other volunteer opportunities within Southern Nevada.
Cox Las Vegas acknowledged nearly 100 of its top-performing employee volunteers during an annual All-Star Recognition Reception April 26. Employees were honored for numerous levels of volunteer service ranging from 35 to 400 hours or more per year.
Clark County Schools get grants from the CenturyLink Foundation
CenturyLink Inc. announced the winners of the CenturyLink Clarke M. Williams Foundation's Teachers and Technology grant program. The program, which began in 2008, awards grants of up to $5,000 to schools in CenturyLink's local service areas on behalf of teachers who have developed specific plans to implement technology in their classrooms.
The grantees are:
■ Ulis Newton Elementary School, awarded nearly $5,000 to support the Take Us Away with Chromebooks! program. Teacher Tamara Snow submitted the project.
■ Harley A. Harmon Elementary School, awarded $5,000 to support the Virtual Reality: Learning in the 3rd Dimension program. Teacher Brenda Blee submitted the project.
■ Piggot Academy of International Studies, awarded $5,000 to support the Follow Your Wondering program. Coordinator Tara Albidrez submitted the project.
■ Marion Cahlan Elementary School, awarded $5,000 for the Computer Science for Kindergarten program. Teacher Elizabeth Allder submitted the project.
■ Edith Garehime Elementary School, awarded more than $4,600 to support the Full STEAM Ahead with LittleBits program. Teacher Jason Lillebo submitted the project.
■ Glen Taylor Elementary School, awarded more than $1,500 to support the Robotics and Coding program. GATE teacher Christy Simon submitted the project.
■ C.T. Sewell Elementary School, awarded more than $500 to support the iPads for Little Learners program. Teacher Claire Bowden submitted the project.
■ Keith and Karen Hayes Elementary School, awarded $5,000 to support the Astronomy in the 21st Century-Expanding Our Universe program. GATE specialist Kevin Lord submitted the project.
■ Faith Lutheran Middle School and High School, awarded $5,000 to support the Research Greenhouse Program. Teacher Stephen Blank submitted the project.
Across the country, more than 2,300 grant applications were submitted, and 309 grants were awarded.
Grants were awarded based on the impact they will have on students in the classroom and the overall innovation of the project.
Brady launches charitable program
Brady, a janitorial supply, equipment and food service distributor, commemorated its milestone 70th anniversary by announcing the debut of its charitable giving campaign, Brady Shines, which will encompass all initiatives, including grants and volunteerism, to support schools, youth organizations and other programs. Sunrise Mountain High School Principal Julia Llapur accepted a $20,000 donation at Brady headquarters. The money will support extra buses to transport students in after-school programs, including the Robotics and Aviation clubs.
Nevada State Bank donates $8k to Ruby Thomas Elementary
Nevada State Bank presented a check for $8,000 to Ruby Thomas Elementary School April 28, in celebration of Teach Children to Save and to support the school's education efforts.
Teach Children to Save, a free national program sponsored by the American Bankers Association Foundation, organizes banker volunteers throughout the year to help young people develop a savings habit early in life.
Celebrated during April, which is Financial Literacy Month, this annual awareness day is an opportunity for bankers to demonstrate their commitment to the community by teaching young people the value of saving. April 28 marked the 20th anniversary of National Teach Children to Save Day.
McCarthy Building Cos. donates $30k to nonprofit
McCarthy Building Cos. has donated $30,000 to the Nevada Childhood Cancer Foundation, a local nonprofit organization providing more than 45 programs and services at no cost to critically ill children and adults touched by cancer in Southern Nevada. Partners from the construction industry came together in support of the local children's charity at McCarthy's Annual Golf Tournament in Henderson.
Members from McCarthy presented the NVCCF with the check at the conclusion of the event. Established in 1993, the Mission of the Nevada Childhood Cancer Foundation is to provide social, emotional, educational, financial and psychological support services and programs to families of all children diagnosed with illnesses such as cancer, HIV/AIDS, sickle cell, hemophilia, renal disorders and immunologic diseases and to provide healing arts and wellness programs to adults touched by cancer.
HopeLink awarded Engelstad Family Foundation Grant
For a third year, HopeLink of Southern Nevada was awarded a grant by the Engelstad Family Foundation for assisting impoverished senior citizens. The grant allows the 25-year-old family resource center to provide crisis funding for housing, food, utility payments, education and other necessary services for the under-served, over-62 generation in Southern Nevada.
HopeLink's 3-year-old program, SeniorLink, provides qualified recipients dozens of free services to help stabilize their finances and meet their basic needs, including a monthly Mobile Market delivery of fresh produce to the doors of thousands of seniors at 16 residential communities and senior centers, basic computer skills training, rent, deposit and utility assistance, emergency prescription drug and vision payments and a wide variety of services provided to all clients of the Family Resource Center.