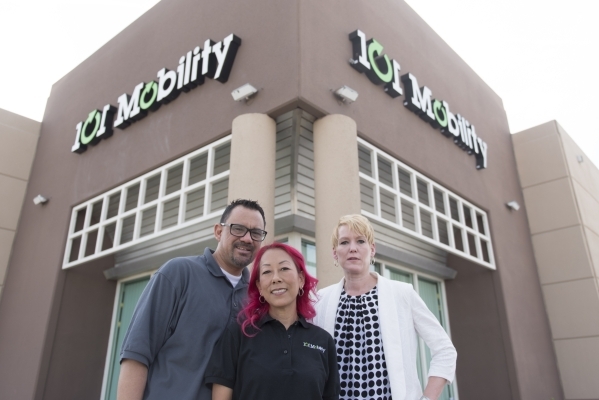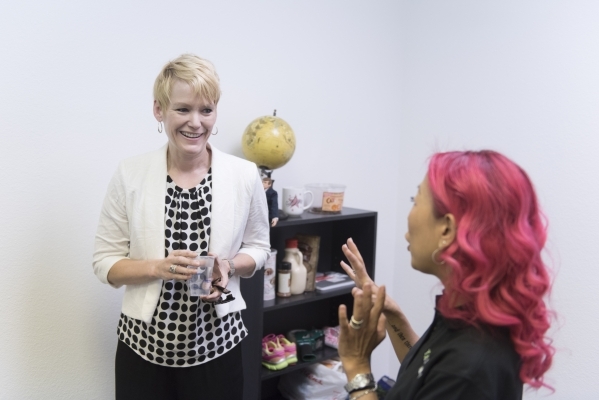 For entrepreneurs who want to start their own business without dealing with all the hassles of a startup business, opening a local store of an established brand might be the course of action.
And Sarah Brown, a Las Vegas-based consultant with FranNet, can help those entrepreneurs navigate the process of finding the right fit for their personal and financial goals. Brown calls herself a franchise Sherpa, helping entrepreneurs throughout the process of finding the best opportunity for them in order to help her clients make an educated decision.
"We jokingly refer to ourselves as franchise matchmakers," Brown said. "FranNet is a franchise that helps people find the right franchise. … We have a proprietary matching process that digs into the DNA of someone about why they want to be a small business owner, and then we match that profile with a franchise with what that plan represents."
And how does that work?
"An example of a client was a gentleman, who was a widower," Brown explained. "He had retired early, and he was bored to death. When we met, I figured out his real reason for wanting to buy a franchise was estate planning. He wanted to mentor his adult son in the business. It turned out he wanted a business where he could do well by doing good. So it came out he was a societal-focused buyer.
"Young people don't want a lifestyle business. They want a business to build some wealth and diversify their holdings. Those are just some of the examples of things I try to determine in recommending the best franchise fit for them."
Before she started working as a consultant with FranNet, Brown used the company to help start a home-care franchise business when she was living in Denver.
Michele Kim-Andres and Ed Andres, owners of the local 101 Mobility franchise, worked with Brown and FranNet to make a connection with the franchise that best suits them.
Kim-Andres had spent 20 years working in corporate America, and she wanted a business where she and her husband could work together, that had recessions-resistant characteristics and barriers to entry with strong franchisor support, while also providing flexibility to spend time with her family, Brown said.
Kim-Andres and her husband eventually chose 101 Mobility because they wanted to do something worthwhile while also giving back to the community. The company provides accessibility and mobility equipment for seniors and disabled persons. The equipment allows seniors to stay within their homes instead of having to go to a senior center, Kim-Andres said.
101 Mobility has 97 territories awarded across the country.
"There was no pressure, no sales pitch going on," she said. "(Brown) held our hand all the way. We wanted to do something, but we were not sure where to go. … She put me in contact with people who could help with funding and provide extra assistance. She is continuing to do it afterward. She is still in contact with us, still providing us with resources and putting our name out there and helping us along the way as we are finishing our first six months."
For any entrepreneurs interested in opening a franchise business, Brown offered five tips:
— Focus on the mission of the owner, not the function of the business.
She said to think of it like finding a job. You take your talents and find a job that matches those talents.
"A lot of people come to me really excited because their cousin in Utah runs a restaurant franchise, but they don't want to manage employees, find capital for retail or manage inventory," Brown said. "You start with what do you want to do with your talents and how you want to leverage them. Then, you can focus on finding a business that matches that. Most people look at it the other way around. They look at the shiny new object and want to do that, which is a recipe for failure."
— Do your due diligence.
"Because franchising is regulated by the Federal Trade Commission, there is a lot of documentation available that is legally required to be given to you during a certain stage of the process," Brown explained. "Whether you are using a broker or just found it on your own, they will give you a Franchise Disclosure Document. Read it. There will be names of other owners — call them. … You have to go through the entire process in order to mitigate buyer's remorse, and you'll feel like you made an educated decision."
— Research and craft a funding plan sooner rather than later.
"FranNet's rule of thumb is that as a prospective buyer you should have one-third of the total investment in 'unborrowed funds' and the rest can be financed if you have decent credit," Brown said. "Good franchisors have liquid and net worth requirements to help guide candidates as an initial litmus test for financial qualification. There are quite a few funding vehicles available, and a good funding partner will help a client understand their options and what makes sense for a particular type of business."
— Use your local resources.
"There are so many resources in the business community, such as SCORE, that help aspiring entrepreneurs look at their options. There are a lot of resources — mostly complementary — out in the community," she said.
— Involve other people in your decision.
"You cannot involve early enough the other people in your life who have a stake in the business," Brown said. "If I'm working with people who are married or in a relationship, I always tell them to involve their significant other early in the process. My husband has been intimately involved with the decision-making and researching the various businesses I bought. He has no involvement in the day-to-day, but two heads are better than one.
"Even if you plan on running it by yourself, involve your significant other. You are going to get a good perspective from someone who knows you well."