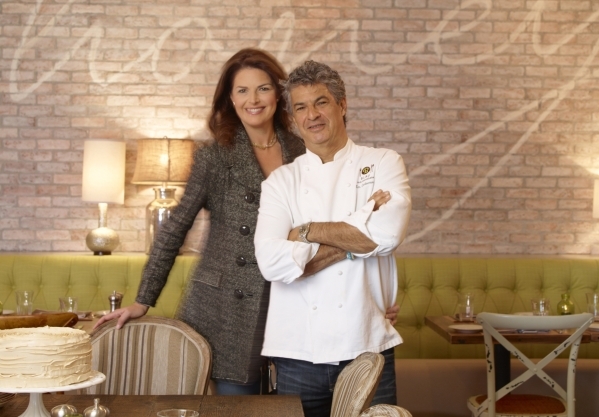 Elizabeth Blau and her husband, chef Kim Canteenwalla, are the power couple behind several Las Vegas restaurants.
She is founder and CEO of Blau Associates; he is principal and managing director.
They are considered royalty in the Las Vegas restaurant/hospitality industry because of their genius creations. They are proud of their newest collaboration — Honey Salt, which puts the emphasis on farm-to-table dining.
This power couple believes strongly in giving back and collaborating with the community. Through programs like Summer of Love and their partnership with Green Our Planet, they have created a farm-to-table dinner menu and an experience that suggests a new wave of the future niche restaurants.
Q. How did the Honey Salt collaboration with Green Our Planet come about for you?
A. Canteenwalla: We did a whole thing called Summer of Love in which we partnered up with various charities; we work with Three Square (food bank) a lot. We started with Summer of Love and it was a monthly thing; and we did different charities but the Summer of Love was the one that really took off.
We did it with a multitude of different charities last year.
Our chefs and myself and Elizabeth have worked with Green Our Planet on various things throughout the year.
Q. How are you bringing education and charity together into your business model?
A. Blau: I think we're incredibly fortunate in Las Vegas to be in the restaurant business, and to have a thriving business, and to have very successful people working for us. And yet, there is another part to Las Vegas. You don't need to look to foreign countries to find children or people in need. There's plenty of people in Las Vegas that are in need. So, it's very much part of our corporate culture. With all the blessings we have that we give back. And so, we've always engaged … communities and schools; right now Buddy V's is working on Fill the School Bus program.
Q. With so many options, why choose Green Our Planet this year?
A. Blau: I think these things really resonate because many of the members of our team have children. It's hard to think there are kids going back to school that can't afford to buy pencils or backpacks; just basic school necessities.
Green Our Planet was such a natural fit because what they are doing is so extraordinary. (They are) reaching into the elementary school and middle school level on a mission to teach children about gardens, which certainly is the DNA of why we started Honey Salt.
Q. Where will these educational gardens be located and do you have a numbers opening?
A. Blau: Green Our Planet's mission is to raise money for the green projects and to educate people about environmental issues. When I met with them last year, they were already in 35 schools. It's really incredible in the short time that they have been in Las Vegas that they've been able to open … these outdoor garden classrooms; and they're part of a national organization. They're the fastest growing school garden program in the country.
Q. How are you providing customers an upscale experience at an affordable price?
A. Canteenwalla: We partner up with farms, we do farm to dinner table's that are sold exclusively with the farms, with the farmers. We partner up with other chefs in another restaurant of ours called Made L.V. where we do pop-up series, chef series, where we'll take a night at the restaurant, normally off the Strip, and it becomes a whole, like a, community outing, where the guests are eating communal style, family style usually. And, we're featuring chefs that are off-Strip, primarily in our restaurant that is also off-Strip.
We're giving Strip-like experiences in a much better price point and bringing the community together.