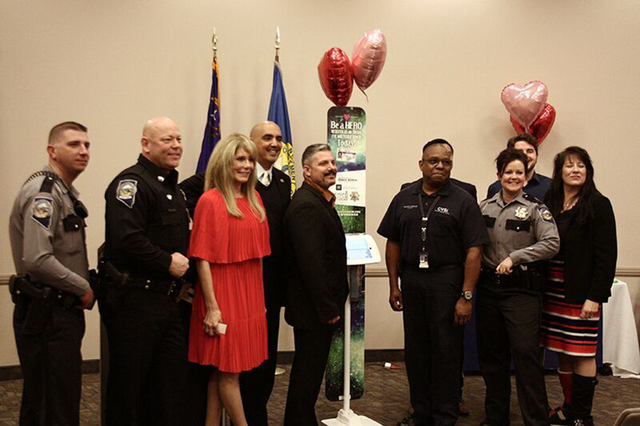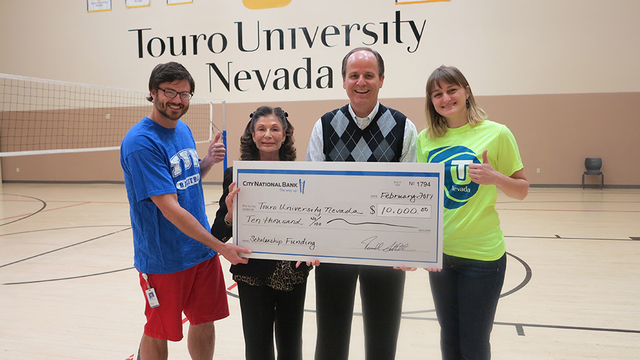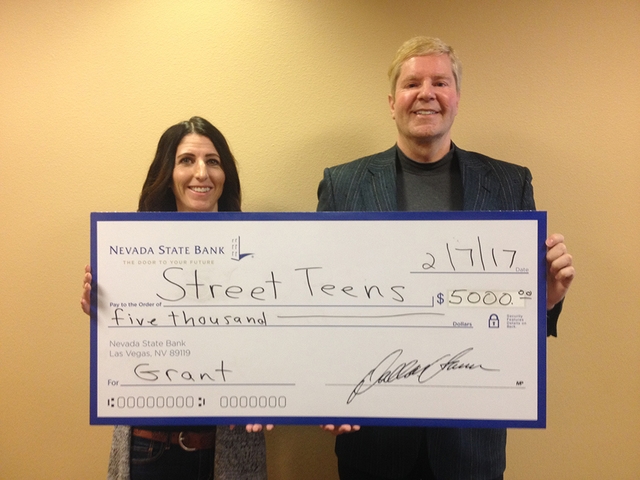 City National Bank and its equipment finance affiliate, First American Equipment Finance, announced they have awarded Touro University Nevada with a $10,000 donation to help fund scholarships for students who need financial aid.
Touro College and University System is the parent of Touro University Nevada. Touro College and University System was established in New York City in 1970 as a Jewish-sponsored independent institution of higher and professional education primarily to enrich the Jewish heritage and serve the larger American community. Some 19,000 students are currently enrolled in its various schools and divisions, located primarily in Nevada, California and New York.
Touro University has been a client of First American Equipment Finance, a City National Bank company, for 15 years. Touro has financed equipment, real estate improvements and software, and has been working with City National on a number of special programs for its students, faculty and alumni. The bank also installed an ATM on campus three years ago, and last year Paul Stowell, chief market strategist for City National, was appointed to Touro's advisory board.
Nonprofit will benefit from Nevada State Bank donation
Nevada State Bank presented a check for $5,000 to Street Teens, a volunteer-based organization dedicated to assisting homeless, abandoned and at-risk youth ages 12-21 in the valley. Founded in 2000, the goal of Street Teens is to meet the survival needs of our youth by providing necessities in a safe, compassionate environment. They provide access to educational, health care and employment resource services through their drop-in center and by actively collaborating with community partners.
City National and Barnes &Noble
donate to schools
City National Bank and Barnes &Noble recently delivered more than $20,000 in new books and cash to two schools in Southern Nevada. Fay Herron and Lincoln Elementary Schools in North Las Vegas received these donations as part of City National and Barnes &Noble's ninth annual Holiday Book Drive.
Students win when Henderson
Chamber Golfers 'Swing for Success'
Henderson Chamber of Commerce will present the 26th annual "Swing for Success" Golf Classic on April 10 at the Reflection Bay Golf Club. Proceeds from the event will support the ongoing development of Nevada State College, a public institution offering more than 30 bachelor's degrees in nursing, education and liberal arts and sciences to first-time, first-generation and non-traditional scholars, and the Henderson Chamber of Commerce.
Registration begins at 7:30 a.m., followed by a shotgun start and four-person scramble at 8:30 a.m. A luncheon at Reflection Bay Golf Club, along with the presentation of team and contest winners, will take place at 1:30 p.m.
Nevada Donor Network, Nevada Department of Public Safety team up
Nevada Donor Network and the Nevada Department of Public Safety have joined forces to encourage Nevadans to register as organ, eye and tissue donors. On National Donor Day, the Nevada Highway Patrol hosted donor registration events in Reno, Las Vegas and Elko and announced an innovative statewide partnership with Nevada Donor Network, an organ and tissue procurement organization.
The Nevada Department of Public Safety and Nevada Donor Network recently began a statewide collaboration to preserve the opportunity for tissue and eye donation for more Nevadans than ever. This partnership was created to help fill a gap in the donation process. The Nevada Highway Patrol has offered to assist with public education regarding donation. A financial contribution granted by the University of Nevada, Reno School of Medicine Organ and Tissue Donor Program made it possible to install donor registration kiosks in the lobby areas of the Nevada Highway Patrol's Reno, Las Vegas and Elko command centers.
More than 120,000 Americans are currently waiting for a life-saving organ transplant, including 570 Nevadans. Nearly 1 million tissue transplants take place in this country annually, and 48,000 people receive the gift of sight through cornea donation. To learn more about organ, eye, visit nvdonor.org.
las vegas companies join the Red Cross for blood drive
MGM Resorts International, News 3, the CW Las Vegas and iHeartMedia (Sunny 106.5 and 93.1 The Mountain) partnered to host a blood drive Feb. 27 at T-Mobile Arena. To meet the needs of valley hospitals, the Red Cross must collect more than 165 blood products each day. P
Blood collected at this drive can help ensure cancer patients, trauma victims and surgery patients have the blood products needed.
In addition to this drive, the Red Cross will be offering a number of community events throughout the year as part of the Centennial Celebration.
Downtown Summerlin, Dillard's
salute youth volunteers
More than 30 teen girls and boys from area high schools were celebrated for their community service by participating in a special runway show Feb. 25 at Downtown Summerlin, wearing fashions by Dillard's.
The teens, along with their mothers, are members of the National Charity League and Young Men's Service League Las Vegas chapters and have collectively performed thousands of hours of community service at dozens of nonprofit organizations in the community.
NCL's mission is to promote volunteerism, cultivate leadership and provide an opportunity for mothers and teen daughters to forge a bond through service. YMSL encourages young men and their mothers to improve their relationship by pursuing philanthropic opportunities in their community.