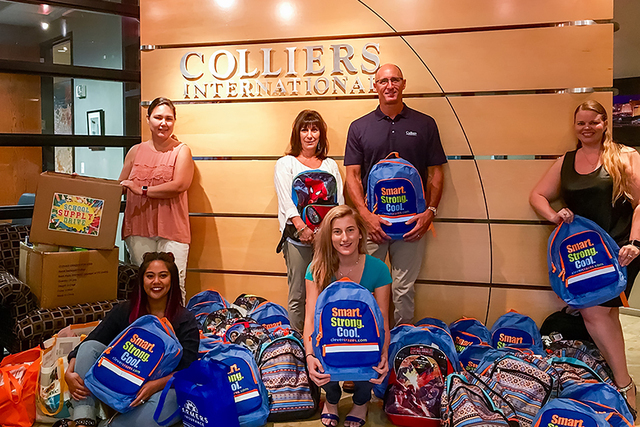 The Public Education Foundation will honor Kirk V. Clausen and Wells Fargo with its Education Hero Award, Las Vegas Mayor Carolyn G. Goodman with its Lifetime Education Achievement Award, and Tony F. Sanchez III and NV Energy with its Champion of Children Award at its annual Education Hero Award Gala Sept. 24 at the Mandarin Oriental, marking the Foundation's 25th anniversary.
The event celebrates the vision and accomplishments of those who have been instrumental in improving public education. Tickets are $750 per person, and all proceeds will support the Foundation's programs and initiatives designed to improve the quality of teaching and learning in Southern Nevada's public schools.
To reserve a seat, call The Public Education Foundation at 702-799-1042 or visit http://thepef.org/ed-hero-form.
Rogers Foundation and Assistance League team for Operation
School Bell
The Rogers Foundation and the Assistance League, with the support of the Library District, presents its new shoe and school supply drive, Heart to Sole, to benefit the Operation School Bell campaign kicking off the new school year. Many students are in need of new shoes and supplies to help get them off on the right foot. Needed supplies include pencils, crayons, notebooks, erasers, rulers, washable markers, glue sticks, folders and paper. New shoes are of particular need, from kids size 12 to adult 6, boys and girls styles. Donations can be made directly to the Assistance League of Las Vegas, 6446 W. Charleston Blvd.
event to benefit pediatric programs at Nathan Adelson Hospice
Nathan Adelson Hospice is gearing up for its 17th annual Wine &Food Tasting Extravaganza Oct. 20, beginning at 4:30 p.m. with a VIP prereception in the showroom of Gaudin Porsche, 6800 Redwood St. The event serves as a major fundraiser for the hospice's Pediatric Program and Families in Need Program.
Members of the community and supporters are invited to sample a variety of delectable wines and cuisine from some of the area's finest restaurants while enjoying music and a silent auction. VIP tickets are $150 per person. General admission tickets to the event are $75 per person. Tickets can be purchased by calling Stephanie Forbes at Nathan Adelson Hospice at 702-938-3910 or online at http://nahwine2016.auction-bid.org.
Colliers International — Las Vegas donates supplies to elementary
Colliers International — Las Vegas and their charitable foundation, Links for Life partnered to donate more than 40 backpacks and hundreds of schools supplies to Tanaka Elementary. Colliers employees presented the school supplies Aug. 26 to Tanaka Elementary school teacher, Shane Goffstein, principal, Tony Davis, school counselor, Jessica Kirsch and former administrator for Clark County School District, Wayne Tanaka.
Tanaka Elementary is a Title One school in the southwest part of the Valley with 50 percent of its students on free or reduced lunch programs. Colliers understands the needs of local families and wanted to assist a school which had not received benefits for the current school year. Brokers and employees gathered supplies and donated funds for Tanaka Elementary.
The Links for Life Foundation then matched the donations to make sure as many students were assisted as possible.