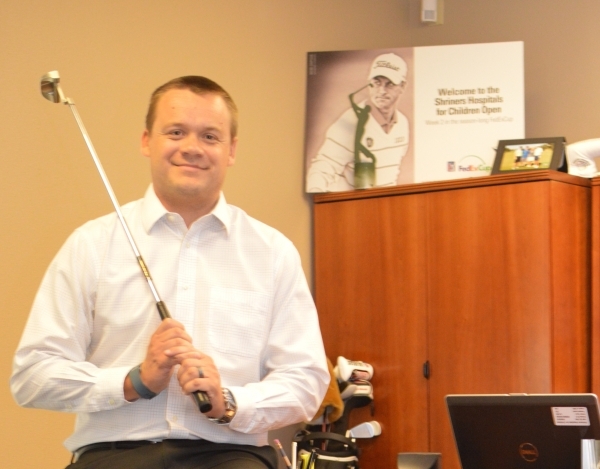 Patrick Lindsey came to Las Vegas after a successful career in Miami to become tournament director for the Shriners Hospital for Children Open, a FexEx Cup PGA Tournament.
Lindsey started as an operations manager, moving up the ranks to tournament manager in Miami before getting the opportunity to be tournament director in Las Vegas.
The Shriners tournament will be held Oct. 19-26 at the TPC golf course in Summerlin. A field of 144 pro golfers will compete for a share of the $6.4 million purse. The winner receives approximately $1.2 million.
Q. How have the first six months as the director challenged you?
A. It's been a really good, first six months. Really, both personally and professionally. It's always challenging coming to a new place and understanding the market — where the team is, mentally and with the tournament, so it's been a little challenging understanding the market. Coming from Miami, though, and the market that we had there — very similar to the Las Vegas market. It just takes time to find the market … to really drive people to the event.
Q. What major changes have you made?
A. No major changes yet. We might make some changes next year once I kind of see the tournament in full swing myself. We have added a couple of new hospitality products. I felt there were a couple of price points that we were missing when it comes to attracting sponsors and local small businesses. We added a $5,000 product and a $15,000 product that might be a little more attractive to them.
Q. How can or does the Shriners Hospitals for Children Open and the FedEx Cup set the tone for the PGA Tournament season?
A. This will be our third year of being a FedEx Cup event. Our early event, what used to be called the fall season, we weren't seeing some of those bigger, better players on the PGA Tour play the event. Now that we are a FedEx Cup event and we have 500 points, which goes to the winner, we're seeing more players playing in this event in order to kind of take momentum and shift it to the rest of the year. A lot of the younger players have played here, and I think have really shown the veteran players that it's important to get points up front to help set the tone for the rest of the year.
Q. What do you do to get the Shriner kids involved at the tournament?
A. We actually have three different programs going on right now. Wednesday of our tournament week, we have what's call the Championship Pro-Am. That's an opportunity where amateurs, just your weekend player or corporate sponsors, can play with a PGA Tour professional. During that day, we have what's called the Dream Team. The Dream Team consists of three Shriner patients who are golfers and they actually get to come here and play with a professional during that one round.
Another program we have nationwide, called National Patient Ambassadors, has two children who represent and who are ambassadors for Shriner's for the entire year. We get to host them for the week. They will be involved in all of our sponsor-related functions that we have throughout the week.
The last program, it's basically an opportunity for us to get all 22 of our national hospitals involved. Of those 22, I believe 18 are actually going to commit. So, we're going to get 18 kids, one from each hospital, and they're going to be standard bearers for us on Saturday and Sunday. The standard bearer is usually someone under the age of 18 who's carrying a mobile scoreboard that shows the group that they are actually walking with. So they're going to walk 18 holes with them and carry the scorecard. Our goal is to feature that patient and group them with a player who's from that area.
Q. How do you attract a large crowd of sidelines viewers affordably?
A. We have an offer that ends Sept. 23 called the Summer Sunday offer. It's basically buy one any-day ticket for $35 and you get a free Sunday ticket. … Sunday's the biggest day for television for us, broadcast on the Golf Channel. We have a reach of 180 countries and about 700 million households. We really want Sunday to be huge. So we really want to show that Las Vegas is a great place to come and that this community really wraps their arms around this event. We want as many people here on that Sunday as possible. That offer is available on our website, shrinershospitalsopen.com.
Q. What kind of numbers will it take for you to look back at this as a successful tournament?
A. My goal is to see this year's attendance reach 50,000 patrons. Wednesday-Sunday.
Q. How has the support been from the business community?
A. PGA Tour events can't be successful without support from the community, and since this is our 33rd consecutive year, it's safe to say that it's very strong. With that said, there are still countless ways for local business (big and small) to get involved. We pride ourselves on planning a first-class event that our business partners and Las Vegas can be proud to be part of.
Q. How do you include business professionals?
A. It all starts on the Friday, Oct. 16, when we have the Las Vegas Hall of Fame dinner. Saturday we have the Ride for Love, which is our first motorcycle ride. Monday is our Clark County School District day. On Tuesday, we have what's called Kick Off Your Heels Executive Women's Day. That's just a great opportunity for us to get the executive women in the market involved.