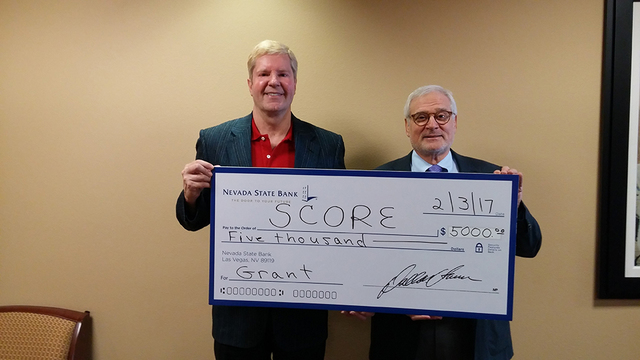 Nevada State Bank presented a check for $5,000 on Feb. 3 to the Las Vegas office of SCORE, a nonprofit association dedicated to educating entrepreneurs.
SCORE Las Vegas is one of more than 300 chapters of the National SCORE Organization, a volunteer-based group of both retired and active professionals who are dedicated to entrepreneur education and the formation, growth and success of the nation's small businesses.
They offer free and confidential business advice, mentoring and information. Fifty volunteer business mentors belong to the SCORE Las Vegas Chapter.
Las Vegas Sands Corp. helps homeless youth shelter expand
To provide a safe place for homeless youth during the at-risk hours of before school, after school and weekends, the nonprofit Nevada Partnership for Homeless Youth has expanded its Drop-In Center hours. Beginning Feb. 27, the new hours are 8 a.m. to 7 p.m., Monday through Saturday, an increase of 21 hours per week.
The Drop-In Center is a safe location to access food, clothing, shelter and respite from the streets, while building trust and skills necessary to transition to self-sufficiency.
In addition, youth can pick up toiletries, take a shower, use the computer lab, attend tutoring, seek legal assistance and take advantage of enrichment activities including NPHY's gym, art therapy and music therapy. Youth also can access higher-level supportive services such as case management, crisis counseling, life skills classes and educational and employment assistance.
Funding to support the added hours came through a public-private partnership consisting of a competitive federal grant and support from Las Vegas Sands Corp. The Basic Center Program grant was recently awarded to NPHY through the Administration for Children and Families under the U.S. Department of Health and Human Services.
It also allows NPHY to double its emergency shelter beds from four to eight for runaway and homeless youth under age 18.
International Roofing Expo donates $20,000 to local housing cause
International Roofing Expo hosted its eighth annual Community Service Day on Feb. 28, with 60 individuals from the roofing industry volunteering with Rebuilding Together Southern Nevada to provide much-needed repairs to two Henderson homes. In addition, Community Service Day sponsor Sika Sarnafil will present $20,000 to RTSNV.
The selected homes recently received critical repairs and received additional maintenance work on Community Service Day.
Critical repairs include replacing roofs and garage doors and installing new HVAC systems. Maintenance work will include property clean-up and irrigation system repairs.
Volunteers and sponsors working on the homes include Sika Sarnafil; Damato Enterprises; ABC Supply Co. Inc.; D &L Roofing; Carlisle Syntec Systems; Georgia Pacific; CentiMark; and various roofing companies from across the country.
Young Constructors Forum provides facility improvements for charity
The Nevada Contractors Association's Young Constructors Forum and NCA members joined forces for another extreme makeover.
Each year, Young Constructors Forum, a committee comprised of future leaders of the construction industry, finds a worthy community outreach opportunity.
Thanks to being selected as the 2017 Autodesk Operation Opening Doors project, and with the support of more than 30 member firms, YCF selected the CARE Complex for this year's project. CARE Complex focuses on assisting homeless individuals on the brink of making the transition from vagrancy to a functioning member of society.
Their "business plan" is to remove obstacles that clients might find daunting or insurmountable while trying to make the transition. The makeover included grading, paving, a new roof, a new air-conditioning unit, new electrical to flooring, new lockers, furniture and painting.
The project's budget started at $12,000 and totaled $300,000, which includes monetary, labor and material donations. Nevada Contractors Association represents more than 450 member firms and is the largest industry-specific association in the state of Nevada.
City National awards Literacy Grants to educators in four states
City National Bank announced that it has awarded 121 Reading is The way up literacy grants totaling more than $90,000 to support literacy-based projects, as well as financial literacy to elementary, middle and high schools in Nevada, California, New York and Georgia.
This year's teacher literacy grants were the most City National has awarded since the literacy grant program began in 2005.
Reading is The way up is the award-winning nonprofit literacy program through which City National has donated more than 500,000 books to elementary school libraries in Nevada, California, New York, Tennessee and Georgia and awarded more than 1,200 teacher grants to enhance literacy totaling more than $1.2 million.
The grants ranging from $500 to $1,000 will help augment or expand literacy projects that were judged to be creative and engaging and that would have a tangible effect on student achievement.
The winning programs are expected to directly improve literacy for more than 15,000 students in 107 schools and nonprofit organizations.
The educators receiving literacy grants were selected from among the many full-time teachers, librarians, administrators and school media specialists who submitted an online application. The one-page application was available to educators in every school district throughout the bank's five-state footprint.
Chamber of Commerce Foundation supports Project Gentlemen
Henderson Chamber of Commerce Foundation collected 1,000 suits, sports coats, ties and gently worn shoes during February in support of Project Gentlemen, the philanthropic arm of I Am A Gentleman, an organization committed to developing leaders one man at a time.
Project Gentlemen aims to clothe young men graduating from high school or who are re-entering the workforce.
The drive accepted quality pieces and monetary donations throughout the month at the Henderson Chamber of Commerce to instill confidence in young men in need of business attire to wear during job interviews.