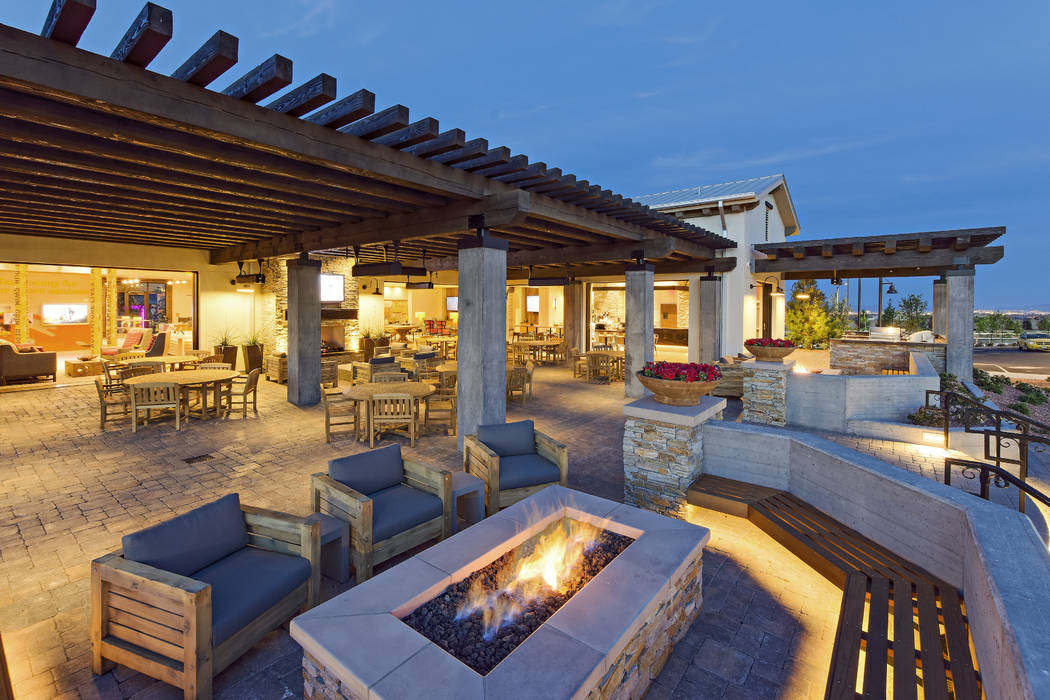 Skye Canyon has received NAHB's Silver Award in the Best Sales/Welcome Center category in the National Sales and Marketing Council's The Nationals 2017. Started in 1982, The Nationals award program recognizes superior new-home sales and marketing achievements.
With 57 categories across various disciplines of the new home industry, the awards honor excellence in product and community design, advertising and marketing and sales achievements by individuals and sales teams.
Skye Center was selected from more than 1,100 entries during a three-day judging process that included a panel of seven industry professionals from across the country. Skye Center is an 8,142-square-foot community hub that also serves as a welcome and home-buying center.
Designed by JMA Architects with Erik Tommy as project architect and with interior design by Creative License led by Claudia Gerster, president, and Natalie Schuetz, director of design, Skye Center has a contemporary, rustic feel and offers stunning views of Mount Charleston and other neighboring peaks. It includes Skye Bistro, an open-air cafe that features indoor and outdoor fireplaces as well as interactive home-finding tools for home shoppers. Opened in March 2016, Skye Center is part of Skye Canyon Park and has quickly become a gathering place for residents and prospective homebuyers.
Ocean Spray Cranberries receives safety award
Safety Consultation and Training Section of the State of Nevada's Division of Industrial Relations recognized Ocean Spray Cranberries Inc. in Henderson for its successful entry into the Safety and Health Achievement Recognition Program. After working diligently with Nevada SCATS, Ocean Spray Cranberries was awarded this certification for demonstrating a commitment to workplace safety.
Ocean Spray Cranberries joins a group of 45 businesses in Nevada that has successfully entered the SHARP program and maintains exemplary safety and health programs.
Companies are recognized with the SHARP certification after undergoing a comprehensive facility audit, correction of all identified hazards, review of workplace safety programs and injury rates below the industry average.
Participation in the no-cost program is designed to provide incentives and support to employers to develop, implement and continuously improve safety and health programs at their worksites.
By taking these proactive measures, a business can reduce accident costs and ensure compliance with the Occupational Safety and Health Administration's regulations.
City National recognized earns 16 awards
City National Bank, which provides its expertise to clients in a wide range of industries, including entertainment, manufacturing, distribution and professional services, has earned 16 awards for commercial and small business banking from Greenwich Associates, a leading global financial services research and consulting firm. This includes 14 Excellence Awards and two Best Brand Awards. The Excellence Awards includes recognition for overall client satisfaction, the likelihood clients would recommend the bank to others, digital and online services, treasury management and advice and industry expertise. The Best Brand Awards recognize City National on a national level for trust and ease of doing business in middle-market banking.
City National received Excellence Awards for overall satisfaction (national and regional), likelihood to recommend (national); cash management, digital functionality (national); cash management, functionality and range of online services (national); industry expertise (national); advice to help my business grow (national and regional); cash management, ease of product implementation (national); middle market cash management, overall satisfaction (national and regional); accuracy of operations (national) and customer service (national); and small business cash management, overall satisfaction (regional).