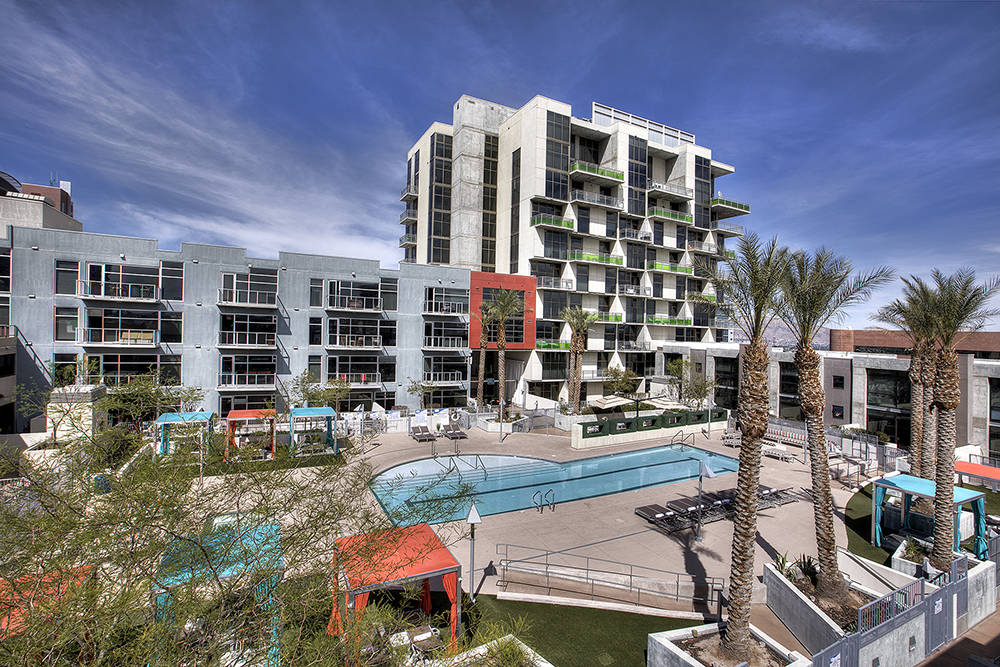 If there's any real estate benefit to the relocation of the Raiders to Las Vegas, it's going to be for the luxury home and condo segment and those closest to the Strip, according to a report from Coldwell Banker Premier.
There's been a narrative since the NFL approved the relocation of the Oakland Raiders to Las Vegas in 2020 and subsequent construction of a $1.9-billion stadium, west of the Strip, that Southern Nevada real estate would benefit with higher demand, rising valuations.
But the report from Coldwell Banker Premier poured some cool water on that prediction onwhether the Raiders' relocation would kick off a housing market blitz overall. If any market segmentbenefits, it's luxury homes and condos more than any other, it said.
"We see the Raiders move to Las Vegas as strongly positive, but as part of an accumulation of great experiences that can be had in the city, rather than a new tailwind for home prices," according to John McClelland, the vice president of research. But "we believe that luxury will benefit disproportionately relative to other price tiers."
More important factors of determining home prices is the job market, demographic trends and the ability of homebuilders to deliver more product, McClelland said.
Many Las Vegas pundits have posited that the Raiders NFL team will have a strong, positive influence on Las Vegas home prices, McClelland said. The recently coined term, "The Raiders Effect" deserves some analysis and discussion, he added.
"Individual home sellers should be cautious not to read too much into the stadium development," McClelland said. "Most of the evidence we reviewed suggested little to no price impact at the valley level."
An NFL team moving to Las Vegas "helps to complete the region as a world-class city and gives one more cause to the myriad of reasons for tourists to visit the area," McClelland said. He said while they're positive about the Raiders move, however, "Our concern is that some of the triumphant noise around the project is not soundly contemplated from a real estate perspective."
McClelland said it's accepted the South Strip and adjacent retail projects and hotels will have a "meaningful boost in sales, occupancy and average daily rates," but their report centered on residential real estate and prices.
Although Las Vegas is a strong second-home market, the primary driver of residential real estate is working families, either as owner-occupants or as renters, McClelland said. He said there's been a lot of studies on the impact of stadiums and with regard to real estate, many results are mixed when it comes to prices even though it differs by city.
Previous academic studies examined rents and homes prices and didn't find a relationship between residential home values and proximity to NFL stadiums. The study found that homes in centralcities of an NFL franchise had an 8 percent increase in rents.
"Our own cursory analysis of year-over-year price changes for the Las Vegas, reveals that a bump in price for homes valleywide is far from certain," McClelland said. "Overlaying the open dates of major resort projects with single-family home price changes illustrates far less of a correlation than many people assume. We can expect an even more marginal impact of either a sports team or another major resort."
In reviewing previous studies, McClelland said it can be assumed that values far away from the project in East Henderson, North Las Vegas and the northwest valley "are unlikely to benefit in a meaningful way (because of ) the stadium." In contrast, "our conjecture is that the South Strip, Silverado area and, perhaps, Southern Highlands and the southwest may benefit positively. Nevertheless, we caution that this may not occur uniformly, as a declining or challenged neighborhood may still be a challenged neighborhood despite greater things happening regionally."
McClelland said any influence is unlikely to be uniform across all price points and housing types.
For example, a South Strip high-rise or mid-rise, which are "conducive to second home ownership, may receive attention from out-of-state fans."
Higher-end homes may receive disproportionate interest from Raider players and staff, he said. The league minimum salary in 2017 was just under $500,000 a year, he said.
"Adding executive, marketing and support staff, we do see a lot of potential in the luxury market," McClelland said.
Chris Bishop, president of the Greater Las Vegas Association of Realtors and a branch manager with Coldwell Banker Premier, said there were some who mistakenly thought when the Raiders' stadium plan come to fruition homes prices would go up in value.
"What the Raiders are is an amazing addition to our economy," Bishop said. "If you're a company looking for a place to hold your convention for 20,000 people and you have a choice between us and Miami and they have an NFL team and we don't, you may choose them over us."
An NFL team will put a lot of money into the economy and all of the people affected by that will need a place to live, Bishop said.
"The players are going to be affecting the luxury market, but what about the staff and employees," Bishop said. "We have seen a lot of those people come to town and either rent or purchase property but when you look at the Raiders' corporation and the amount of employees, the Raiders have 238 so when you look at the corporation, it's not like they (are bringing) in 10,000 people to buy real estate."
The biggest impact will be fans living in California who already are fans of the Raiders, Bishop said. "If you look at (the tens of thousands of) people (who) are going to come to town on a regular basis and take part in their games, they will looking at buying vacation homes because of the affordability here," Bishop said.
That's what Uri Vaknin, a partner at KRE Capital which acquired a 2013 portfolio of more than 1,300 condominiums with Dune Real Estate Partners has been saying for more than a year that Raiders' fans from California are buying condos. It has The Ogden and Juhl downtown and One Las Vegas on the far South Strip.
"Ever since the Raiders' announcement we have seen sales up, particularly at One Las Vegas, and we have had consistent great sales at that property," Vaknin said. "Sixty percent of the buyers at that property are coming from California, but, historically, we have always gotten Southern California buyers but now we're getting buyers from the San Francisco Bay Area. We got one buyers because she's and Oakland Raider fan. People see great value and proximity to the stadium, and now there is a whole new level of things to do in Las Vegas with the Golden Knights. Football is a more popular sport and will have a greater impact on the local economy and sense of community and civic pride."
The report said it's not downplaying the impact of the Raiders' relocation. Sports teams can help reinforce a sense of community, and the franchise's own marketing, combined with that of Las Vegas, "can expand the footprint of the Raiders brand and that of Las Vegas in a symbiotic manner" and many Californians will visit the Raiders here.
"Generally, we view Las Vegas being the home of an NFL and NHL team as a positive for the region,"McClelland said. "Our caution is toward individuals attributing a higher price to their home based simply on this news, rather than a thorough examination of local supply and demand trends."