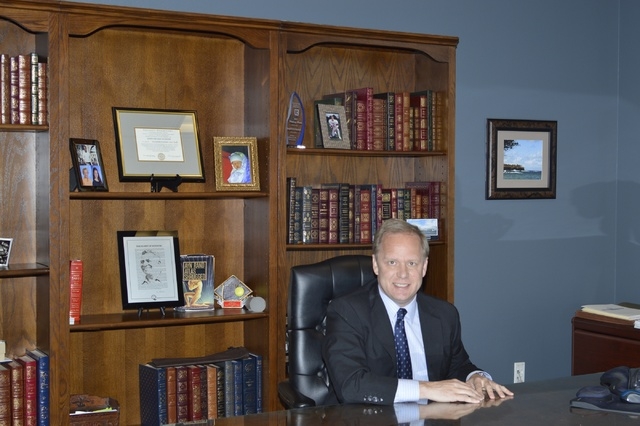 Joseph DeSimone Jr., the broker and owner of First Federal Realty in Henderson, made recent news by buying the Railroad Pass Hotel and Casino.
DeSimone, who is from Long Island, N.Y., attended Hobart College in upstate New York, earning a bachelor's degree in political science with a minor in economics. He moved to Las Vegas in 1991 and earned a master's of business administration degree from Regis University's Henderson campus.
He spent about four years here in Las Vegas selling residential real estate at Americana Group Better Homes and Gardens before moving on to open First Federal Realty.
Q. What drew you to commercial real estate? How'd you get your start?
A. First Federal opened in December of 1996. I received the opportunity to develop a complex with 12 buildings called Pecos Commons and that was my first jump into commercial real estate and development.
Q. What was your motivation to establish First Federal Realty?
A. I thought I could provide a better service to the community than most other real estate companies.
Q. Is there any particular building or location that you would say defines your brand?
A. Horizon Ridge Professional Park. We bought the property in 2008; we spent two or three years developing that and that's probably my favorite product both architecturally and as it relates to the success of the project.
Q. How has the recession affected commercial real estate and do you feel it's recovered now?
A. Certainly. You're finding a lot more opportunities for financing. You're finding lower land prices although they're increasing most recently. The challenge in the marketplace for buyers is there (are fewer) sponsors, there (are fewer) builders and developers because a lot of them had a real tough time through the recession. We didn't.
In the last two projects that I built for my product — which is the office medical for sale or lease product — there's not a lot of competition around town. There (are) not a lot of people that can get financed still, and there (are) not a lot of people developing that type of product. So we've been very successful in both leases and sales.
Q. What do feel is important for professionals to know?
A. It makes a lot of sense for professionals to own their building that they operate their practice out of. When you put pencil to paper, it's almost always worth the effort to purchase. There's financing available through the SBA (Small Business Administration) with as little as 10 percent down of the whole project cost.
Q. Is this a buyer's or seller's market?
A. First Federal Realty has always offered a product for sale. It's turning back into a seller's marketplace because there's a lack of qualified developers in the marketplace. We're having a better time achieving our pricing, achieving our terms, and the volume is high. If there's any challenge for our firm, in what I see, it's the acquisition of other properties. To get an appropriate property that's going to be successful isn't the easiest task in the world. To find a good location at a good price takes patience and time.
Q. What percentage of the Las Vegas market would you say is vacant?
A. That's a good question. It's hard to tell. Horizon Ridge Professional Park has 16 buildings and it's 100 percent occupied. Whereas, if you go to other parts of the city you'll find vacancy rates of 60 percent to 70 percent or more. When you take into account vacancy rates, you have to take into account location, quality of product, and the reputation of the sponsor developer too. In one place, you'll have 100 percent occupancy and down the road you'll have 50 percent occupancy. When you do the math, it's maybe 70 percent occupancy but it doesn't tell the story of the good locations verses the bad locations and to good product verses the bad product.
Q. Why have you chosen now as the time to buy the Railroad Pass? What was your motivation?
A. I chose to buy the Railroad Pass to diversify my business interests. Upon reviewing the financials, I found the property to be a good value for the price, and I decided to seriously consider the acquisition. I'm glad I did.
Q. How is it a difficult or enjoyable endeavor moving from commercial real estate to the casino business?
A. Although my commercial real estate and development business has and will maintain a successful history and outlook, the challenge of entering something new excites me. This experience is no different, and we expect to do some great things as well in the gaming and hospitality business.
Q. What will the Interstate 11 bypass project mean to the property?
A. The bypass and I-11 are great projects for Nevada and great projects for the Railroad Pass. The increased traffic, enhanced exposure to motorists, and easy access to our property can only help our business. Currently, a large majority of our customers are from Boulder City and east Henderson. We will work to enhance their experience and augment our customer base with more travelers, and as we own more than 40 acres around the casino, we will have the ability to provide more services in the future.
Q. What are your future plans for the Railroad Pass?
A. First, I intend to complete my personal licensing and as we respect this process. We hope the consideration of our application is positive. Thereafter, we intend to listen to our customers, respect our team members, and establish a successful business while providing great services to the community.