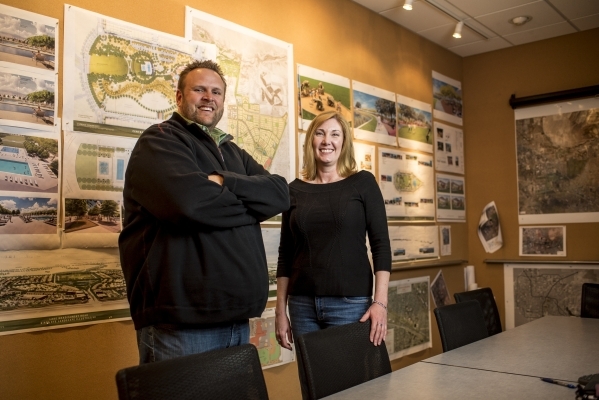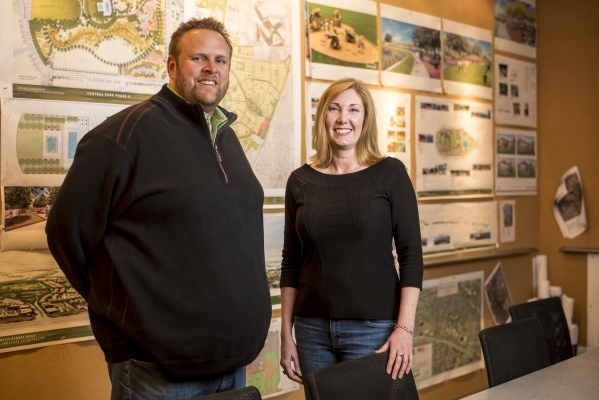 A local land development company has brought some large and well-known projects online over the past two decades in the Henderson area and continues to leave its footprint today.
The LandWell Co., a land investment and development arm of Basic Management Inc., has helped bring projects such as the Valley Auto Mall and Black Mountain Industrial Center to fruition.
LandWell typically delivers its clients super pads — a site where all the infrastructure is set in place, said Lee Farris, vice president of land development at LandWell.
"We build the offsite roads. We bring water, sewer, power, gas, and deliver what we would call a ready to develop parcel," said Farris. "We bring all the offsite infrastructure there, and all they have to do is deal with their onsite construction."
This was the case with Cadence, LandWell's large residential project near East Warm Springs Road and East Lake Mead Parkway. Builders such as Ryland, Woodside, Lennar and Richmond American Homes are all working on projects in the development.
The 2,200-acre site will also house several commercial projects, including a grocery store, several mom-and-pop businesses and possibly a casino-hotel. LandWell is in talks with Boyd Gaming on a future property.
Cheryl Persinger, vice president of marketing at LandWell, said Smith's Marketplace will break ground in the middle of next year and is scheduled to be up and running by the end of 2016. Smith's is in escrow on the parcel.
There are also some retail pads in front of the Smith's Marketplace that should be in escrow shortly, she added.
The project came to life after a long remediation and restoration project. The land once housed unlined waste ponds for a magnesium plant that operated during WWII.
Persinger estimated the cleanUP cost to be about $143 million.
"That work is all done now," said Persinger. "We got our last report from the state."
LandWell's parent company, Basic Management Inc., has a long history with magnesium and Henderson.
Cadence once held the waste ponds, but just to the west of there was the site of the Basic Magnesium complex — a facility where the federal government produced magnesium needed in the construction of warplanes. The site would close after World War II war and be sold to the state of Nevada, whose representatives were looking to secure the city of Henderson's future. The deal was struck in 1947 for $24 million — $1 down and the rest to be paid for over the next several years by leasing the properties to commercial entities.
In 1952, the site would be sold to several private manufacturing entities, including Kerr McGee (now Tronox), Ohlin Chlor Alkali and Titanium Metals Corp. Each owned the land their building would rest on.
Basic Management got its start there as well. It was to own and manage several assets being used in unison by the manufacturing entities, including a water pipeline and distribution system, power distribution facilities, railroad facilities and evaporation ponds and thousands of acres of land.
TIMET used the same waste ponds through the '70s, when new laws were enacted that required lining the ponds. In 2005, LandWell built a water treatment plant on TIMET's own site, and they discontinued use of the ponds.
Today, that site where the industrial companies first set up shop is known as the Black Mountain Industrial Center. It sits just west of some of LandWell's other developments, including a Target shopping center.
LandWell has developed more than 1,500 acres with projects that ranged from retail, light industrial, commercial and residential. Operations are headed by Mark Paris, president and CEO of LandWell. The company was been in development since 1992.
LandWell's residential work has kept it in Henderson. It's helped develop communities such as Emerald Valley Stephanie Street and Warm Springs Road and Champion Village near Gibson and the 215. In all, LandWell has developed 654 acres of single-family housing — 2,833 lots.
The company has also developed 197 acres of multifamily projects — 2,758 units. This number doesn't include the new Cadence development.
Farris said the company is also working on its first mixed-use development at Traverse Point Business Center, between Stephanie Street and Gibson Road near the 215. The complex is home to an RC Willey and a WINCO, along with some housing and apartments.
On the other side of Gibson, Traverse Point continues toward US 95. There, Farris said, firms like Vista Landscape occupy what's known as the Traverse Point Industrial Center.
Just six months ago, LandWell sold a parcel to Prologis, which is building a 250,000 square foot facility.
But the center isn't quite sold out. There's still a 20-acre parcel available, Farris said.
Farris said he's seen industrial pick up in recent months.
"Through the downturn we made a land sale or two every year and had one or two projects — nothing of great size," said Farris. "But in the last year, certainly in the last six months, we've seen a big uptick in interest. A lot of people are looking to get back in the market."