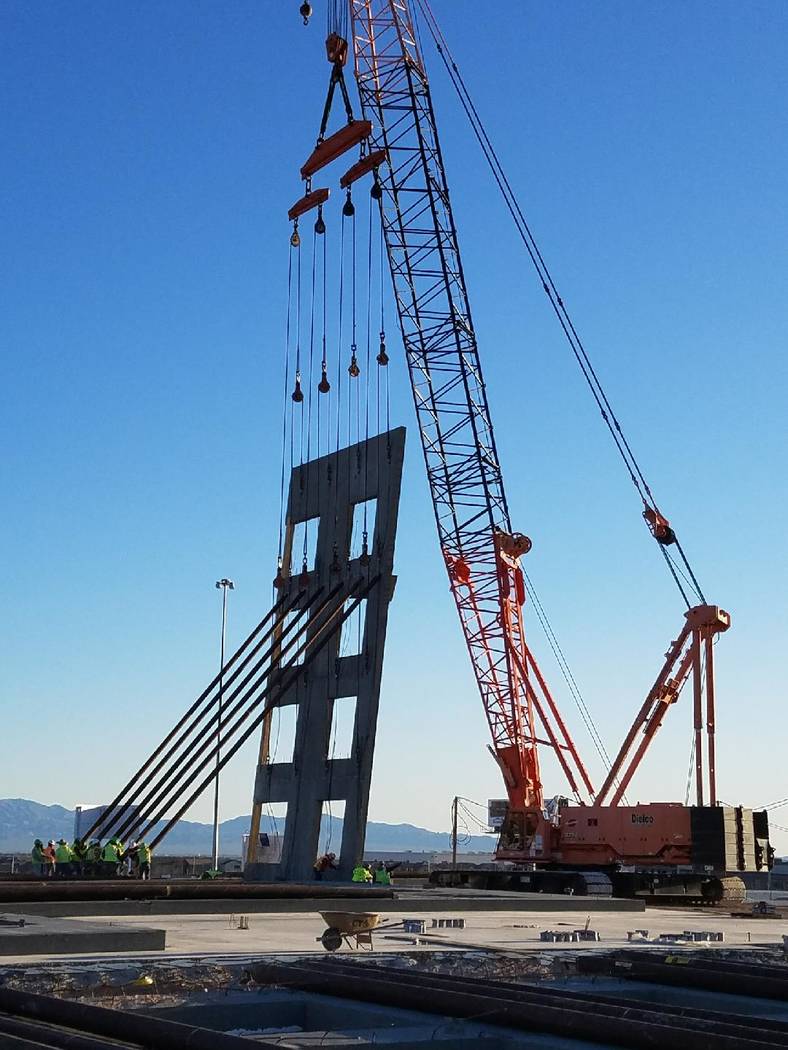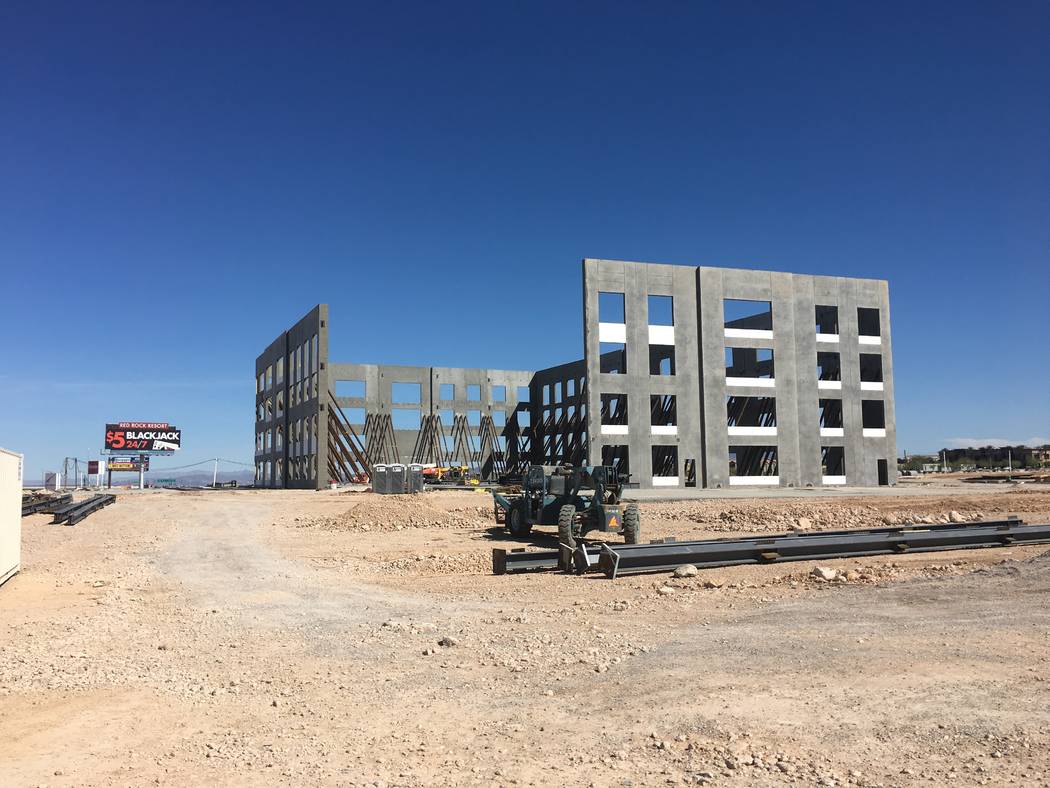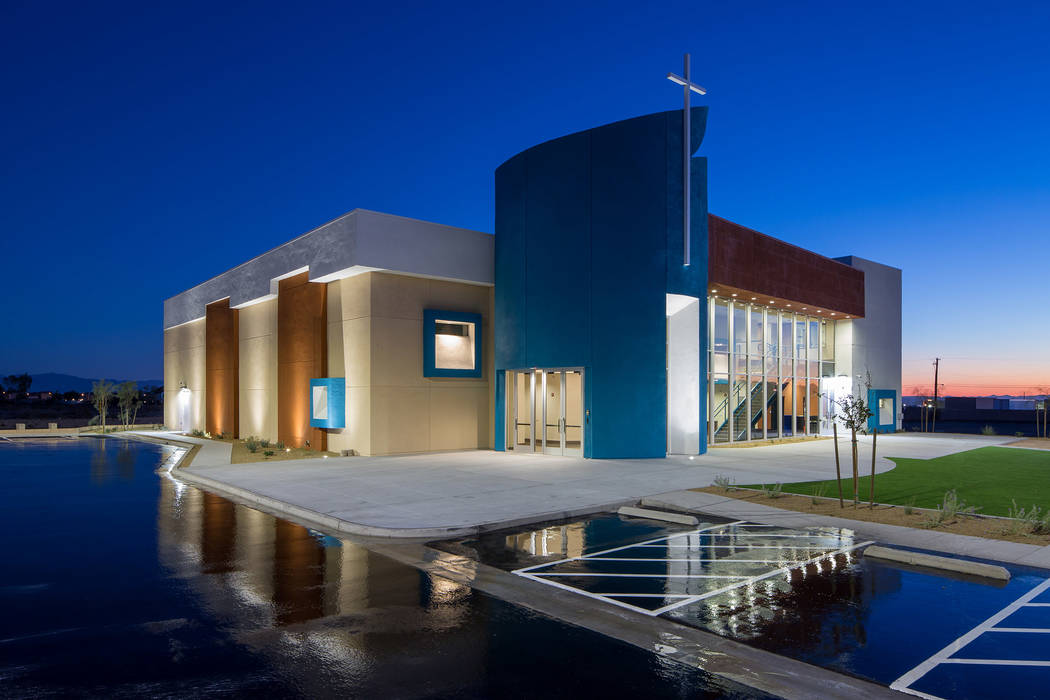 NV Energy/Nevada Power purchased the Southern Nevada Water Authority's 25 percent stake in a land parcel and natural gas-fueled power plant at Apex in the first quarter of 2017, county records show.
NV Energy now fully owns the 520 Megawatt Silverhawk Generating Station that sits on just over 84 acres at 15111 Apex Power Parkway, Jennifer Schuricht, an NV Energy spokesperson, said in an email. That effective date was April 1, she said.
The transaction value was $77 million, according to county records.
The SNWA and NV Energy have owned the property together since 2006, county records show.
Nevada Power owns about 15 power plants across the state, which provide power to about 1.3 million customers, along with the more than 40 million annual visitors to Las Vegas, according to NV Energy's website. The company has both renewable and other power supplies.
Credit One Bank progresses on its new headquarters
Las Vegas-based Credit One Bank, a national credit card issuer, is making progress on its 152,000-square-foot project in the southwest part of Las Vegas — soon to be its new headquarters.
Construction crews raised 22, 65-foot wall panels at the site of Credit One's new four-story office building in March. The project sits south of the 215 Beltway, between Durango and Buffalo drives.
Crews broke ground on the tilt-up construction project, where concrete walls are constructed on the ground and then raised up, in December 2016. The project is scheduled to be completed at the end of 2017.
Credit One has been in Nevada since the late 1990s. The company was originally based out of San Rafael, California.
The company has grown significantly since it came to Southern Nevada — going from between 1 million and 2 million customers to more than 7 million credit card holders today.
After getting too large for its current headquarters at 585 Pilot Road and seeking better logistics for its current employees, Credit One leadership decided to build. The company purchased 24 acres for $20.8 million in May 2016, Clark County records show. The land parcel has room for up to four buildings of similar size, according to Credit One.
Credit One's new facility will be able to house up to 1,000 new employees, including up to 400 new technical, analytical and marketing workers. There are about 500 employees at Credit One.
IRS renews 10-year lease in downtown Las Vegas
The Internal Revenue Service, which houses its operations at 110 N. City Parkway in downtown Las Vegas, has renewed its lease for another decade, The Molasky Group of Cos., the building's owner, and the U.S. General Services Administration announced in a press release at the end of March.
"We are pleased to have the agency renew and continue to be part of the downtown market," said Anna D. Juarez, national real estate manager for The Molasky Group of Cos. "We worked hard to maintain this relationship and this level of commitment really shined through during our renewal efforts."
The IRS has been utilizing the 63,420 square feet of space across three floors since 2005. The space is a Level III security facility.
The Molasky Group of Cos. is also planning other projects in the general region of 110 N. City Parkway. PH Symphony Park LLC — a company owned by Molasky Group Chairman Irwin Molasky — was approved by the Las Vegas City Council to build two new office buildings in Symphony Park in February.
The 6-acre project could bring up to 250,000 square feet of new space in Symphony Park.
DC Building completes work on church project
Las Vegas-based DC Building Group, a general contracting firm, completed work on the Southern Hills Baptist Church campus at 6425 W. Pebble Road, the company announced at the end of March.
"We are honored that we were chosen to complete this important campus for the religious community," said Shawn Danoski, CEO of DC Building Group. "Southern Hills Baptist Church has increased Sunday service attendance from 600 to 1,000 members and needed to construct this new campus to accommodate the increased membership."
The 14,855-square-foot project contains a 600-seat auditorium, lobby, lounge and meeting space.
Broker at Colliers International earns SIOR designation
Patti Dillon, a senior vice president at Colliers International Las Vegas' office division, has earned the Society of Industrial and Office Realtors' designation, the company announced at the end of March.
"We congratulate Patti on earning the distinguished SIOR designation," said Mike Mixer, executive managing director for Colliers International. "She is an incredible leader and a credit to the commercial real estate profession in the Las Vegas market. We are honored to have her on our team."
Achieving the SIOR designation is a long process. Dillon had to complete five years of experience in the office sector, meet stringent education requirements and "demonstrate professional ability, competency, ethical conduct and personal integrity," according to the release from Colliers.