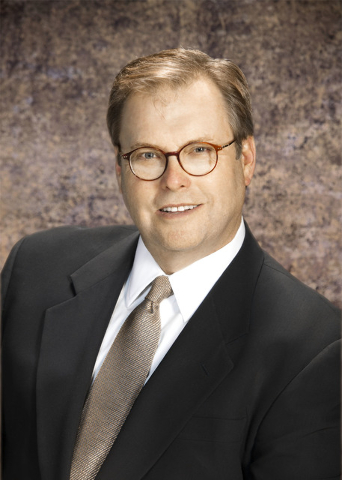 Cushman &Wakefield | Commerce is back in the property management business in Las Vegas after acquiring Integris Realty Services LLC and its 1 million square-foot portfolio.
And David Jewkes is back with Cushman &Wakefield | Commerce.
Jewkes was leading the property management business for Cushman &Wakefield | Commerce in Las Vegas when the operation was sold to Thompson National Properties in 2010.
Jewkes went out on his own and formed Integris Realty in 2013, he said. He has worked full time in Las Vegas since 2006.
Cushman &Wakefield | Commerce is headquartered in Salt Lake City and is an independently owned and operated member of the Cushman Wakefield Alliance.
In the acquisition of Integris, Cushman &Wakefield | Commerce gained 1 million square feet of managed space, which includes management contracts for retail, office and industrial assets in Las Vegas. Integris regional vice president Stacy Blattner will also be joining Cushman &Wakefield | Commerce.
"Integris Capital Group was in the asset and property management business," Jewkes said. "We had a fairly significant portion of portfolio in Las Vegas, the Las Vegas valley, and we touched into Reno a little bit.
"I had a history with Cushman &Wakefield | Commerce many years ago. There was an outreach to us about perhaps acquiring our portfolio and asking me to kind of regrow their business here in Las Vegas and Nevada, specifically, for that group."
The deal closed June 2. Financial terms were not disclosed.
Jeff Easton, president of Cushman &Wakefield | Commerce and its sister company Cushman &Wakefield | Northmarq, which is based in Minneapolis, said he was pleased with the opportunities this acquisition offers to grow Cushman &Wakefield's footprint in Nevada. "The new partnership will support our goals to offer clients more services in more locations," he said in a press release.
Jewkes said his focus in the recent past has been working with distressed properties, but that is starting to change in Las Vegas as capital is returning to Southern Nevada.
The returning capital means Jewkes and Cushman &Wakefield | Commerce has to be able to do it all – retail, industrial and office – for big and small clients. That's something Jewkes has done across his more than two decades in property management, he said.
"I am now sharing space with talented professionals here on the front end making deals. So, we can start to make that connection directly with investors coming to the market, others trading in the market, and those in the disposition of assets that were acquired during the distressed period," Jewkes said.
Jewkes said the property acquisition contains about 50 percent retail, 30 percent industrial and 20 percent office. The retail property includes the 65,000 square-foot Premium Outlet Annex on the south end of the Las Vegas strip.
While retail and industrial space has seen resurgence in Southern Nevada after the Great Recession of 2008, the growth in office space has not seen a similar bounce back.
Jewkes said there are challenges with office retenanting. "Your second- or third-generation tenants – whether they are law firms and other businesses – their spaces are built out in specific ways. They are heavy office on the outside with workstations on the inside.
"These days, office space needs to more collaborative and open, so there is a significant expense for an investor who owns office buildings to reset the building. The expense is actually quite large as opposed to industrial and retail space, which looks very much like they did eight or nine years ago. The office world is changing and the cost of renovating or retenanting is significant."
The changes will not bring many new jobs to Southern Nevada. Jewkes said the added workload might lead to two to three full-time positions to take care of the expected increase in properties.
However, most of the additional work will be in the accounting department, which includes reporting, collecting rents, paying bills and compiling the monthly financials. That work will continue to be handled out of the Cushman &Wakefield corporate offices in Minneapolis.