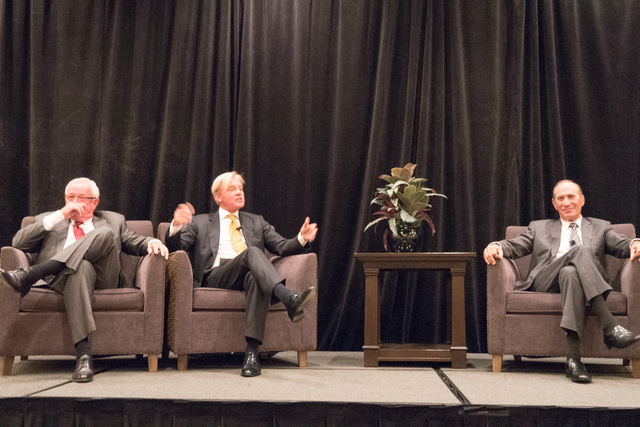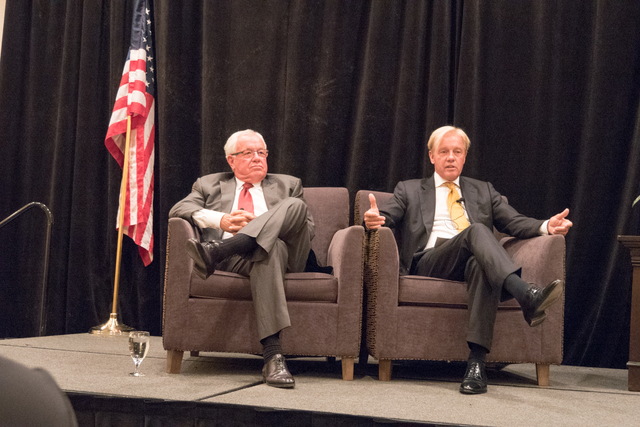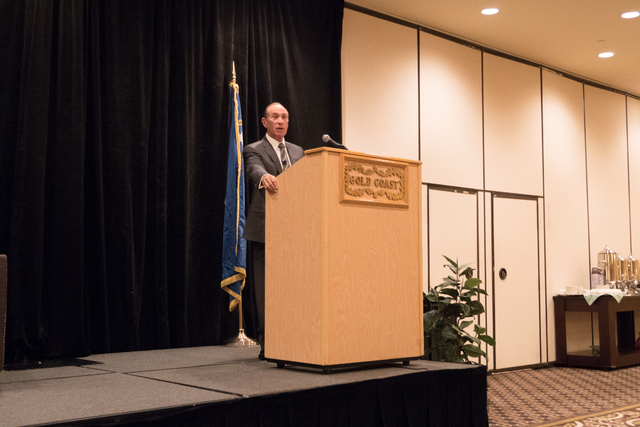 Two well-known real estate figures discussed the changing face of Las Vegas' commercial real estate sector and the local economy during a panel discussion at Commercial Alliance Las Vegas' Educational Symposium at the Gold Coast in late September.
CALV's luncheon and panel discussion on Sept. 28, dubbed "Las Vegas Real Estate Legends — When Cocktail Napkins Were Contracts III," part of an all-day educational event for real estate professionals, was led by Randy Black Sr., a longtime real estate developer and casino owner, and Terry Wright, owner and chairman of the board of Nevada Title Co.
Born in Peoria, Illinois, Wright started his career at Chicago Title Insurance Co. while attending law school. In 1978, he formed Nevada Title Co. He started Nevada Construction Services in 1985. Wright has served on numerous boards such as Pioneer Citizens Bank, First Interstate Bank and the Nevada Institute of Contemporary Arts and Southwest Gas Corp.
The city was a different place some 40 years ago, Wright remembered.
Back then commercial loans weren't that easy to come by, he said. There were only two sources of funding in Las Vegas: the Teamsters pension fund in Chicago and Valley Bank, whose chairman was E. Parry Thomas.
Thomas was well-known for funding casinos at a time when that wasn't the industry standard. Valley Bank was sold to Bank of America in the early 1990s and has since been closed. Thomas died Aug. 26.
Thomas was also known for his support of 1960s legislation ending the requirement that a casino owner be licensed in Nevada. This had meant that publicly held companies were unable to enter the market, as each stockholder would have to have been licensed in the state.
That not only opened the door for the megaresorts we see today, but also helped to move out organized crime.
Woody Rossum, longtime Las Vegas real estate broker and the event's moderator, had something to add.
After college, Rossum said, he worked in illegal gambling in Akron, Ohio, and Cleveland for the same people who employed Moe Dalitz, a known gangster, businessman and casino owner.
Rossum said he came to Las Vegas and was introduced to people at the Stardust, eventually meeting Frank "Lefty" Rosenthal. Rossum's time in the casino business came to a close after he was shot and ended up in intensive care at Sunrise Hospital.
"I had an epiphany. I thought that real estate might be a little safer …" Rossum said.
Organized crime's hold on Las Vegas eventually came to a close.
Many organized crime groups were priced out of the market by the late 1980s, said Wright.
That's about the time Steve Wynn ushered in the city's first megaresort: The Mirage. At the time, gaming produced about 80 percent to 85 percent of the casinos' revenue, Wright said.
With the creation of this new megaresort model, the way casinos earned money changed. Now, casino operators report that 20 percent to 25 percent of their revenue come from gaming, Wright said.
Black said in an offstage interview that many new revenue streams flow in from retail sales.
Black came to Las Vegas in 1970. Since then, he has worked as a real estate developer on many projects across the Las Vegas Valley. He built the Virgin River Casino in Mesquite in 1990 and purchased the Oasis, now closed, in 1997. He also owned Casablanca.
In 2013, Black stepped down as chief operating officer of Mesquite Gaming, the parent company of his gaming holdings, to move on to new ventures in the medical marijuana industry. Black's Clear River Wellness LLC, which does business as Nevada Medical Marijuana, has holdings in Henderson and Laughlin.
The dynamics and the skyline on Las Vegas Boulevard changed throughout the 1990s and early 2000s, giving rise to New York-New York, Bellagio, Paris Las Vegas, Venetian and many other properties.
During the Strip's growth, residential real estate was thriving, as 10,000 people a month moved to the valley during the 2000s.
High-rise product was also up during that time. Wright said CityCenter was being constructed on the concept that the condominiums would help finance the project's construction.
"Come 2008, the music stopped and there were just no chairs," Wright said.
CityCenter developer MGM Resorts International weathered the storm, which Wright said had a lot to do with the organization having some of the top financial experts in the industry. Other projects like Echelon and Fontainebleau did not make it. And most commercial development was just went underwater, he said.
Eight years later, the real estate industry has recovered, but some problems still persist in the market. Wright used the examples of Fontainebleau still being empty and MGM selling Crystals Mall to pay down debt.
Fontainebleau could be on its way to a working project soon. In June, the Las Vegas Review-Journal reported that billionaire Carl Icahn might have a buyer for the mothballed project. Icahn purchased the property out of bankruptcy in 2010 for $150 million and listed it for $650 million, according to the Review-Journal report.
Just diagonal from there, Genting Group is raising its planned $4 billion, 3,100-room Resorts World project on the site of the mothballed Echelon project, which shut down in 2008. Genting reported to Nevada gaming regulators in May that it plans to ramp up construction in the last three months of 2016, with build-out planned for early 2019.
And, Wright said, the housing market has been in recovery.
The latest report from the Greater Las Vegas Association Realtors on the median home price shows Las Vegas at $235,000 for existing single-family homes. That's still down just over 25 percent from the 2006 peak of $315,000.