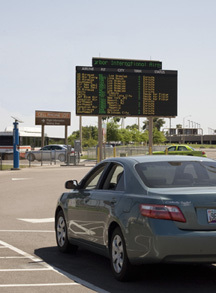 There's some prime real estate at McCarran International Airport that's just waiting to be developed to take the facility to the next level of serving the public.
When McCarran opened 14-gate Terminal 3, the beautiful half-mile-long facility paralleling Russell Road and providing a new international gateway to Las Vegas in 2012, it closed Terminal 2, once home to international and charter arrivals and departures.
By everybody's admission, Terminal 2 was too dilapidated to be upgraded for use as a concourse.
In numerous interviews with Clark County Aviation Director Rosemary Vassiliadis, the conversation always turns to a wait-and-see stance on what to do with Terminal 2 and the land beneath it.
The one thing Vassiliadis has noted about Terminal 2 — and I don't think she's kidding about this — is that when the building bites the dust, she wants to do it in a spectacular night implosion with the lights of the Strip in the background.
It would be a spectacular Hollywood moment that could be sold to some film studio that has a massive building demolition as part of a movie plot.
But then, what to do with the land when the dust clears?
Vassiliadis is leaving options open until it becomes evident what some of the airport's needs will be in the years ahead.
Vassiliadis said one option is to make the property available to more gates. She's noted that the land is conveniently located to accommodate air traffic and it wouldn't take much to run a new shuttle line north from Terminal 1 for a new set of gates.
Those who have been around Southern Nevada for a while know that McCarran was a pretty happening place in the early 2000s. In 2007, the airport served a record 47.7 million passengers. Because that was approaching capacity — at the time considered to be 53 million — county officials were getting nervous about whether McCarran could accommodate all the traffic that was coming to Las Vegas.
That's when former Aviation Director Randall Walker floated the idea of a reliever airport south of Las Vegas in Ivanpah Valley. The thought was that international or some long-haul flights and possibly air freight would arrive and depart from Ivanpah and shorter domestic flights would stay at McCarran.
But with all the changes that have occurred in aviation in the past decade — legacy carriers such as United, Delta and American running a mix of long- and short-haul flights and No. 1 McCarran operator Southwest starting international routes — running two airports would be a logistical nightmare.
If adding gates is a necessity, it seems putting them in Terminal 2's space is preferable to building south of the city.
There are other amenities McCarran could use and the Terminal 2 space could offer solutions.
TRANSPORTATION HUB
One long-term plan for the Las Vegas Global Business District — the Las Vegas Convention Center campus — is a transportation hub to move conventioneers between Strip accommodations and trade shows.
It seems the airport could benefit from that philosophy as well. Local planners are talking about the benefits of extending the Las Vegas Monorail to the airport. There's also talk about using Maryland Parkway as a corridor that someday could carry light-rail traffic between downtown and the airport.
How great would it be to develop a multimodal transportation hub for the airport in one location, a place where monorail, light rail, buses and taxis could flow in and out? Connect the terminals with a people mover similar to skytrains in use at airports such as Dallas-Fort Worth International or Phoenix Sky Harbor.
Most travelers are used to moving from the airport to their destination on convenient ground transportation. The time is right for McCarran to start thinking about it.
SLEEPING ACCOMMODATIONS
It's an idea that may not get much support from the resort community, but it's time that McCarran officials look at offering sleep facilities.
Where and how to get 40 winks has been studied by airports around the world.
Earlier this month, Canberra Airport announced plans for an on-site four-star hotel, primarily to meet the needs of international travelers.
Orlando International Airport has a beautiful hotel in its terminal building, not far from the airport's security checkpoint lines.
Sleeping accommodations are standard fare at many Asian airports. Some have small rooms in pods joined to a central shower facility and have on-site Wi-Fi access.
Some airports even offer by-the-hour cocoons for sleepers right in the airport terminal.
As Las Vegas works toward accommodating more international travelers, it must keep the wants of those travelers at the forefront.
MOBILE PHONE PARKING LOT
Here's one that locals have wanted for years — a place to park for free while awaiting a flight arrival.
They have them at Denver, Salt Lake City, Phoenix, even Reno.
Phoenix Sky Harbor has a flight arrivals status board in the lot.
The reason McCarran doesn't have the amenity already is that its viewed as an expense without a revenue source because lots have to be maintained.
Walker never favored a mobile phone lot because there was money to be made by forcing locals to park in the short-term parking lots. It's true that you don't have to pay for the first 15 minutes of parking in those lots, but inevitably a flight runs late, a passenger awaiting pickup gets delayed at the baggage carousel and the motorist meaning to leave within 15 minutes ends up paying at least $2.
Vassiliadis has said she is open to considering such a lot as long as there is a place to put it.
It seems that there's plenty of space around old Terminal 2.
Follow @RickVelotta on Twitter. Contact reporter Richard N. Velotta at rvelotta@reviewjournal.com or 702-477-3893.