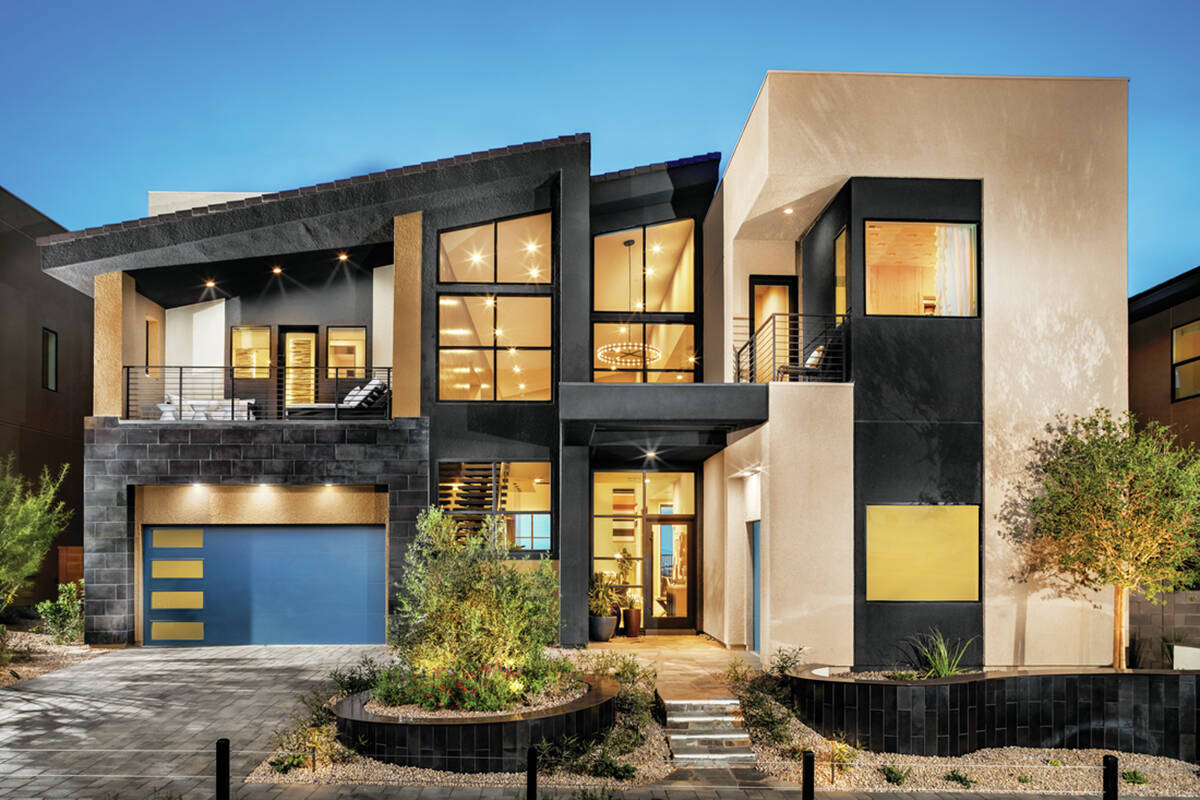 Toll Brothers won six Silver Nugget awards for its luxury community Mesa Ridge in Summerlin, including taking the high honor of Home of the Year.
The Home of the Year — Mesa Ridge's two-story Skyview Collection Oak Creek model — was already a winner when it was named the Silver Nugget winner for a luxury detached production home priced in excess of $1 million.
The guard-gated Mesa Ridge with 322 home sites is across from Mesa Park in Summerlin. Toll Brothers opened two collections in 2019, and the rest in 2020.
"Mesa Ridge is one of our best-selling communities," said Daniel Wright, Toll Brothers' division vice president. "We've had tremendous success in that price offering. There are four collections and two have sold out. It's exciting. We put in a lot of work and collaboration into this project, and it's been a home run for us."
The Oak Creek model is two stories that measures 4,877 square feet with five bedrooms, 5½ baths and a three-car garage. The model opened in October 2020, and its price starts at $1.33 million. The home was designed by KTGY Architecture, and the interior designer was Unscripted Interior Design.
"It's a modern and contemporary design with some of the interior finishes, built-ins and touches that were custom," said Toll Brothers' Marketing Director Maricela Maciel. "When you walk in at the front door, you can see through the house to the back where you have floor-to-ceiling windows. There's a 24-foot ceiling from the first floor great room to the second floor. That ceiling is very impressive."
Maciel called it a team effort to win the Silver Nugget for the Home of the Year and credited the Mesa Ridge community teams for construction, design and sales.
"We are honored and very proud of our homes," Maciel said. "We're proud of our employees who built these homes. It's a testament to our Toll Brothers brand and commitment to providing homeowners their dream home."
Mesa Ridge won a Silver Nugget for Design & Architecture for its one-story Peak Collection Cascade. It covers homes measuring 3,001 square feet to 4,000 square feet and priced more than $1 million.
Cascade measures 3,853 square feet with three to four bedrooms and three to four baths. It has a garage that ranges from three to four cars. There are expanded kitchens and large kitchen islands. Cascade starts at $1.36 million.
Toll Brothers' other two-story Skyview Collection model, White Rock, won a Silver Nugget for Design & Architecture of homes measuring more than 4,000 square feet. Its price starts at $1.36 million. The square footage is 5,007 with five bedrooms and 5½ baths and a three-car garage.
"There are volume ceilings that go up to 23 feet, and there are spine stair options with glass rails," Wright said. "There are a lot of storefront options to add to that contemporary and modern elevation style. There's 24-foot sliding glass door options to open the interior to the exterior."
The Mesa Ridge one-story Peak Collection model, Boulder, won a Silver Nugget for interior merchandising for homes priced in excess of $1 million. It was done by Ryan Young Interiors. It measures 3,620 square feet with three bedrooms and 3½ baths. It's priced starting at $1.35 million.
"It's gorgeous. It's a very modern design," Maciel said. "When you walk in the home through the front door with all the homes at Mesa Ridge you can see straight through the home through the floor-to-ceiling windows to the beautiful backyard."
Wright said there's a "stunning" glass office to the right of when you walk in the door.
Interior merchandising includes structural options, flooring, granite, countertops, cabinets, paint colors, finishes, drapes, furniture and decor, Maciel said.
The final Silver Nugget in Mesa Ridge was for a New Production Community Amenity that went to Toll Brothers' Amenity Center.
There are two buildings. One is a social building for parties and has floor-to-ceiling glass on two sides that open up to the exterior entertainment area. The second building is for fitness with exercise equipment that opens onto the pool.
The center also has bocce courts and outdoor fireplace that cantilevers over the roundabout that you drive up to when you approach the Amenity Center, Wright said. Each home has a parcel locker for deliveries of goods. Residents can even have groceries delivered and placed in refrigerators for them to pick up.
Greey | Pickett did the landscape architecture at Mesa Ridge.