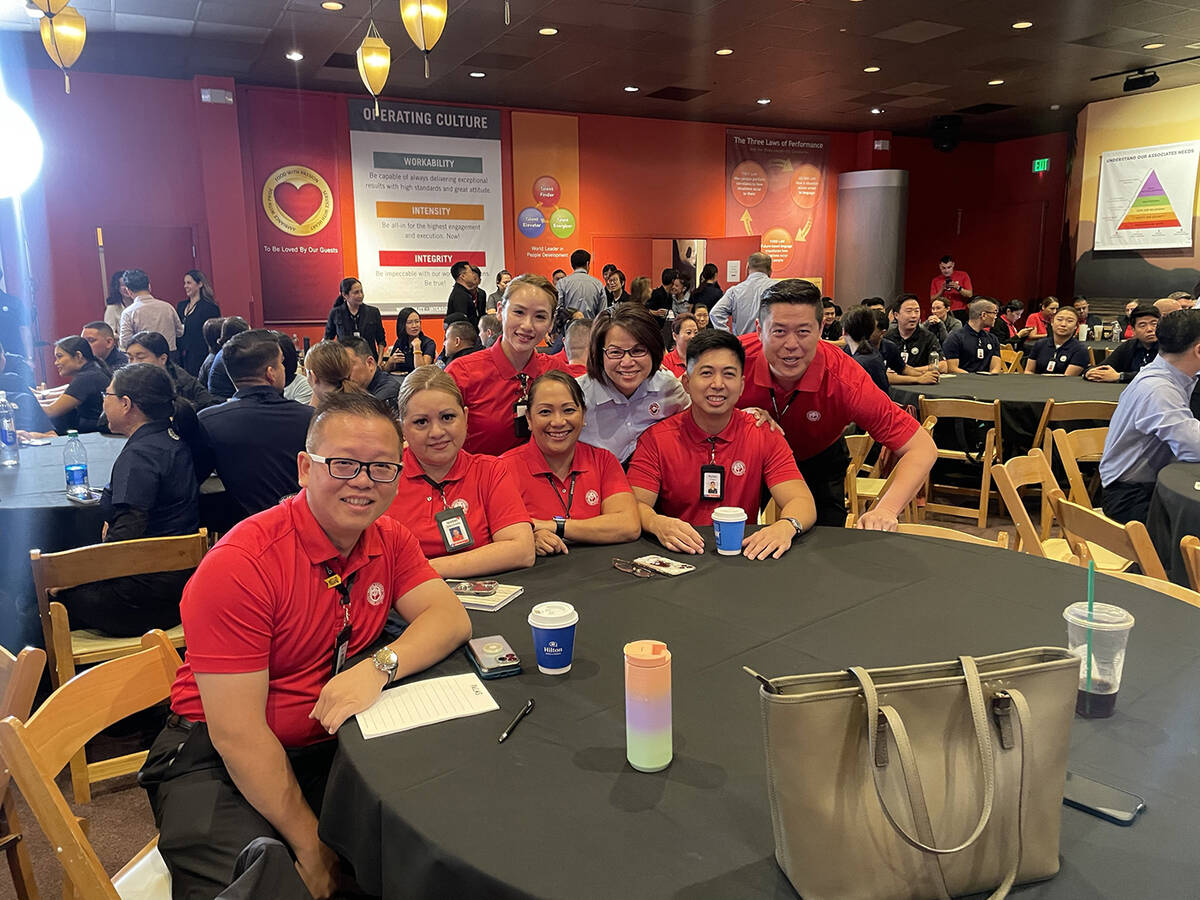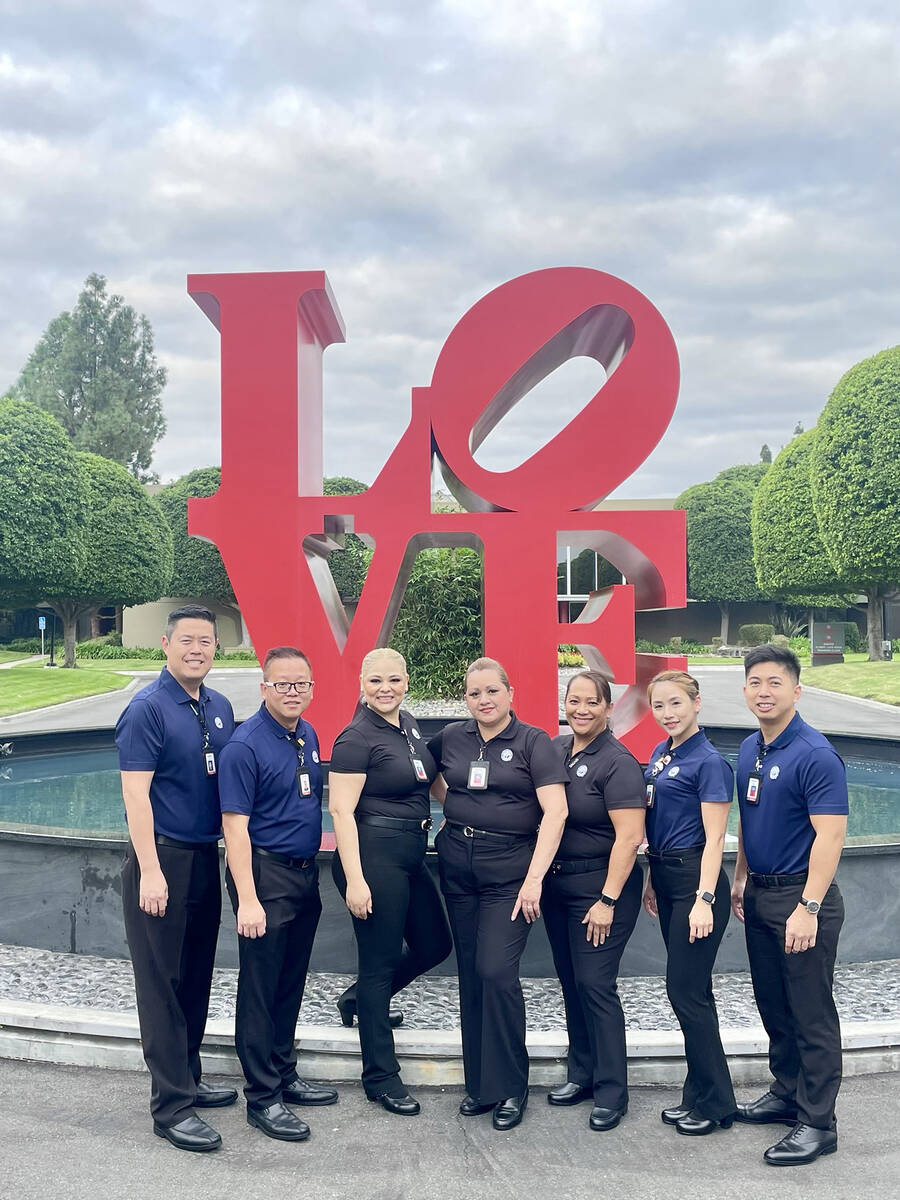 For the third consecutive year, the best place to work in 2023 among the largest companies in Nevada is Panda Restaurant Group.
Doing business nationwide as Panda Express, Panda Inn and Hibachi-San, Panda Restaurant Group has 71 Nevada locations with about 1,100 employees in the category that recognizes companies of 500 or more workers.
Rylan Robles, area coach of operations, said what makes Panda a top workplace is that the company looks at the big picture. From great benefits such as scholarships, 401(k) and health insurance, a supporting culture and avenues for learning and growth, Panda Express aims to provide a career that betters people's lives.
"We emphasize that we put our people first and we value growth in our associates," Robles said. "Growth comes in many forms at Panda. We believe that when a person improves skills to improve an area in their life, their whole life improves."
When asked what else makes Panda a great place to work, Robles shared that the company believes that a happy team is a high-performing team.
"Panda is honored to be the only fast casual restaurant brand awarded as one of the best places to work and offers a greater sense of belonging rooted in a people-first and purpose-driven culture. With this, I truly feel as if this is my second family," Robles said.
Panda Express is a place where associates can thrive both personally and professionally and it starts with treating employees like family, Robles said.
"When I go to the store I see my associates as family, and they are happy to see me," Robles said. "We focus on talking to associates at all levels and encourage people to go to school, buy a home and continue growing at Panda."
One of the ways Panda Express takes care of families is through bumping up pay, which starts at $16 an hour for the service team. Many of the general managers last year made $100,000 and higher.
Robles said the company has been doing workshop classes to help people get promoted and focus on personal and professional development. In addition, Panda is continuously striving for work-life balance. Some things Panda does to strike that right balance between work and life is ensuring that if an associate is in school, they aim to schedule them around their school schedule so that an associate can succeed at both work and school. They also encourage managers to take vacation and work manageable hours.
"Right now, we are focused on having enough managers to promote work-life balance," Robles said. "We started off last year missing 15 general managers, and this year we exceeded that number and even have some stores with up to five managers, which shows there are endless possibilities at Panda."
This year, Panda opened a Panda Cares Center of Hope in Henderson at the Boys &Girls Club of Southern Nevada at the Donald W. Reynolds Clubhouse. According to the organization, the new space will deliver "more joy, education and critical social-emotional development" to the community.
What the company does to continue being a top workplace year after year starts with focusing on continuous learning, which is a value of Panda, Robles said. Recently, Panda has partnered with UNLV to provide the nation's first academic program in fast-casual restaurant management.
Also, Panda has an internal learning program with classes that count as college credits at UNLV in which associates can earn up to 24 credits to accelerate their career.
Also, the company has been focusing on "Panda Cares," which involves ensuring it adapts to a new generation, Robles said.
"One thing Panda is doing is encouraging personal choice and fostering self-expression as members of One Team Panda," Robles said. "We see this is positively impacting associates' experience and helps with retention and recruitment. With this, we have elevated our personal appearance standards, which allows associates to feel comfortable in the pants they wear to allow jeans and to be expressed throughout this updated guideline. Also, we have been doing 'Inspiring Better Lives' sessions every three months that allow associates to know about Panda as a company, and also what benefits we provide for our associates."
One associate shared: "I am Panda Proud. I am now working on being a shift leader and I'm happy that I am able to continue going to school to get my degree."
Panda's comprehensive wellness program takes a "Whole Person" approach to health and provides a space where the mind, body and soul of our associates are nourished, Robles said. The company provides multiple resources that address the physical, emotional, mental, spiritual and financial health of its associates.
The University of Panda is Panda's home for whole person learning, offering associates world-class educational resources for developing and caring for their mind, body, heart and soul, Robles said.
The company encourages associates to continuously strengthen their knowledge base and competencies by offering a catalog of curricula focused on various topics such as leadership styles, diversity and inclusion, DISC (Dominance, Influence, Steadiness and Compliance) behavioral styles, health and wellness, financial planning, tax introduction, homebuying and more, Robles said.
Panda's learning benefit provides annual financial assistance to eligible Panda associates. Participants receive up to $525 for approved courses, books and audio, Robles said.
The Panda Leaders Scholarship Program aims to promote associates' learning journey by providing additional support to become high-performing and inspirational leaders. The awards cover 80 percent of tuition, up to a maximum of $2,500 per year.
Panda's Leave Share program provides income continuation for associates who cannot work due to the serious health condition of their own or that of a dependent, or due to store closure caused by natural disaster. The program is supported by associates donating paid time-off hours.
The Panda Associates Assistance Fund aids fellow associates going through financial hardships due to a recent crisis or emergency beyond their means. The fund is supported by monetary donations from associates, fundraising events and Panda-sponsored initiatives, Robles said.
The Panda CommUnity Fund honors a commitment to diversity, equity and inclusion by supporting DE&I initiatives such as advocacy, direct services and education, while empowering representation and storytelling across Black, Indigenous and People of Color; women; and LGBTQ+ communities as well as other marginalized groups.
Over the past five years, $10 million was pledged to foster unity and understanding in our communities. The Panda CommUnity Fund has committed $6.2 million year to date and helped to support and uplift 50 organizations, Robles said.
Established in 1999, Panda Cares is the philanthropic arm of Panda Restaurant Group. It's committed to serving the communities in which it operates by providing food, funding and volunteer services to underserved youth and disaster relief efforts. Since its inception, Panda Cares has raised over $329 million.