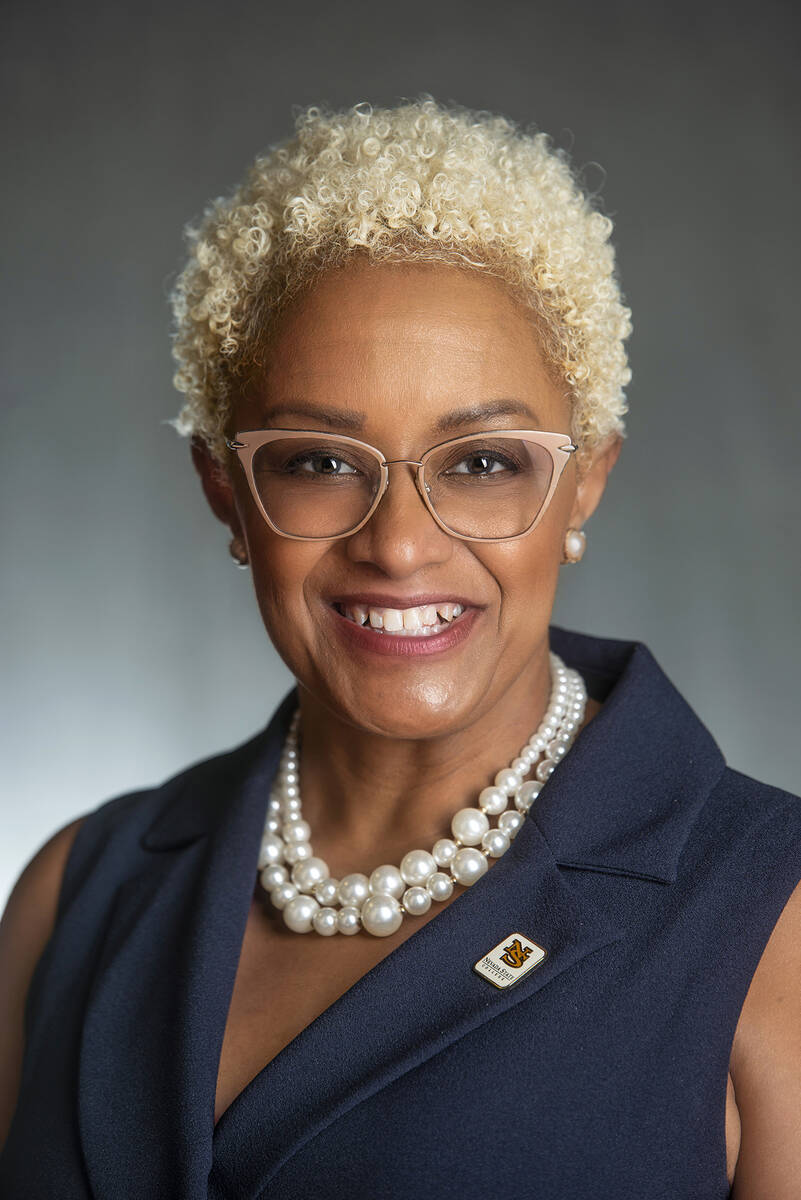 Dr. DeRionne Pollard became the eighth president of Nevada State College in August 2021 and is the first Black female president of any Nevada System of Higher Education institution.
Q: What are you reading?
A: I am always reading multiple books at a time — never just one. Right now, I have three on my desk: I am re-reading "Senior Leadership Teams," a book out of Harvard Business Review, and I am using it to study how to help make an excellent senior leadership team. Another along those lines is "Change Leadership in Higher Education" by Jeffrey L. Buller. Higher education is in the midst of a transformation, and this book covers what that looks like. It's a bit dated in that it was written pre-pandemic, but I think some of the things in it are relevant. My personal grounding reading is one that a colleague gave me before I left Maryland called "Meditations of the Heart." It's a very powerful set of meditations and prayers by the spiritual leader Howard Thurman. I try to read one every morning to get myself centered.
Q: What is your favorite restaurant?
A: Our favorite restaurant is Hiroba Sushi. We have a family date night at least once a week, and my wife, son and I always find ourselves going back there. It was one of the first restaurants I went to when I first came out here for a visit, and now it's our special place.
Q: How do you decompress after a long week?
A: I love a good bottle of red wine. I am a big pinot noir fan. I also used to try to get a massage once a week. But really, sitting outside on my patio with my family… That is truly the most important to me.
Q: What do you do to work out?
A: I think one of the things that CEOs don't do well is to take care of themselves. So, this is something I have a deep commitment to making time for every day. I have three things I focus on: At 5:30 a.m. every morning I'm up, I do my cardio and strength training, I have about 15 minutes of meditation time, and then — since I've covered the physical and mental wellness — I look at what is, for me, my spiritual wellness. I keep a gratitude journal, which changed my life a few years ago. Your burdens seem so much less when you focus on the things you're grateful for on a daily basis. My morning routine is the perfect triangle to start my day — I have a plan, my thoughts are organized and I'm set.
Q: What is the biggest challenge facing Southern Nevada?
A: I'm sure many would say economic diversity, which we know is the case. But for me, it is recognizing that education is the surest pathway to diversifying the economy. You don't get economic diversity simply by recruiting businesses here. Most businesses need talent, and that talent comes from an educated workforce. That's why I would offer that higher education should be an essential component of this region's economic diversification strategy.