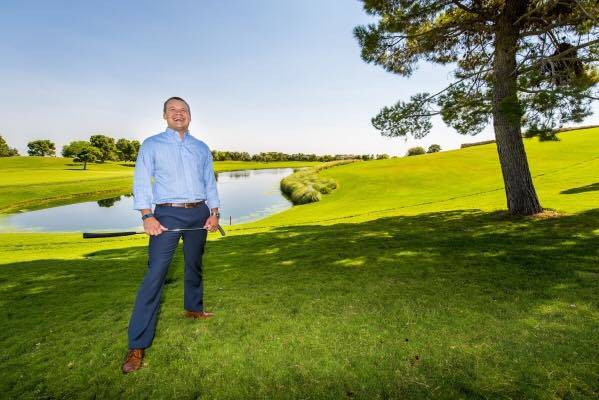 Patrick Lindsey is the tournament executive director for the Shriners Hospitals for Children Open. The 2019 golf event will bring the FedExCup to TPC Summerlin as the PGA TOUR returns to the Las Vegas Valley for the 37th consecutive year. Defending champion, Bryson DeChambeau, will be one of the many top golfers in the world that will participate in the competition and help support the mission of Shriners Hospitals for Children from Sept. 30-Oct. 6 at TPC Summerlin.
Q: What are you reading?
A: "Double or Nothing: How Two Friends Risked It All to Buy One of Las Vegas' Legendary Casinos" by
Tom Breitling
Q: What is your favorite restaurant? Where do you take clients to dinner?
A: Favorite restaurant = Echo and Rig. When it is a business lunch, we normally take our clients to TPC Summerlin. It gives us the chance to show off the property and provide our clients the opportunity to enjoy a small taste of what they can expect during tournament week.
Q: Where do you work out, or play your favorite sport?
A: TPC Summerlin typically for golf with friends and clients. Also, we love hiking as a family, so you will definitely see us at Red Rock Canyon National Conservation Area, Mount Charleston and Zion National Park.
Q: How do you decompress after a hard week?
A: Just hanging out with my family. I have a beautiful wife and two boys: Wesley, 7, and Caleb, 2. I could watch them interact with each other all day!
Q: What is the biggest challenge facing Las Vegas in the next five years?
A: For us, Shriners Hospitals for Children Open, it will be about continuing to compete against a strong fall sports calendar with the Vegas Golden Knights, Las Vegas Raiders and the South Point 400. We have to make sure our pricing is competitive, but fair, and that we continue to attract the world's best PGA TOUR players to compete in our event. As a city, I believe it's important for Las Vegas to continue to innovate. As legislation changes and gaming becomes more prominent, we will need to make sure our facilities and resorts are the best in the world and that we continue to be the No. 1 tourist destination.