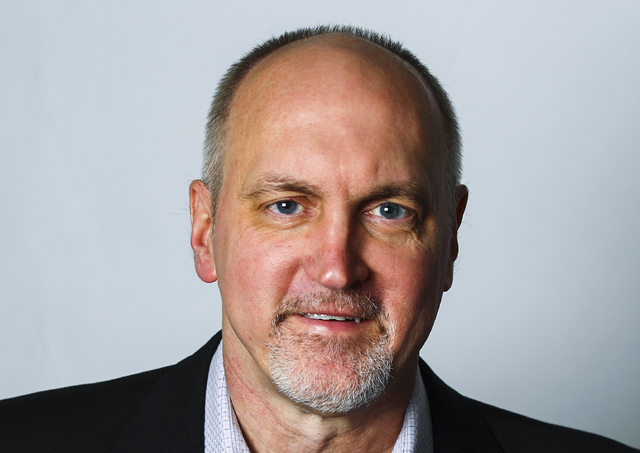 Las Vegas gets more than 200,000 visitors a year from China, but the number could be much higher and Southern Nevada is getting ready for it.
That's the insight from Rafael Villanueva, senior director of international sales for the Las Vegas Visitors and Convention Authority.
The numbers for 2016 haven't been crunched yet, but federal figures show Las Vegas received 206,000 Chinese visitors in 2015. The real number is likely higher than that since many Chinese travel from Los Angeles and San Francisco.
"Everybody wants the Chinese visitor and we're competing against destinations like Southeast Asia, Australia, Europe and others in the United States for that piece of business," Villanueva said. "We believe it's stronger than that, but our share of the business is not where we think it can be. It takes time. We believe there's so much upside on that customer and that we need to be as prepared as possible."
On Dec. 2, Hainan Airlines made the first direct flight from China to Las Vegas. The three weekly flights originate in Beijing. That's in addition to the five weekly flights that Korean Air offers to Las Vegas that require Chinese visitors to make the connection in Korea.
"We were fortunate on Dec. 2 for the launch of the Hainan Airlines flight," Villanueva said. "We think 2017 has a lot of potential, because the Hainan flight brings a lot more attention to Las Vegas in China. It will do the same for other airlines like Korean Air half of whose passengers who connect in Seoul to Las Vegas are from China."
It's all about accessibility, and that's why the Hainan flight is a big deal, because going through three airports out of China isn't as appealing, Villanueva said. Las Vegas already gets a big portion of Chinese visitors who fly into San Francisco and Los Angeles.
"They spend a week or two weeks in California and purchase their Las Vegas product from California companies that cater to Chinese visitors in Las Vegas, and they become a Southern California visitor to us," Villanueva said. "We think there's a lot of success in the market, and we're just touching the surface."
With more Chinese visitors expected, the LVCVA has developed Las Vegas' "China We Welcome You" program to educate the community on the needs of Chinese visitors. It provides a framework to welcome guests in the culturally appropriate way, Villanueva said.
The LVCVA has held forums for resorts and marketing representatives featuring guest speakers who talk about Chinese traveler behavior, emerging payment methods in China and market updates, Villanueva said.
"We have brought speakers from China and other parts of the United States to touch on elements where we do the basics and give tips and provide materials like small cards they can keep in their pockets or wallets of certain phrases they can say and elements they should be doing," Villanueva said.
Hotels like Mandarin Oriental have been experts on catering to the Asian market for years. Properties from Aria, Bellagio and Caesars Palace are among many properties that have done a great job of marketing to Chinese visitors, he said.
Caesars recently launched a WeChat program, a cross-platform and instant messaging application developed by a Chinese company where guests can pay for their rooms, entertainment and other expenses.
"A lot of people are investing a lot of money and doing everything not only to be ready for the Chinese visitor but to market to the Chinese visitor," Villanueva said.
Many Chinese are traveling close to home to Japan, Southeast Asia and Korea because it's only two to five hours away for them, Villanueva said. It's difficult to make a trip that's 12 to 20 hours, but it's a challenge Las Vegas has been successful at overcoming, he said.
The Chinese have seen the marketing of Macau, and that has served as a good introduction to Las Vegas, and they've marked it down as one of those places they need to visit when they come to the U.S. It helps that many already want to visit California, and it's easy to add a Las Vegas stopover after that, he said.
"The United States is very popular, and there are certain elements they would like to do when they come here that they've seen on TV and at the movies," Villanueva said. "Besides going to the Golden State Bridge or New York, Las Vegas is one of those iconic destinations for them."
The LVCVA has an office in Shanghai and it promotes Las Vegas through tour operators, travel agents and online companies.
"It's a lot of work," Villanueva said. "We spent a lot of time knocking on doors and talking to tour operators and trying to convince them that Las Vegas is a great place to go."
The process of Chinese visitors coming to the U.S. has been made easier in recent years through the visa process, Villanueva said. Visitors from China, Brazil and India had to wait months to get a visa, and it was done for one time for one year. Many can now get visas within four days, and it can last up to 10 years and multiple visits, he said.
"If they make it easy for them to come, they will come," Villanueva said. "Sometimes we tend to complicate things because there are processes."
Hainan made a major investment and it's important they are successful and that more flights are added rather than risk losing any in the future, Villanueva said. No market can be taken for granted, and while resorts have been successful in handling Chinese visitors, that's on the gaming side, he said.
"As we grow, a lot of Chinese visitors are coming for other reasons, and we have to make sure we educate them as much as we can on how to cater to them," Villanueva said.
The Chinese-themed Lucky Dragon that opened in late 2015 shows that Las Vegas is making investments to cater to visitors, Villanueva said. Chinese want to stay in a hotel that offers those elements of home.
"They are not only traveling to Las Vegas and the United States for three or four days," Villanueva said. "They're spending one, two or three weeks in our country and they come here to find the restaurants they like, finding the service they hope to get and hotels like the Lucky Dragon."
The LVCVA is just touching the surface of what it's planning to do, Villanueva said. The success of luring Chinese visitors won't be simply throwing money at them but developing a strong foundation and making it a destination they will be coming to for years.
Celebrating, the nonstop service from Beijing in welcoming Chinese-speaking visitors, McCarran International Airport created signage, hired Mandarin-speaking ambassadors and worked with vendors to add Chinese dishes to menus and print menus in Chinese, Villanueva said.
"We want it so that once they come here and like it so much they will return," Villanueva said. "That's why we are putting this in place now, but we're excited about what the future holds for China to Las Vegas."
………………….
There's growing hope that the future of legalizing nationwide sports gambling will be decided by the Supreme Court.
For the last 25 years, Republicans in Congress have been the biggest opponents to expanding sports wagering.
The Supreme Court has asked the Trump Administration to weigh in on a New Jersey challenge related to PASPA, the 1992 law referred to as the Professional and Amateur Sports Protection Act.
The federal law prevents state governments from legalizing sports gambling with the exception of four states — Nevada, Delaware, Oregon and Montana. Only Nevada is allowed to offer traditional single-game wagers, while the others are limited to parlays with multiple team wagers.
………………….
The state Gaming Control Board reported the gaming win in Clark County was $827.7 million in December, a 4.3 percent decline from December 2015. The three-month trend showed a 1.9 percent increase.
Strip gaming win was down 1.7 percent in December, but it was up 2.5 percent for the quarter. It fell 2.2 percent in downtown compared to December 2015 but was up 6.6 percent for the quarter.
It fell 2.7 percent statewide but rose 2 percent for the quarter.
The LVCVA reported Las Vegas convention attendance rose 7.1 percent to 6.3 million, the most since the record in 2006 prior to the Great Recession. There were 21,864 conventions and trade shows, a 2.6 percent increase.
Las Vegas recorded an 89.1 percent occupancy rate, 1.4 points higher than 2015. The average daily room rate for the year was $125.96, still below the 2007 rate of $132.09.