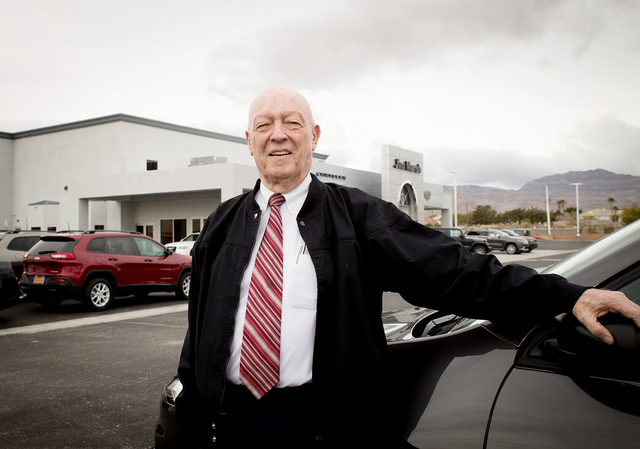 The number of Chrysler dealerships is increasing in the valley with longtime local car dealer Jim Marsh completing construction on his new northwest location. Although the market is getting more crowded, Marsh and other franchisees expect business to stay positive.
"I think there's enough for all of us," Marsh said at his Kia dealership, which sits just east of his new 33,000-square-foot Chrysler Jeep dealership at 8575 W. Centennial Parkway. The new Chrysler Jeep opened at the end of January. Marsh's new site gives Chrysler shoppers six dealership choices in Las Vegas.
Marsh said he has about 180 cars on the lot now and plans to increase that to about 250. He said he has already had positive return, selling nine new vehicles and three used ones on a Saturday in early February.
"For being open two weeks, those are pretty good numbers," he said.
A typical Saturday at his adjacent Kia dealership will bring about 12 to 18 car purchases — new and used, Marsh said.
The competition Marsh is bringing to the neighborhood doesn't bother his closest competitor, Prestige Chrysler Jeep Dodge Ram, which is about a mile east.
"There's been a lot of competition in the Chrysler world," said Josh Towbin, owner of the Prestige dealership. "There's a lot more Chrysler stores than there are of any other brand. Luckily, with the way we run our business, we continue to stay on top."
Prestige opened in the area in 2010. Since then, the number of dealerships awarded by Chrysler has been growing, as several were swept away by the recession and Chrysler's Chapter 11 bankruptcy filing in 2009.
Just before Chrysler's bankruptcy, there were eight local dealership locations. When the Chrysler corporation filed for bankruptcy, it cut 789 dealerships nationwide. That entailed ending the franchise agreements with four of dealerships in the valley, including one owned by Marsh.
In 2009, the year of Chrysler's bankruptcy, another dealership voluntarily closed: Desert Chrysler Jeep Dodge in the western valley. That left the southwestern, northwestern and western parts of the valley without a Chrysler dealership.
Still in the game were Chapman Las Vegas Dodge on East Sahara Avenue and Towbin Dodge and Chapman Chrysler Jeep in the Valley Automall in Henderson.
Chrysler's fate in Southern Nevada changed again when representatives from Towbin and Chapman started talks with Chrysler that eventually led to litigation.
At the end of 2009, Towbin and Chapman signed agreements to not protest new dealership awards in the region for the next five years. For doing this, Chapman and Towbin had the understanding they would get the go-ahead in other areas of the valley. But before they could move ahead, either Towbin or Chapman would have to cede their holdings in the Valley Automall.
Chapman and Towbin worked on an agreement through 2010 on who would sell. But as those negotiations came to a close, Chrysler had already awarded another player, John Grant, a dealership on West Sahara, according to court documents filed with the Nevada Department of Motor Vehicles.
Chapman and Towbin argued to keep Grant out by filing a protest with the Nevada DMV's administrative court. Chapman and Prestige were referred to the DMV Hearings Office for resolution, according to court records.
Prestige and Chapman filed a protest under Nevada Revised Statute 482.36354, where a manufacturer or distributor can't modify a franchise or replace the franchise with another franchise if it were to have an ill effect on that dealer's current investment.
Under the statute, no action can happen by a manufacturer or distributor if a franchisee protests within a certain time frame and a hearing is conducted.
After losing in DMV administrative court, the group appealed to District Court, which also ruled against it.
Both groups, however, did get something from Chrysler. For Towbin, it was a new dealership on Centennial Parkway — Prestige; for Chapman, it was a license to offer more brands at its East Sahara dealership.
Marsh then won an appeal to reopen his dealership, which was part of the nearly 800 Chrysler had decided to cut ties with. Under a ruling by the 6th Circuit Court of Appeals in Ohio in January 2015, Marsh was back in business.
Marsh survived the recession, when he no longer had an agreement to sell Chrysler, because of his Kia dealership.
"Fortunately, we picked up the Kia dealership," he said. "That's been a lifesaver."
Marsh got his start in Las Vegas in 1971 with the purchase of the American Motors Corp. and Jeep dealership at Fremont and 17th streets after arriving from Washington state.
Marsh also has been known for being a gaming owner in several parts of rural Nevada, including the Longstreet Inn in Amargosa Valley and the Skyline in Henderson.
Marsh said he's invested about $7.5 million for the new Chrysler Jeep franchise.
Marsh's optimism about his most recent move stems partly from the planned growth in the region.
The new Skye Canyon development near Fort Apache Road and U.S. Highway 95 could buoy growth for the dealership. About 9,000 single-family homes are planned in the master-planned community.
Sarah Lee Marks, owner of My Carlady Automotive Business Services Inc., which helps car shoppers learn about car buying at mycarlady.com, said this growth could be a positive for the northwest dealerships, if enough Chrysler shoppers are in the mix.
Marsh's dealership could also give the Chrysler brand a boost, Marks said.
"It (Marsh's dealership) creates awareness," Towbin said. "The more stores there are, the more awareness for the brand there is. There are more marketing and more places for guests to do service. We're going to be OK."
According to a 2016 fiscal year report from the Nevada Department of Taxation, taxable sales by motor vehicle and parts dealers were $4.4 billion for Clark County, up from $4.1 billion in fiscal 2015, an increase of 6.4 percent.