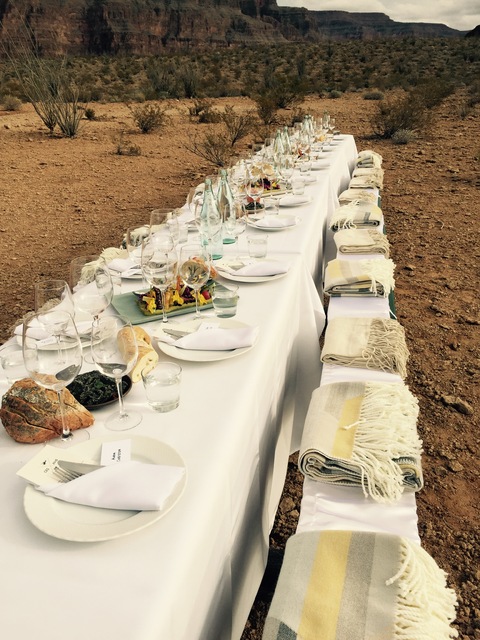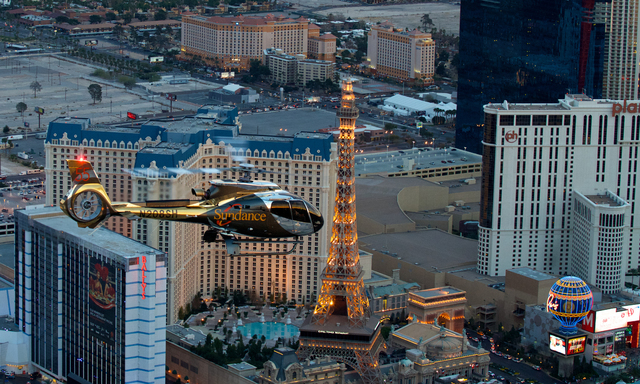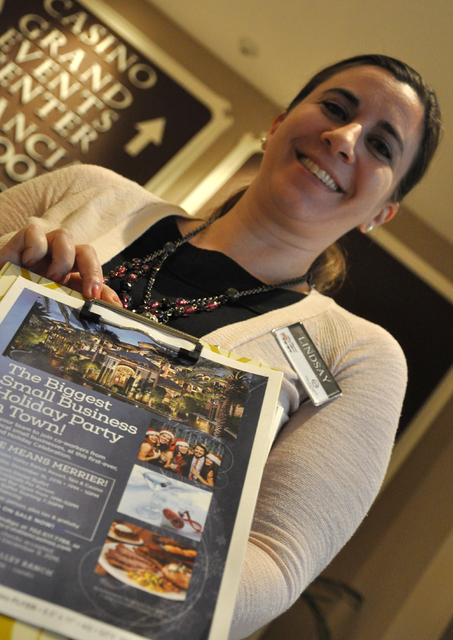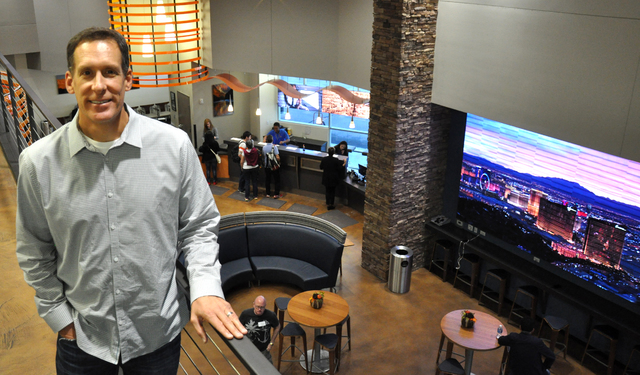 It's party time. End-of-the-year holiday celebrations are a traditional part of the workplace calendar, and Las Vegas offers a range of options from economical to extravagant and even outright thrilling for managers and executives to consider when deciding on company party arrangements.
Many companies had been putting the party on hold since the 2008 recession, but businesses who host corporate events say that is quickly changing.
"Companies are doing holiday parties again, which is really exciting," said Green Valley Ranch Catering Director Lindsay Wolf. "Because in 2009 and 2010 it started to die off pretty quickly. But we have seen it slowly build up again and we are definitely seeing bigger parties."
The casino is focusing for the first time on booking its 65,000 square feet of convention space for small business holiday parties.
"We are pounding the pavement, getting on phones, dropping off flyers," Wolf said. "We are marketing to everybody, big and small."
The company offers full-service catering, including holiday decorations, dinner, two drinks, plus a cash bar and entertainment for $39.99 per-guest, not including tax and service charges.
"It's an affordable option for them, especially if they are not going to be doing a big party," Wolf said. "They don't have to do the big stressful, planning process. All they have to do is show up. We take care of everything else."
A less traditional and undeniably exhilarating option is combining a holiday party with a helicopter tour.
"Being in a helicopter is a pretty unique experience," said Sundance Helicopters President Jim Greiner. "Seeing customers come off with a big perma-smile, that's awesome."
The 31-year-old company hosts events for up to 200 people, either at its newly renovated Haven Street facility near Las Vegas Boulevard or a remote location accessed via a fleet of Eurocopter EC-130s as AS350s , such as Arizona's Grand Canyon West, owned and operated by the Hualapai Nation.
"We are one of their premier vendors to provide helicopter tour services to bring people down to the river (in the Grand Canyon)," Greiner said. "In partnership with the Hualapai, we have rights to the bluff area. We can fly from here and land at the bluff where we can have weddings and large group events. It's a beautiful area and you can look down onto the river. It can be set up and customized however anybody wants."
Greiner says Sundance is also seeing an increase in corporate party bookings and the sector has increasingly become a focus for the business. "The concept was to have not only a facility that was memorable, but also to be able to host events with different volumes of people. We believe place matters and we're investing in our facility for the best customer experience. Phase one was done two years ago as a multimillion-dollar build."
Costs vary, depending on the size of the group and the type of event desired, but can start as low as $100 per guest.
"We recently had a group of 100 come in for a specialized birthday party," Greiner said. "We pulled a helicopter out and showed certain lights on it to make it special. Inside the facility we had food and drinks ordered by that group. We can coordinate and work with caterers on their behalf or we can let them do it, depending on what they want."
For businesses with only a handful of employees, Green Valley Ranch is offering collective parties that can double as networking opportunities. "Employees want to celebrate the holidays with their team," Wolf said. "It is always an incentive to have an end-of-the-year party for their employees and they really seem to appreciate it."
Another marketing target group for GVR is the holiday retailer whose workers are too busy for any celebrations until the holiday shopping crush has relented. "They are the ones who are working the hardest during the holiday season," Wolf said. "From the feedback we are getting, they have not thought of this before. But they are really excited to have a holiday party, because they just can't have a party during the actual holiday."
Among the corporate party trends Wolf sees is a greater expectation by guests regarding the quality of the food and drink available, due in part to the heightened awareness of gourmet issues fueled by television and social media.
"I find a lot of groups want that chef attendant there — so live-action stations — just to have that atmosphere," Wolf said. "There expectation levels are high, but our culinary staff is the best in the city. I truly believe that. They are passionate, and everything that comes out of our banquet area is top notch."
She says new kitchen technology has made it possible to produce more intricate food decorations specifically for individual businesses. "We can put the company's logos on our desserts. Clients really like to do that to make it more of a personalized feel."
Green Valley Ranch's party options are proving popular and Wolf says space is filling up quickly for 2016. She explains that the GVR's initiative is as much about building connections within the business community as it is about profit margin.
"We didn't want to market it as a standard banquet cost — we wanted to keep it affordable for small businesses," she said. "It is more about showcasing the hotel and property, bringing them into our meeting space. We still provide the best product we have and our quality is at a very high level. It is a win-win for both sides. We are advertising and marketing ourselves as well as providing them a great evening."
Greiner says a Sundance party promises more than a premium event. In a city with increasingly high expectations and entertainment options, the company believes it offers something truly rare — an experience to be remembered for the rest of your life. "Events here are special, but more importantly memorable," he said. "Complete bucket list item."