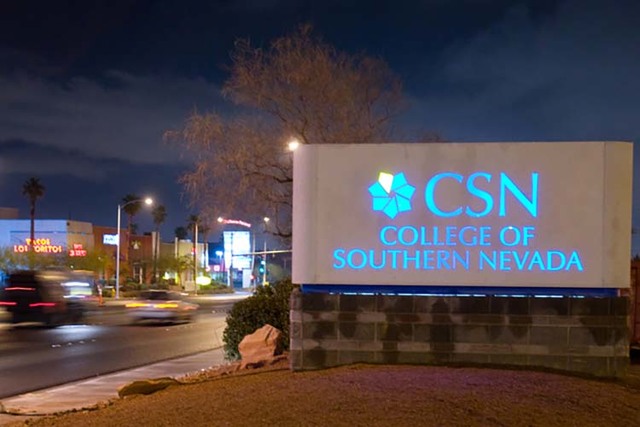 Days after Gov. Brian Sandoval proposed spending $115 million on higher education, the College of Southern Nevada released a study saying the region's three community college campuses are a worthy investment.
The study produced by an Idaho-based think tank shows the college had a $988 million annual economic impact on the local business community in the 2014-15 fiscal year.
The impact, according to Economic Modeling Specialists International, is nearly as large as the entire utilities industry and includes operations spending, student spending and the impact of alumni.
Some 47 percent, or $90.4 million, of CSN's 2016 fiscal year revenues come from the state, while 24 percent, or $45.7 million, was from tuition and fees, said CSN spokeswoman K.C. Brekken. Another 22 percent, or $41.7 million, was from federal grants and contracts.
"We want the public to know what they're getting for their dollars at CSN," Brekken said. "This report looks at that, and we're pretty pleased with what it shows."
The report shows that for every dollar students invest in CSN in the form of out-of-pocket expenses and money, they receive $2.10 in higher future earnings. This amounts to an average of $352,000 in extra earnings over a lifetime, said Brekken, who added that 92 percent of graduates remain in the region.
For every dollar of public money invested in CSN, taxpayers receive a cumulative value of $3.10 over the course of the students' working lives, Brekken said.
Anna Brown, director of consulting for higher education for Economic Modeling Specialists International, said the benefits are not only to students who get better-paying jobs. CSN employees aid the economy by what they spend and students also spend money in the region.
"It's hard to compare different regions like metro and rural areas, but what this says is the $988 million is almost 15,000 jobs, and that's definitely strong from what we have seen," Brown said.
CSN, which was formed in 1971, has 54,000 students a year at its campuses in Henderson, Las Vegas and North Las Vegas. It will benefit from Sandoval's proposed budget if it's enacted by the Nevada Legislature.
Sandoval's budget includes $21 million to enhance career and technical education programs for community colleges. Some $10 million of that would go to CSN, Brekken said.
Sandoval said in his speech that investment focuses students on careers in advanced manufacturing, nursing, autonomous systems, teaching and other sectors.
His budget adds $10 million in new funding for capacity-building initiatives at the state's post-secondary institutions, and Brekken said $2.6 million would go to CSN.
"We're grateful for the vision that Gov. Sandoval set out in his State of the State on Jan. 17," Brekken said. "One hundred fifteen million (dollars) for higher education is an amazing commitment to education in this state where 30 percent of its population has a college degree and only 60 percent of high school graduates go on to college. We hope to see it come out of the session."
CSN has a college readiness program that helps high school students who may not be prepared for college. They will work with them through dual credits, tutoring and mentoring to get them up to speed to do college level courses, Brekken said.
Some of the funding would also be used to ensure students have the same level of service on the three campuses, Brekken said. Henderson, for example, has had a more minimalist approach and would be upgraded, she said.
CSN President Michael Richards said under the direction of the Nevada System of Higher Education's Board of Regents, the plan would restructure CSN from a multi-campus single unit college to a multi-campus district college. That would help it better align with local workforce needs, he said.
"Most large community colleges our size evolve into a district so that each campus has more autonomy to better meet the needs of its local communities," Richards said. "What this will mean for CSN students is an enhanced level of service and a home-campus experience where they can get everything they need at one campus for their general education coursework."
CSN has acquired 40 acres for a fourth campus in the northwest valley. There are also plans for new student union buildings on each of its three campuses to be funded through student fees.
CSN offers two-year degrees and bachelor's degrees. It has 2,200 employees.