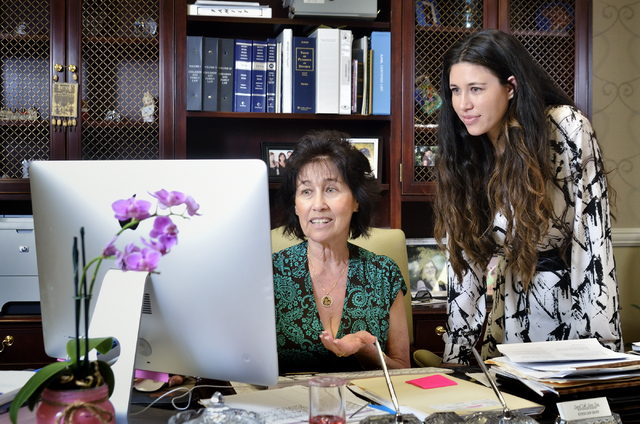 Israel "Ishi" Kunin's forming a legal team with her daughter Shoshana Kunin-Leavitt at the Kunin Law Group happened more by accident than from planning.
"We did not plan this, not even a little bit," said Ishi Kunin, who has been in the family law practice in Clark County for more than three decades. "Shoshana has a degree in theater, and when she wanted to add a more permanent career, she went to law school for personal injury. Her degree in theater definitely comes in use in the courtroom."
Ishi Kunin has served as a professional role model with published works in the Nevada Family Law Practice Manual and speaking engagements with the Nevada Supreme Court settlement program and the Nevada State Bar.
Ishi Kunin knew her daughter, who practically grew up in her mother's law office, could succeed as a lawyer.
Nevertheless, Ishi Kunin ensured that her daughter chose her own career path and wasn't pressured into law.
"I wanted to go out on my own and when we talked it all made sense to give me a chance to grow my own practice," said Shoshana Kunin, who passed the Nevada bar exam in 2009. "The one small section of law that we both practice is what we call 'family building' which includes adoption services. That is a happy part of law that I enjoy practicing with my mother."
Ishi Kunin practices several areas of family law, including probate estates, guardianships, trust administration to divorce, adoption and surrogacy. She has also served as a speaker on second parent adoption for the Human Rights Commission and an interviewed source for family law for KLAV-AM (1230).
"It has been key from Day One that we separate the mom role from the professional role," Ishi Kunin said. "It was a concern of Shoshana's before she started, but I think we have both done better than we could have anticipated."
Shoshana Kunin-Leavitt agrees with her mother.
"It was important that we maintained our close-knit relationship and that was not sacrificed by our professional relationship," she says. "I did not want any special treatment and we wanted everything done right. It was an easy transition and has been a smooth experience."
Shoshana Kunin-Leavitt also has joined her mother as a fellow with the American Academy of Assisted Reproductive Technology Attorneys. On May 4, she will attend her first annual meeting of the organization in Denver. She attended the annual meeting with her mother in 1991.
"We will see if the cycle repeats itself as I raise my two daughters in a law office," Shoshana Kunin-Leavitt said.
Kunin and Kunin-Leavitt are mothers to two daughters, another common bond. They have also been able to use the professional experience to learn from each other.
"Growing up it was easy to criticize the business and pass judgment from the outside about how my mother ran the business," Shoshana Kunin-Leavitt said. "But now, being here, I understand why she runs the business a certain way and I have even more respect for her as a business woman. I hope I am following her lead."
Shoshana Kunin has proved her value to the Kunin Law Group by helping to implement new administrative and legal online tools.
"She has brought us up to speed with technology because she has taken a real vested interest in how the business runs," says Ishi Kunin, who is also a board-certified family law specialist.
Adding Shoshana's family and personal injury practices has helped Kunin Law Group grow steadily in the last five years.
Regardless of the firm's fortunes or current client list, both mother and daughter agree communication is the most important value to make any parent-child business relationship successful.
"Communication is the key, and Shoshana has always had that because she does not hold anything inside and that helps," Ishi Kunin said. "With her being raised in a law office, she understands the stress level and how to respond. That is an important part of communication in the legal industry."
Though they are colleagues and fellow lawyers, Kunin and Shoshana Kunin-Leavitt put family first.
"I opened my practice with the idea that I would never have a partner, and I would not run my business any other way," says Ishi Kunin.
"I have built this practice from the ground up and now that Shoshana is here, it makes me want to practice law even longer, and it is good to have someone else continue the firm. We remember that we will always be parent and child so that gives us the ability to talk through anything."