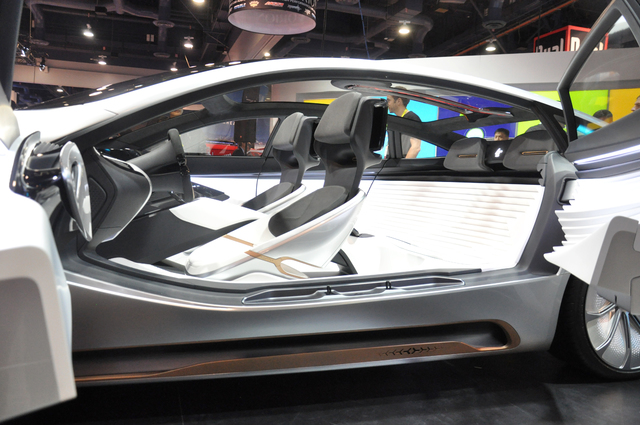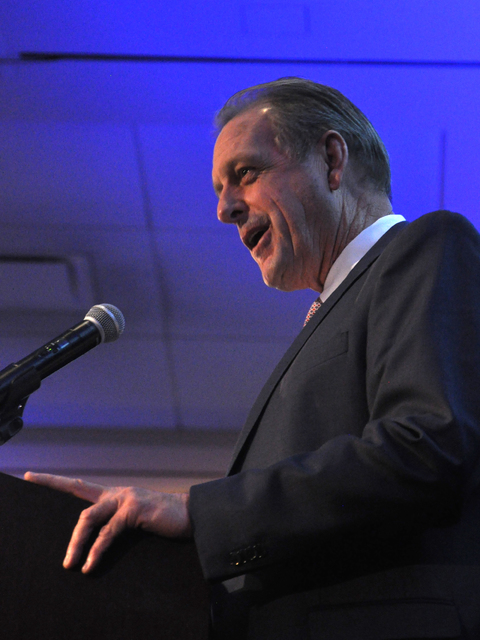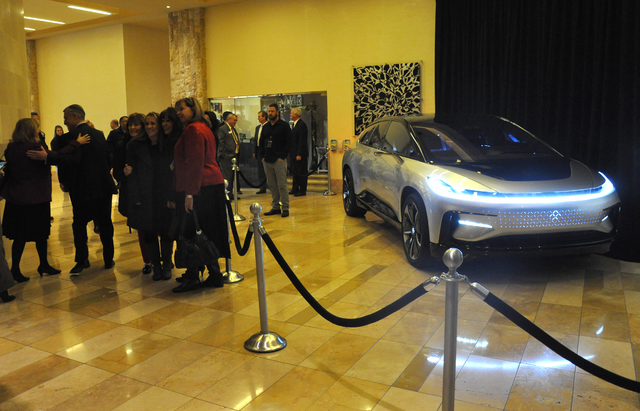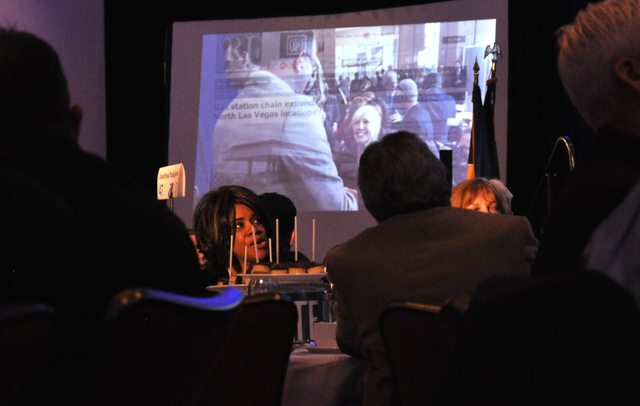 Faraday Future plans to begin Phase 2 construction in February on a 650,000-square-foot automotive production facility in the Apex Industrial Park that will be operational by August of this year, according to North Las Vegas City Manager Qiong X. Liu.
"We have seen the latest plan provided by Faraday's construction company (Los Angeles-based AECOM)," said Liu, speaking at a post-State of the City press conference by North Las Vegas Mayor John Lee. "They have already paid the expedited fee for the plan review and approval process, and hopefully … they are ready to go with permits to proceed."
Moving forward
A Faraday representative confirmed the company is planning to begin principal construction early this year. "This is part of our long-term development to steadily bring our manufacturing capabilities online," said Morgan Theys, Faraday communications specialist.
"We're implementing a multiphase approach to our manufacturing, in which we will construct the facility and simultaneously begin operations within certain areas to ensure that we meet our production timeline," she said.
"So it is real," Liu said. "Of course, we have to wait for their actions."
Lee made the project a cornerstone of his 40-minute presentation touting the city's economic progress.
Gardena, California-based Faraday plans to build – in phases — a 3 million-square-foot facility in North Las Vegas to produce all of its vehicles, which will create at least 4,000 jobs after build-out.
"Just last week, their parent company secured an additional $2.18 billion in funding to keep the project moving ahead at its record pace," Lee told the audience of more than 700 at the Aliante casino-hotel.
Questions remain
Faraday Future, which is an independent company, has been the subject of intense speculation regarding its financial stability. Its principal investor is billionaire Jia Yueting, 44, whose core business is Beijing-based Leshi Internet and Information Technology (a.ka. LeEco or LeTV).
Leshi, through multiple subsidiaries, is engaged in the production and distribution of films and videos, internet television, eco-agriculture and the production of smartphones and other devices.
Leshi is in the midst of a significant shakeup that includes the recent six-month suspension of company stock from trading on the Shenzhen Exchange and a temporary halt to Asia-Pacific expansion due to what Jia called a "problem with non-listed LeEco's growth pace and organizational capacities."
Financial problems at Leshi could mean Jia would have less available capital to fund Faraday, but suspicions that he might be turning his back on the startup company were undercut by Jia's surprise appearance at Faraday's product model unveiling at the World Market Pavilion at January's Consumer Electronics Show in Las Vegas.
Nick Sampson, Faraday senior vice president of research and development, describes the relationship between Leshi and Faraday as a "strategic partnership" but stresses the two entities are not legally connected.
'We see a vision'
Asked about continuing reports of financing trouble within Faraday, Lee responded, "I don't know anything about that," but said he maintains full trust in the company and the project.
"I'm not the least bit concerned," he said during the press conference. "People such as us don't care what those headlines say. We know what we can do. We see a vision."
The mayor said he believes Faraday vehicles will not be targeted to domestic consumers so much as to China's population of 1.38 billion.
"They are building the car of the future for that market over there (China)," Lee said. "The people over there like things made in Europe and America and stuff like that. They are very conscious of style.
"The fact is there will be more gasoline used in China than in America and Europe combined. So if you look at this market and think it is the American market they are chasing, you're dead wrong. It is a worldwide market and there are a billion people over there that are going to be driving vehicles that don't take gasoline."
The United States is the world's leader in petroleum consumption, averaging 19.4 million barrels of oil a day, according to the United States Energy Information Association. That is nearly twice the oil consumption of China, which ranks second, but whose energy needs are steadily growing from rapid industrialization.
Faraday has not publicly stated its specific regional marketing goals, although the relatively large size of the FF 91 — its first production model — and promotional videos of the car defeating other high-power vehicles — Tesla Model X, Ferrari 488 and Bentley Bentayga — in 0-60 miles-per-hour race tests, would seem indicative of aspirations to compete in the American market.
Also worth noting is that Leshi is developing its own brand of electric auto – ostensibly for the domestic Chinese and regional market — called LeSee. A rather stylish concept model that featured some design elements similar to those of the FF 91 debuted at CES in January.
Why does Faraday matter so much?
The significance of Faraday extends far beyond auto and tech enthusiasts' interest in the success or failure of one start-up company. A project with the scope of the Faraday facility is key to the city's economic plans because it would provide critical infrastructure to fully develop Apex.
The industrial site is considered a prime location to be the heart of the region's nascent tech industry, as well as home to fulfillment centers that are quickly making Southern Nevada an online shipping hub.
"Apex has become a hot commodity," Lee said. "New businesses contact us every day wanting to develop there. In fact, we are in serious discussions right now with more major companies wanting to locate there."
On the rebound
The city was especially hard hit by the 2007 recession and is just now beginning significant recovery. Lee reported that more than 16,000 new jobs were created in 2016, and nearly $2 billion in capital investment flowed into North Las Vegas, leading to the construction of 12.5 million square feet of manufacturing and warehouse space.
"(Faraday and innovative transportation pioneers Hyperloop One) are considered some of the most exciting technological companies in the world," Lee said. "They join the massive amount of brain power that's already here at Bigelow Aerospace, the Nevada National Security Site and Nellis Air Force Base."
He said North Las Vegas is in a "buffering" phase, after which he believes it will emerge as an economic juggernaut with technology as the foundation. "Our action is transforming this desert."