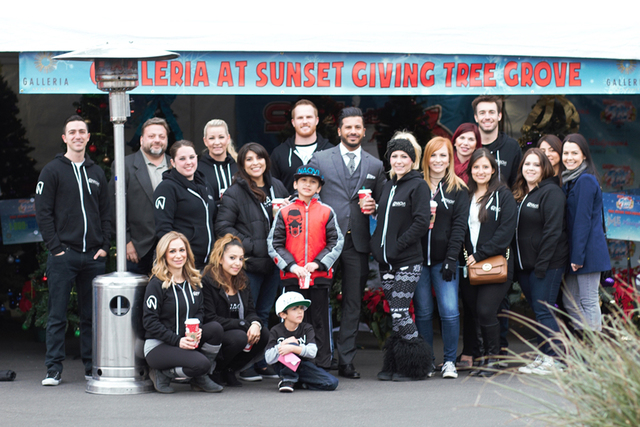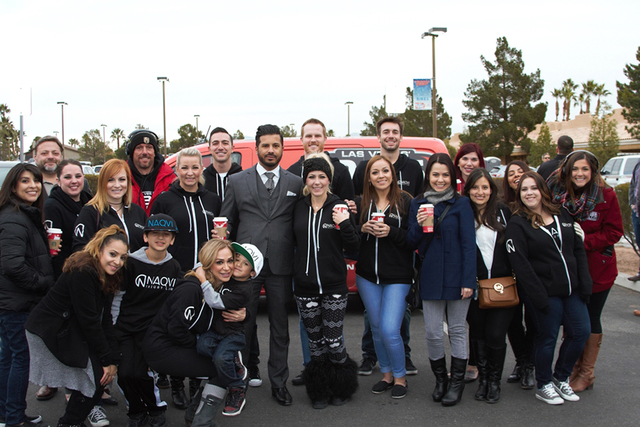 Boyd Gaming has announced the winners of the 2016 Trees of Hope decorating contest. Thirty nonprofits participated in the competition at the Orleans, Gold Coast, Sam's Town, Suncoast, California and Aliante. From Nov. 29 through Dec. 18, nearly 22,000 votes were cast by Boyd Gaming customers at the six participating properties in Las Vegas. The top vote-getters at each property will receive a cash prize of $2,000; second place, $1,500; third place, $1,000; and the remaining participants will each receive a prize of $375.
The winners are:
■ Aliante: USO Las Vegas, Make-A-Wish Foundation of Southern Nevada, Three Square Food Bank.
■ California: Nevada Childhood Cancer Foundation, 9th Island Cultural Club of Las Vegas, Las Vegas Hawaiian Civic Club.
■ Gold Coast: A Home 4 Spot, Leukemia &Lymphoma Society, HELP of Southern Nevada.
■ The Orleans: The Animal Foundation, Girl Scouts of Southern Nevada, Habitat for Humanity Las Vegas.
■ Sam's Town: Ronald McDonald House Charities of Greater Las Vegas, Cure 4 the Kids Foundation, the Shade Tree.
■ Suncoast: American Cancer Society, Alzheimer's Association of Southern Nevada, Nevada Blind Children's Foundation.
Nathan Adelson program holds annual drive for animal shelters
Nathan Adelson Hospice's Pet Therapy program, comprised of 14 trained therapy dogs, is holding its sixth annual Dog Bed &Blanket Drive to help keep animals warm this season. Through Feb. 28, all Nathan Adelson Hospice locations will serve as drop-off points for new or gently used items, including dog and cat beds, blankets, washcloths, linens and unopened pet food. The drop-off locations are 4141 Swenson St.; 3150 N. Tenaya Way (near Cheyenne), Suite 350; MountainView Medical Office Building, 2270 E. Commercial Road, Suite A/B, Pahrump; and 1201 Nevada State Drive, Henderson. The Pet Therapy program is part of the Bonnie Schreck Memorial Complementary Therapies program, created in 1999 as a means by which the hospice could provide a greater range of therapies to patients. The goal is to provide the most effective and compassionate care possible.
Naqvi Injury Law donates helmets and bicycles to local children
Naqvi Injury Law showed its support for underprivileged families with its fourth annual sponsorship of the KLUC (98.5) Toy Drive. Managing partner Farhan Naqvi and his team donated 1,000 bicycle helmets and 100 bicycles, which benefit HELP of Southern Nevada. Thousands of new toys and monetary donations also were collected to assist low-income families during the holidays. Donations will be distributed through HELP of Southern Nevada, a nonprofit organization helping families and individuals overcome barriers and attain self-sufficiency. Naqvi Injury Law works with nonprofits throughout Southern Nevada to provide assistance to families and parents working to build better lives for their children.
HopeLink Vita Program provides free income tax preparation
Nearly 1 million dollars in tax refunds will be returned to clients of HopeLink's free Volunteer Income Tax Assistance program Jan. 28 to April 14. The VITA program at HopeLink has been operational annually since the inception of the federal program and is a free service of HopeLink's Family Resource Center. HopeLink has helped to complete nearly 5,000 tax returns for low- and qualifying-income Southern Nevadans for free in the past eight years, resulting in more than $700,000 in federal tax refunds last year.
Tronox donates to Pinecrest Academy Robotics Club
Henderson manufacturing plant Tronox has donated $2,000 to benefit students in the coding and robotics program at Pinecrest Academy. The donation will go toward purchasing the necessary software and equipment for students to design and build robots. The robotics program is comprised of students ages 10 to 13. They first learn the components of robotics and how robots are built and controlled. After learning the key engineering elements, students are encouraged to build their own robots to complete specific tasks.
Nevada Mining Association donates Lego wall to McCaw Steam Academy
McCaw Steam Academy, home to the McCaw School of Mines, and the Nevada Mining Association unveiled an epic 80-inch-by-80-inch Lego wall in December consisting of 64 Lego baseplates, Lego bulldozers, mines, mining trucks and a variety of other Lego bricks and sets to inspire open-ended creativity and imagination. This exciting new addition to the school was made possible by a donation from NvMA. McCaw Steam Academy Magnet Elementary School houses the McCaw School of Mines, a 4,500-square-foot simulated mine — the only one of its kind in Nevada. Children come to the school to learn about the mining industry, mining history and the important role mining plays in Nevada today. The Lego wall will be the centerpiece of the school's Makerspace Lab, which supports engineering studies using the Design Thinking Process.
Italian market spreads holiday cheer with day of giving
Plantone's Italian Market spread holiday cheer in December by bringing lunch to Nevada Partnership for Homeless Youth's annual gift pick up, an event which gives teens in need the chance to pick up their gifts from generous community donations and enjoy a healthful and hearty lunch. Plantone's also brought lunch and desserts to the staff and residents at Safe Nest, an organization which helps women and children in need across the valley.
Allstate Foundation gives Safe Nest women's shelter $33,000
Safe Nest is the recipient of $33,000 from the Allstate Foundation, thanks to the volunteer efforts led by Allstate agency owner Elisa Conner of Henderson. Conner is the 2016 Allstate Foundation Purple Purse Flame Award recipient, an award that comes with a $10,000 grant to Safe Nest. The award recognizes Conner's leadership in rallying 22 of her fellow agency owners to collect clothes and diapers to help the residents of the domestic violence shelter. Together, the agency owners collected enough donations to fill a 15-foot moving truck. Safe Nest will use the award money to create a playground for survivors and their children to enjoy. Because the volunteer effort was so extraordinary, the Allstate Foundation contributed an additional $23,000 to Safe Nest — $1,000 for each Allstate agency owner volunteer in Conner's effort — as part of the Foundation's Helping Hands in the Community grants.