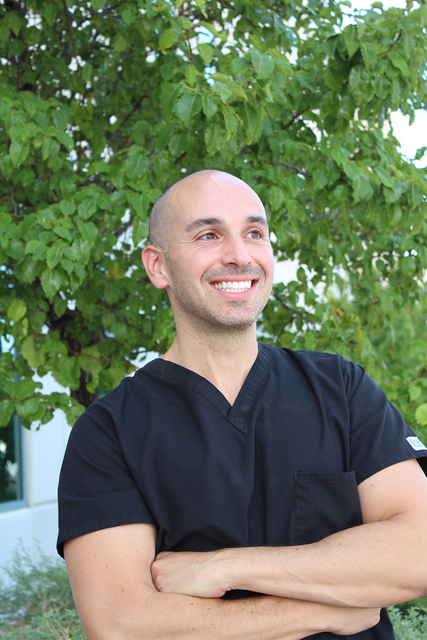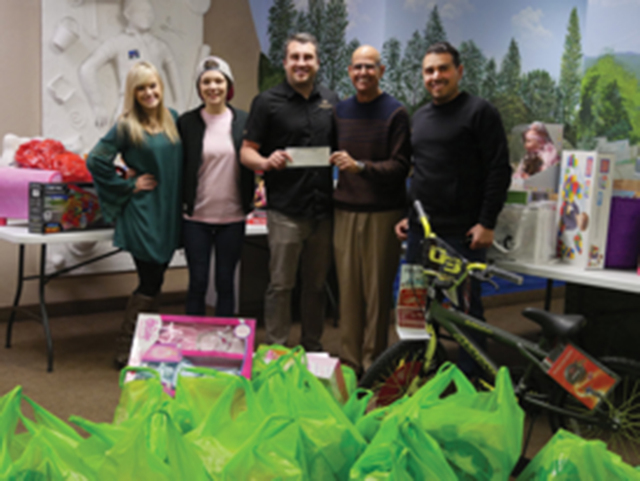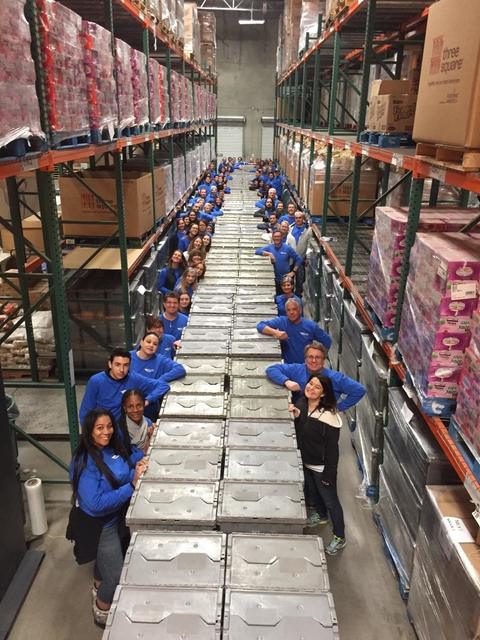 For the ninth year in a row, NV Energy employees and their family members spent Martin Luther King Jr. Day volunteering at Three Square Food Bank as part of the national MLK Day of Service. NV Energy volunteers filled bags with kid-friendly, shelf-stable foods for Three Square's BackPack for Kids Program.
The bags provide nutrition to food-insecure children who might otherwise go hungry during the weekend. NV Energy packed 6,300 bags, breaking its own record of 6,010 backpacks set on Martin Luther King Jr. Day last year.
The MLK Day of Service is a national initiative inspired by Martin Luther King Jr., who devoted his life's work to causes of equality and social justice.
He taught that through nonviolence and service to one another we can overcome problems such as hunger, homelessness, prejudice and discrimination.
Doctors collect wigs, scarves
and hats for cancer patients
and survivors
In partnership with the American Cancer Society, Paul Lanfranchi of the Lanfranchi Center and Haydee Docasar of RejuVAnation are accepting new wigs, scarves and hats on behalf of the Cancer Resource Center in support of patients, survivors and caregivers.
Drop-off locations are the Lanfranchi Center, 8985 S. Eastern Ave., No. 120 from 9 a.m. to 5 p.m. and Haydee Docasar RejuVAnation MD, 7997 W. Sahara Ave., No. 103, from 8 a.m. to 4 p.m.
Both doctors are participating in "Look Good, Feel Better."
Volunteer beauty professionals lead small groups of patients through a hands-on, two-hour workshop in which women learn about makeup, skin care, nail care and ways to deal with hair loss by uisng wigs, turbans and scarves.
Cannabis Marketplace CEO delivers $10k donation to cancer foundation
Demonstrating his commitment to serving the community, Mitch Britten, owner of Thrive Cannabis Marketplace, delivered a $10,000 check and $2,500 worth of Christmas gifts to the Nevada Childhood Cancer Foundation.
Britten made the donation as way to demonstrate how cannabis companies can be good corporate citizens.
MGM Resorts International donates $150k to support jobs program for individuals with disabilities
Best Buddies International announced a donation from MGM Resorts International of $150,000 to support its Nevada jobs progam.
Through the program, Best Buddies develops partnerships with employers, assists with the hiring process and provides ongoing support to the employee and employer.